Valvoline and Mobil 1 are the two big brands in automotive oils and fluids. Their products are so popular that you can see them in most shop services or repair centers. 
Because of their popularity, many people began to question: which is better? This seems to be harder when they look for the right oil for their vehicles.
To give you a hint of this problem, in this article, I will dive into the comparison of the two companies, their products, and how they match each other. 
Valvoline Vs Mobil 1: Product Line
Valvoline and Mobil 1 produce a wide range of products. However, their main focus is motor oils, which we are going to focus on. Their products adhere to strict standards of the United States, European, and Japanese vehicle manufacturers. These standards ensure you get the right oil with the right viscosity properties to prolong the life of your vehicle. 
Here are some products in some common oil types that the two brands have: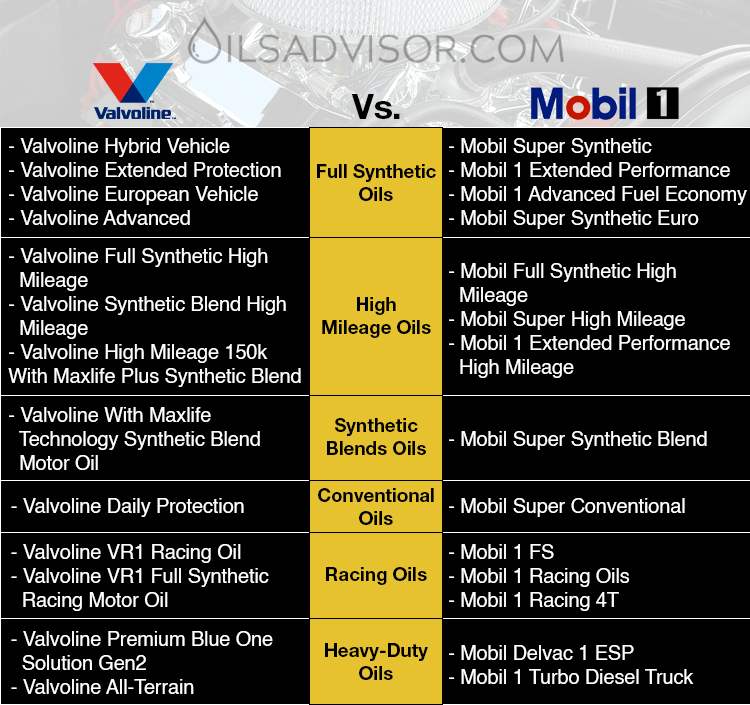 Related: obil 1 High Mileage Vs Extended Performance Vs Advanced Fuel Economy: A Gimmick Marketing?
Valvoline Vs Mobil 1: Key Differences
Valvoline and Mobil 1 are some of the leading companies in the motor oil industry with the plethora mentioned above. When comparing the two, it is important to focus on key features like wear protection and fuel economy. You will also have to take into consideration the sludge protection, the price, and not to mention the motor oil's ability to prevent leaks. 
With these key features in mind, I will dive into the various types of motor oils that Valvoline and Mobil 1 make to see which ones are better. Bear in mind that these two companies produce top-of-the-line products that meet industry standards. Any of them can do the intended job to the fullest with little to no concerns. 
Synthetic Oil Type
Mobil 1 Vs Valvoline Full Synthetic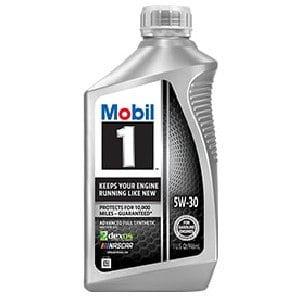 Mobil 1 Full Synthetic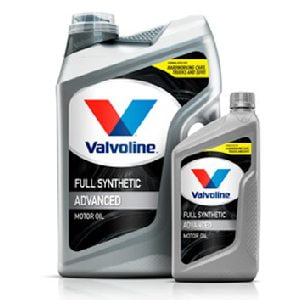 Valvoline Advanced Full Synthetic
The Mobil 1 Advanced full synthetic motor oil is the best synthetic oil from Mobil 1. The product has proven to be the best overall compared to most Valvoline synthetic oils. The 20,000 miles maximum protection to your engine is unmatched by many manufacturers. The one downside to the Mobil 1 synthetic oil is that it lacks any approval to be used in some vehicles such as Audi.
The Mobil 1 synthetic oil can maintain its thermal characteristics and oxidation up to 500 degrees Fahrenheit to resist high-temperature complications. Additionally, the Mobil 1 oil meets various industry standards and exceeds some.
Despite the Mobil 1 superiority, Valvoline Advanced full synthetic motor oil has more wear protection than Mobil 1. 5W-30 grade tests show that Valvoline full synthetic oil is four times better than Mobil 1 when it comes to wearing protection.
Valvoline comes with superior additive technology that resists high engine stress from conditions like extreme temperatures. This technology provides over 40% more wear protection than any industry standard. 
---
High Mileage Oil Type
Mobil 1 High Mileage Vs Valvoline High Mileage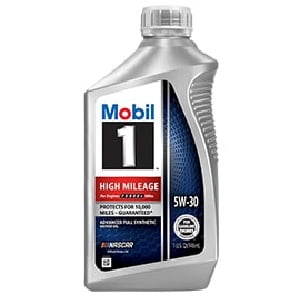 Mobil 1 High Mileage Full Synthetic Motor Oil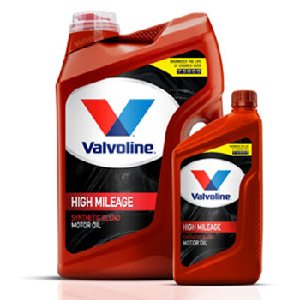 Valvoline High Mileage with MaxLife Technology
High mileage oil types protect engines with over 75,000 miles on their usage, deeming the engines very volatile and easy to catch faults. High mileage engines are more susceptible to wear, sludge, leaks, and deposits. 
The Mobil 1 High Mileage's first response to these engines is motor oil with a seal conditioner that greatly decreases the oil leaks. The oil has uniform synthetic oil molecules that help decrease friction, thereby decreasing sludge and overall contamination. The oil also meets ILSAC GF-6 standards that help in Low-Speed Pre-ignition protection. You can expect the oil to last up to 10,000 miles. 
Valvoline High Mileage is not so different from Mobil 1 High Mileage apart from having a thick and durable anti-wear film formed from additives. The film is thick enough to give an added layer of protection that protects against extreme engine breakdown in high mileage vehicles. All of this is attributed to the MaxLife Technology that uses highly efficient premium synthetic blends to resist wear and deposits.
The Valvoline is slightly cheaper than Mobil 1. This makes Valvoline a great option since it also comes with seal conditioners that block leaks. 
---
Conventional Oil Type
Valvoline Daily Protection Conventional Vs. Mobil Super Conventional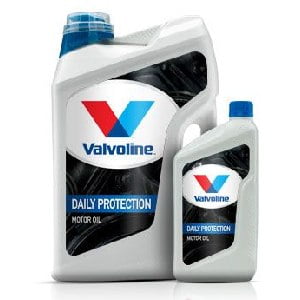 Valvoline Daily Protection Conventional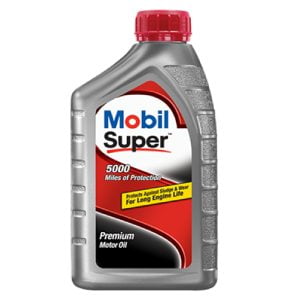 Mobil Super Conventional
Conventional oils have been losing popularity in the past decade due to the effectiveness of synthetic oils. However, conventional oils are still a good purchase since they are cheap, but you will have to keep changing the oil after 3,000 – 5,000 miles. Synthetic oils can last up to 20,000 miles, making them a better buy, leaving conventional oils as a last resort. 
The only conventional oil from Valvoline is the Valvoline Daily Protection SAE 30 Conventional Motor oil that has a liquid volume of 32 fluid ounces. The oil contains high-end additives that help in resisting oil breakdown. The fluid also has a consistent viscosity that flows easily in low-temperature conditions. Additionally, the product from Valvoline meets API SN Plus standards that help in LSPI (Low-Speed Pre-ignition) protection. 
Mobil 1 opted to make the Mobil Super Conventional oil to replace its line of conventional and relatively clean oils with a more sophisticated formula. Like the Valvoline Daily Protection, Motor Super has 5W-30 viscosity by default and has a capacity of 32 fluid ounces too. 
You can expect a 5,000-mile protection guarantee from this Motor 1 oil, absent from the Valvoline Daily Protection. Overall, the Mobil Super Conventional oil outperforms Valvoline due to the improvement tweaks that Mobil made to their oils. However, the differences are less noticeable in normal working conditions.
Related: Pennzoil Vs Mobil 1: Head-To-Head Comparison
---
Performance Oil Type
Valvoline SynPower Vs. Mobil 1 Extended Performance Full Synthetic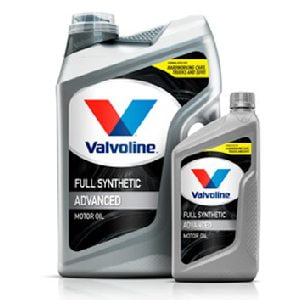 Valvoline SynPower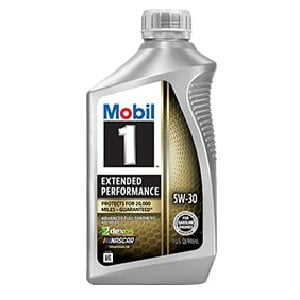 Mobil 1 Extended Performance Full Synthetic
The Mobil 1 Extended Performance Full Synthetic motor oil is the best seller motor oil in the market today. The 5-quart motor oil has a liquid volume capacity of 160 fluid ounces and can protect your engine components up to 20,000 miles (or one year, depending on which comes first) between your oil changes. The mileage will vary depending on your driving conditions and other car issues. 
Valvoline SynPower (now known as Valvoline Advanced Full Synthetic Motor Oil) is the performance type rival to the Mobil 1 Extended Performance. It also has a 5W-30 SAE viscosity grade like its counterpart and the same 5 quarts capacity. You will find this product in other grades like 0W-16, 0W-20, 5W-20, and 10W-30. 
Mobil 1 performance motor oil has advanced synthetic protection that controls oil breakdown to extend its life span. Additionally, it meets ILSAC GF-6 standards, which means it can give you low-speed pre-ignition protection. The approved standards also ensure efficient timing chain wear protection that can help improve fuel economy and keep your engine clean. The products are available in 0W-20, 5W-20, 5W-30, 10W-30 grades. 
The wear protection of the Valvoline performance motor oil has been proven to be 40% – 50% more than the industry standard by Sequence IVA wear tests. Moreover, the motor oil has full synthetic properties that give it ten times better protection against extreme engine temperatures. You will also find superior antioxidants in the oil that helps it resist oil breakdown in harsh conditions.
Valvoline performance synthetic motor oil is also a great option for those who want to use the oil for their car, trucks, and SUVs. Moreover, Valvoline provides the best value for your money since the Mobil 1 is slightly more expensive. However, Mobil 1 extended performance oil is preferred by most customers due to its long mileage life and overall reliability. 
Related: Pennzoil Vs Castrol: Head-To-Head Comparison
Conclusion
Whichever oil company you choose, make sure to pick the right product that can meet your car's requirements. If the products from the two companies can meet your car requirement, you can consider other factors: price, performance, fuel economy, etc.
Many customers prefer to use the Mobil 1 full synthetic oils due to their reliability, long life spans, and long changing interval. Valvoline can do better if you want to stick to a product that protects your car from wearing protection at a lower price. 
If you tried these two oil brands, which one do you prefer? Could you share with us your thought in the comment box below?