Are you searching for the best oil for your Honda Odyssey? Interestingly, different Honda Odyssey years need different oil types. This makes it difficult for many Honda owners to choose the right oil for their cars.
For instance, 2011-2022 Honda Odyssey needs 0W20 oil. Meanwhile, 2002 – 2010 Odyssey requires 5W20 oil. 5w30 oil type is what you need if you drive Honda Odyssey made from 1995-2001.
In this article, I will take an in-depth look at the best oil for your Honda Odyssey based on year of manufacture. In the end, you will be able to make the best choice for your car effortlessly.
Let's dive in!
Best Oil for Honda Odyssey 2011-2021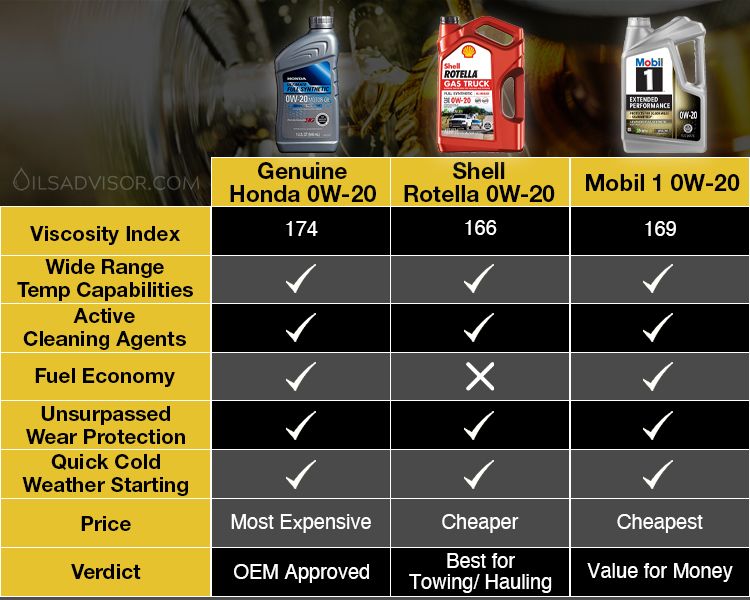 Honda Genuine Full Synthetic 0w20
Honda Genuine Full Synthetic 0w20
Just as the name suggests, this premium oil is fully synthetic and ultimately built to give you maximum benefits. Honda Genuine Full Synthetic 0w-20 is manufactured under stringent conditions and undergoes tests by Honda R&D to ensure that they meet the highest standards. It is said to even exceed the performance requirements as laid out by API SN and ILSAC GF-6.
The synthetic base used in formulation ensures that the oil has the right viscosity and can adjust accordingly to weather conditions. As a result, whether hot or cold, the fluid will bring a good protection to car engine, and the performance remains excellent. Also, the oil flows easily to the engine parts, providing maximum protection, reduces wear and tear. Additionally, it prevents sludge formation and harmful deposits to your engine.  
Pros
Tested and approved by Honda R&D
Withstands thermic corrosion
Thin viscosity helps the oil to withstand thermal breakdown in high temps
Keeps the engine clean
Cons
It is expensive according to most buyers
The oil is not readily available in the local auto part stores
Mobil 1 Extended Performance Full Synthetic 0W20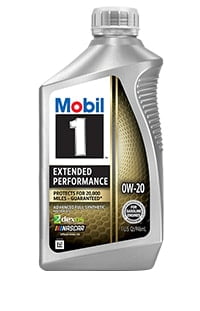 Mobil 1 Extended Performance Full Synthetic 0W-20
If you are looking for an oil that will last you for up to 20,000 miles, then this is it. Mobil 1 Extended Performance full synthetic motor oil 0W-20 had proven, over time, to be effective and live up to its promises. It offers your engine the much-needed lubrication for an extended period of time compared to other oils. Like any other premium synthetic motor oil, it helps the engine by providing protection against sludge and harmful deposits.
Other additional features include the ability to withstand temperatures high as 500℉ and -4℉, high manufacturing standards that meet the ILSAC GF-6 standards, and an active cleaning agent.
Pros
Performs well in a wide range of temperatures
Protects the engine against the buildup of sludge and deposits
The cleaning agents ensure that the engine maintains maximum performance
Helps improve fuel economy
Cons
Some users found metal shaving in the oil after 15k interval
The container is not user friendly
Shell Rotella Gas Truck Full Synthetic 0W20
Shell Rotella Gas Truck Full Synthetic 0W-20
If you use or intend to use your Honda Odyssey under severe driving conditions, Shell Rotella Gas Truck Full Synthetic 0W-20 is your perfect choice. Severe conditions, in this case, involve high mileage driving, howling and towing, stop-and-go driving, driving under extreme temperatures, and many more. 
The ability of this oil to protect the engine from damage from extreme conditions is comparable to none. It is known for its effectiveness in heavy-duty and hardworking machines.
Moreover, synthetic base used during formation produces clean oil with minimal impurities, with additional extra antioxidants compared to conventional oils. The oil has high resistance to extreme weather conditions, and its thin viscosity is made to withstand any temperatures.
However, if you own an old Honda Odyssey, this fluid is not for your car. It is designed for the modern machines, thus for older vehicles, it is not suitable. 
Pros
Minimal impurities make t
Keeps the engine clean from sludge and harmful deposits
Ensures the engine runs smoothly under severe conditions
Extra antioxidants compared to conventional oils
Cons
Not suitable for the older machines
Best Oil for Honda Odyssey 2002-2010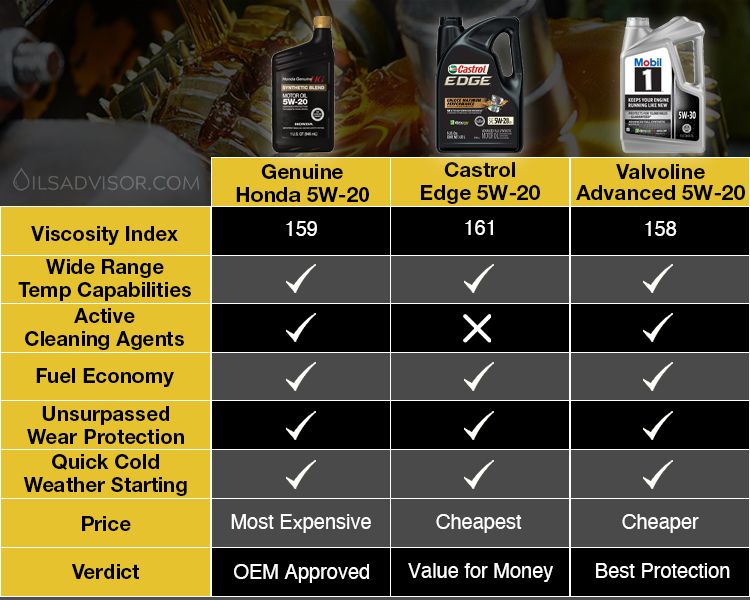 Genuine Honda 5W20
Genuine Honda 5W-20
Genuine Honda 5W-20 is synthetic blend oil that is manufactured to provide the best performance. It is approved by Honda R&D after undergoing tests to ensure that you get value for your money. Further, the oil meets and even exceeds API certification and all the other requirements as dictated by the motor oil regulators.
It is manufactured with synthetic base stock making it fully synthetic. It has lower viscosity and volatility and is resource-conserving. 
Pros
Helps resist breakdown in high temperatures
Oil circulates fast within the engine for protection during cold weather by low volatility
The engine runs smoothly and remains clean for a prolonged period
Improves fuel economy and reduces harmful emissions to the environment
Cons
Pricey price
It easily runs out of stock
Castrol Edge 5W20 Advanced Full Synthetic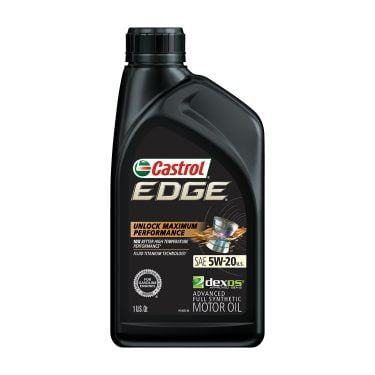 Castrol Edge 5W-20 Advanced Full Synthetic
Using cutting-edge technology, Castrol has produced yet another top-of-the-range engine oil. Arguably the best of its kind, the Castrol 03083 Edge 5W-20 is designed to give you the best performance. Castrol Edge has incorporated fluid titanium technology to further enhance its capability, especially under pressure. 
The oil is premium and meets all the motor oil requirements and certifications such as MS-6395. It has an ultra-clean double action formula.
Pros
The liquid titanium technology ensures that your engine performs well under immense pressure
Optimize engine performance
Metal-to-metal contact is reduced at a variety of driving speeds
Cons
The oil is easy to get dirty
Not for high mileage engines
Valvoline Advanced Full Synthetic SAE 5W20
Valvoline Advanced Full Synthetic SAE 5W-20 
For superior engine protection and cleanliness, Valvoline Advanced full synthetic oil is an ideal pick. The additional detergents maintain engine cleanliness and thorough protection from sludge formation. The API SP standards are met during formation with extra additives such as antioxidants and anti-wear incorporated. 
Pros
Additives give your engine a longer life
Temperature protection element enhances your car endurance in severe condition
Optimize engine performance
Cons
Leakages due to poor handling of deliveries
Best Oil for Honda Odyssey 1995 – 2001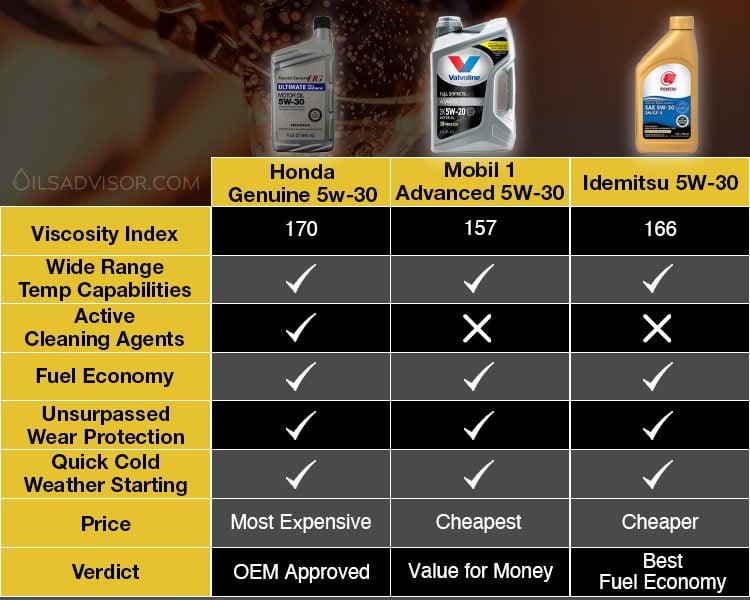 Honda Genuine 5w30
Honda Genuine 5w30
Honda Genuine 5w30 is one of the most used engine oils across the globe. Because of its high viscosity range, it easily withstands high temperatures and flows well during the cold season, ensuring your engine parts are constantly lubricated. 
It is a premium quality fully synthetic oil that has low volatility and pumps well regardless of the weather.
Pros
Protection from sludge formation prolongs engine life
Ease of flow prevents damage to engine parts
Improved fuel economy
Cons
It easily runs out of stock
Mobil 1 Advanced Full Synthetic 5W30
Mobil 1 Advanced Full Synthetic 5W-30
When it comes to engine protection, Mobil 1 Advanced Full Synthetic Motor Oil 5W-30 has proven to be effective over time. Mobil 1 manufacture this fluid with extra care to ensure that oil molecules are uniform. In turn, the molecules reduce friction between engine parts, reducing sludge buildup and deposits.
Other features include heat protection and low-temperature protection. The oil has met the ILSAC GF-6 standards and is available in different bottle sizes.
Pros
Helps the engine withstand extreme weather conditions
Offers different levels of protection for a clean engine
Long-term engine protection
Cons
Poor packaging
Oil failed to perform well as expected
Idemitsu Full Synthetic 5W30
Idemitsu Full Synthetic 5W-30
A combination of Synthetic base oil and additives gives Idemitsu Full Synthetic 5W-30 an added advantage over other motor oils. 
The additives reduce friction in the engine, reducing the levels of tear and wear. Also, there is less formation of deposits and sludge. These two factors combined help the engine to stay clean, run smoothly, and perform exceptionally.
Other added features are low oil volatility rate, high piston cleanliness resulting in low emissions, and the ability to operate in demanding conditions.
Pros
It is environmentally friendly
Proper lubrication helps the engine last longer
Reduction of repair and maintenance costs
Honda Odyssey Oil Capacity
Despite the same model, different year-makes have different oil capacities. 
As the years' progress, there is a demand for bigger and powerful vehicles. To keep up with the demand, Honda Odyssey has seen various levels of transformation and improvement. 
Below is an overview of the changes in oil capacity (with oil filter) in the last fifteen (15) years.
2018 – 2021 Honda odyssey oil capacity: 5.7 US qt (5.4 L)
2005 – 2017 Honda odyssey oil capacity: 4.5 US qt (4.3 L)
2002 – 2004 Honda odyssey oil capacity: 4.6 US qt (4.4 L)
1998 – 2001 Honda odyssey oil capacity: 4.5 US qt (4.3 L)
1996 – 1997 Honda odyssey oil capacity: 4.0 US qt (3.8 L)
Honda Odyssey Oil Type
What is the best oil type for my Honda Odyssey? 
According to the owner's manual, oil used for your Honda Odyssey should be detergent oil and have API certification seal and the specified viscosity grade. 
The premium detergent oil has additives that keep your engine clean by preventing and protecting the engine from rust, corrosion, and sludge. 
API certification seal on the label indicates the oil is energy conserving and meets the American Petroleum Institute's latest requirements.
However, as oil capacity, not all Honda Odyssey has the same oil type or viscosity grade. Below are the specific viscosity grade in different years of manufacture 
2011 – 2021 Honda odyssey oil type: API Premium grade 0W-20 detergent oil 
2002 – 2010 Honda odyssey oil type: API Premium grade 5W-20 detergent oil 
1995 – 2001 Honda odyssey oil type: API Premium grade 5W-30 detergent oil 
Below is a detailed overview of the recommended oil types with specific brands, their features, pros, and cons for further clarification.
Final Words
From the above, there are numerous benefits when you use the right oil for your engine. Choosing the best oil for your Honda Odyssey will no longer be a daunting task. Whether it is your first car or you've had it for some time, the above tips will guide you to comfortably identify the best based on your different requirements.