Motor oils tend to make engines run efficiently without triggering fuel losses or wear and tear issues, but the problem lies in selecting one best suited to your vehicle. 0W-20 is the category of synthetic motor oils engineered to provide the most effective performance enhancement with reduced oxidation and improved engine efficiency. 0W-20 synthetic oils offer higher viscosity for consistently smooth running compared to conventional motor oils and show high resistance to carbon buildup. Scroll down to learn about the 5 best brands for 0W-20 motor oils if you are looking for one to up your driving game.
1. Valvoline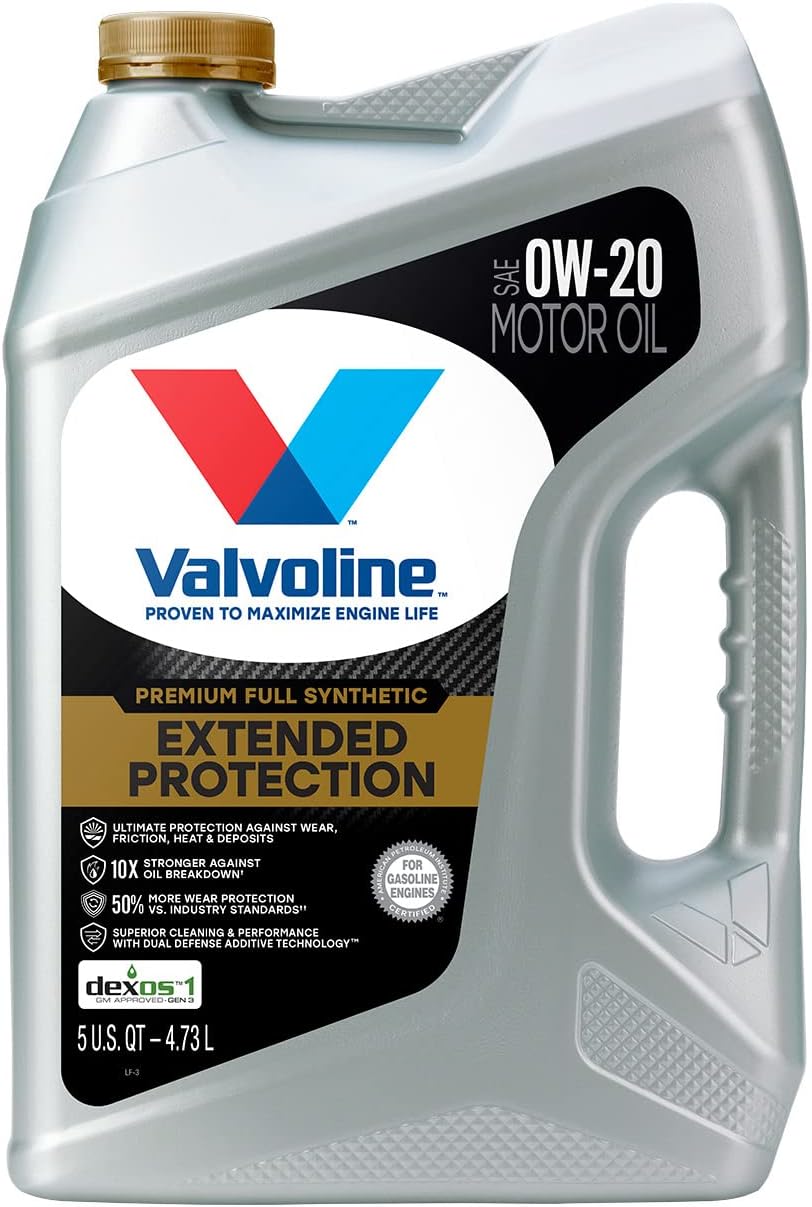 Brief overview
Valvoline stands out as an exceptional choice among 0W-20 motor oil brands because of its high-end approach to providing 24x increased protection against deteriorating elements. Its viscosity remains stable despite the temperature fluctuation and thus helps vehicles perform better in extreme conditions.
Best Product
Its best product is Valvoline Extended Protection 0W-20 full synthetic oil. It allows a quick start at cold temperatures, while anti-wear additives fight against corrosion and oxidation. Moreover, it contains various detergents to keep the engine from carbon buildup, thus extending its operational life.
Pros
Value for money.
No deposit issues.
Comes in standard color, making it easy to detect any contamination or need for oil changes.
40% enhanced protection for elongated shelf-life.
Seamless flow at cold start.
Cons
May come in poor packaging.
Leakage may occur while shipping.
It has a shorter lifespan.
It doesn't perform exceptionally well at high temperatures.
2. Castrol Edge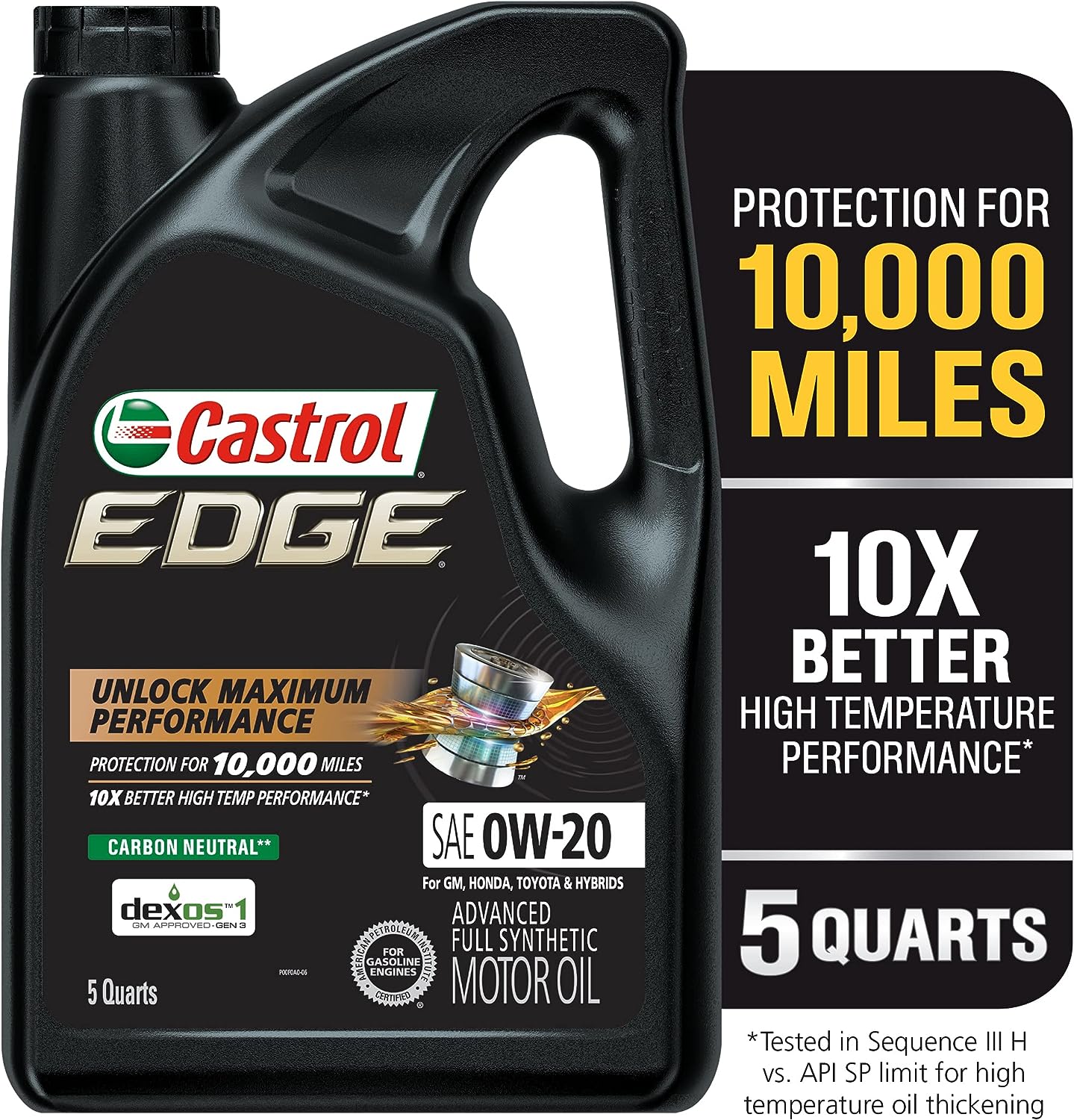 Brief overview
Castrol engine oil has this unique aspect of incorporating special Fluid Titanium Technology that helps endure pressure and prevent its frequent breakdown. It means this motor oil will last longer and can work better consistently to upgrade engine performance.
Best Product
Castrol Edge 0W-20 motor oil holds great strength to sustain pressure conditions without breaking down. This motor oil can reduce potential friction and wear and tear of engines, protecting its critical parts. Its high-standard additives make engines perform 10x better, even at high temperatures.  
Pros
Enhanced engine performance.
Patent Fluid Titanium Technology prevents oil breakdown in pressure.
Prolonged lifespan makes it a stronger motor oil.
Advanced protection to keep from friction and deposits.
Cons
Motor oil color is not standardized.
Not suitable for old vehicle models.
3. Pennzoil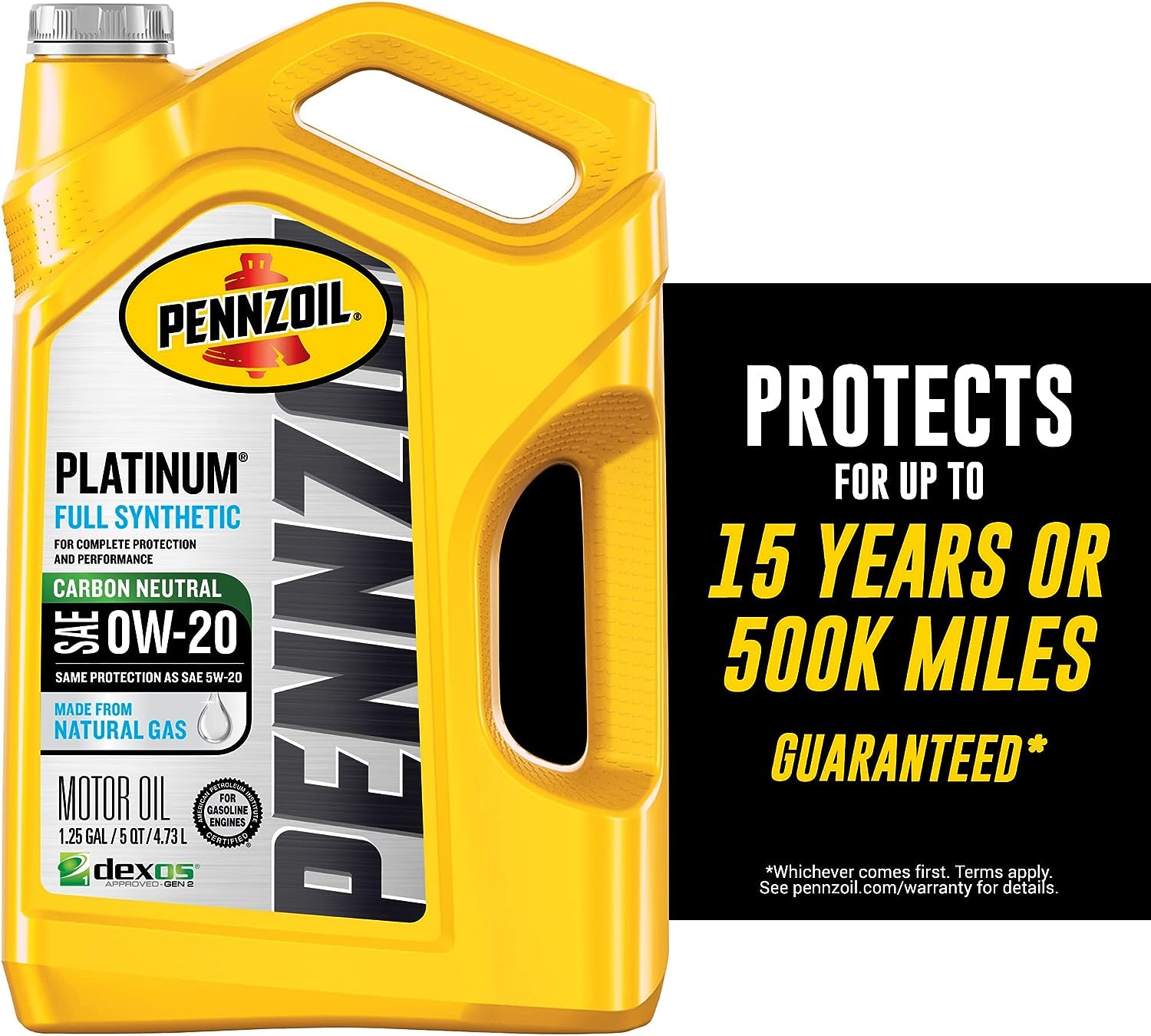 Brief overview
One distinctive element that makes Pennzoil 0W-20 motor oil different from the rest is how brilliantly it is derived from natural gas. Since natural gas possesses fewer impurities than crude, Pennzoil is one premium choice synthetic motor oil with the best value in terms of engine cleanliness.
Best Product
Pennzoil Platinum 0W-20 fully synthetic motor oil claims 40% improved piston cleaning to protect the engine and make it run smoothly. With adequate viscosity and zero deposits, Pennzoil lets you drive lengths between oil changes without compromising its peak performance.
Pros
High fuel economy.
Maintain high power output.
Additives eliminate the chances of metal friction.
Less viscosity loss offers longer-term protection from wear and tear.
PurePlus technology offers top-notch cleaning for a quick start at cold.
Made of natural gas for increased engine efficiency.
Best low-temperature oil flow value.
Cons
Improper disposal could be harmful to the environment.
Not fully compatible with all new vehicles.
Do not give impressive results for high-performance engines.
4. Mobil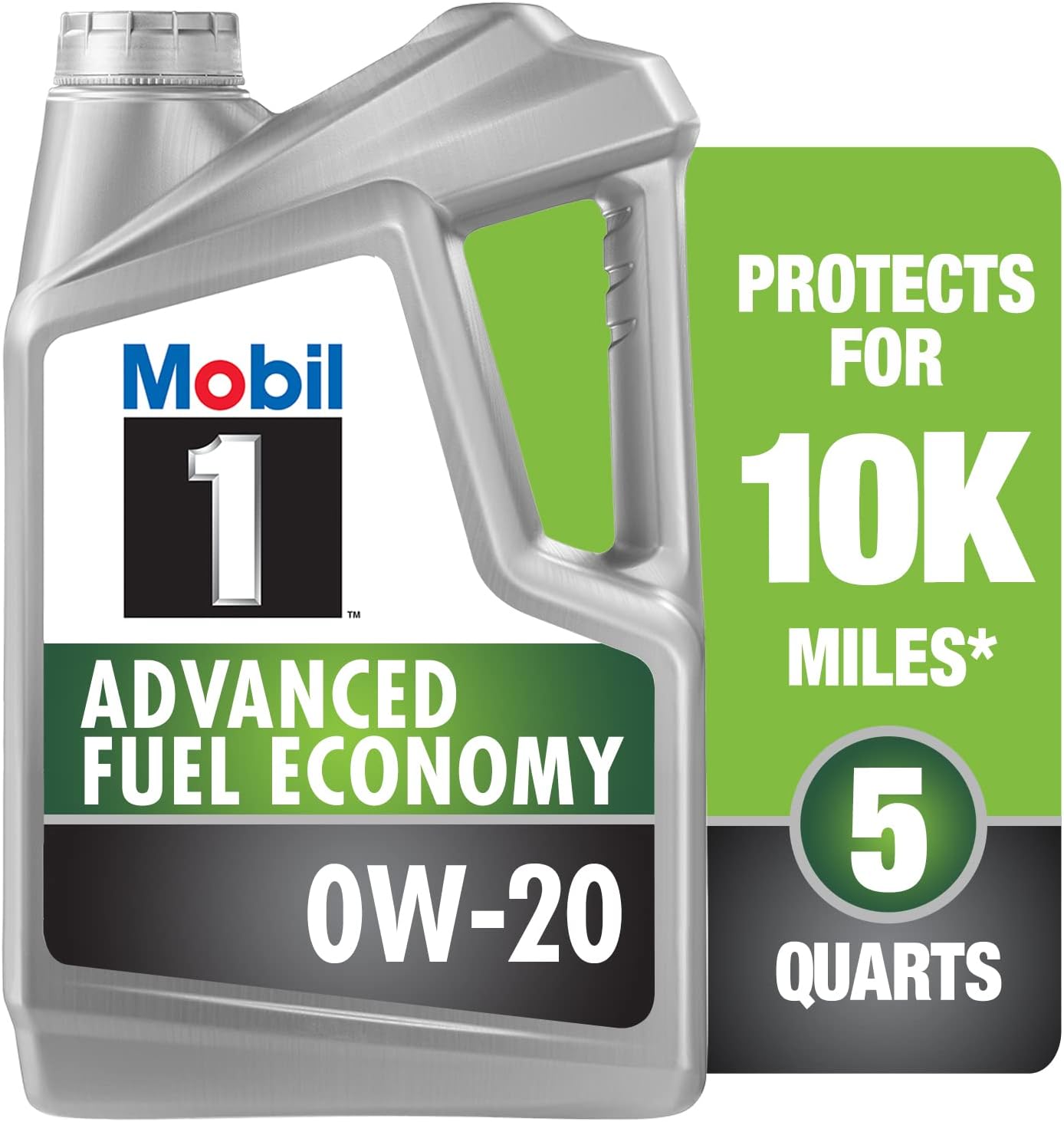 Brief overview
There is no denying that Mobil Advance Fuel Economy 0W-20 engine oil, as the name hints, vows to maximize vehicle mileage for an all-the-more improvised protection for up to 10,000 miles. Choosing this motor oil brand means you will benefit from the highest fuel economy, engine longevity, and outstanding performance.
Best Product
Mobil 1 Advanced Fuel Economy 0W-20 is one low viscous synthetic oil that promotes seamless power output for turbocharged and supercharged engines. Its triple-action formulations work well to resist damages caused by friction, oxidation, and carbon deposition. Moreover, the mileage of almost 10,000 miles between oil changes makes Mobil 1 0W-20 stand out as the best synthetic motor oil to keep the engine game up for longer.
Pros
The advanced economy of fuel.
Goes up to 10,000 miles for the first oil change.
Contains additives for all-round wear protection.
Enough viscosity for a cold start.
No sludge formation.
Extended engine life.
Quick lubrication for smooth running.
Cons
5. Royal Purple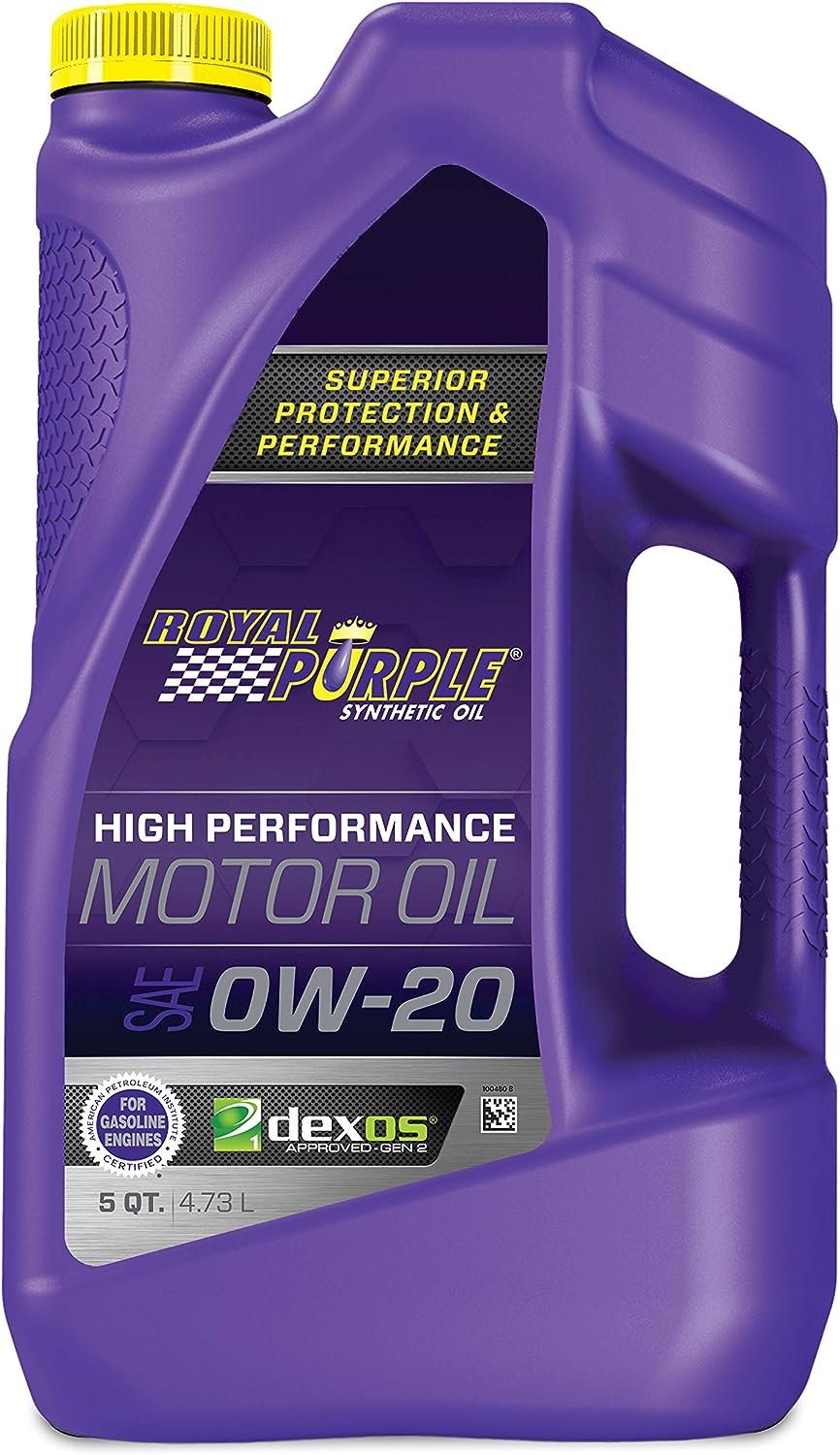 Brief overview
Comparing Royal Purple with other synthetic oils, this one owns quite a reputation in the industry for its effectiveness with racing car engines. It certainly gives Royal Purple synthetic motor oils an edge for vehicles with heavy-duty engines and wide throttle openings.
Best Product
Royal Purple 0W-20 is undoubtedly the best motor oil, courtesy of its Synerlec Additive Technology, for higher protection against heat, oxidation, and engine wear. Its solvation power keeps from sludge to facilitate smooth flow, particularly in engines with high gasoline-ethanol blends.
Pros
Additives prevent metal-to-metal contact.
Higher compatibility with ethanol-based fuels.
Excellent performance at a cold start.
Reduce risks of LSPI (low-speed pre-ignition).
Improved fuel economy with better protection against fuel breakdown.
6x enhanced protection against engine wear.
Keeps engine rust-free.
Offers maximum stability under heavy operations.
Cons
More expensive than other options.
Not versatile enough for some vehicle models.
Not-so-user-friendly packaging that may lead to leakage.
Cause oil spillage during the first pour and a bit tricky to handle.
Criteria for Selection of Best 0W-20 Motor Oil Brands
Considering the growing trend of moving to synthetic motor oil for its ability to offer enhanced protection, it is becoming difficult to choose which brand of motor oil serves the best purpose. To pick out these top 5 brands of 0W-20 motor oils, we evaluate factors such as brand value, customer reviews, affordability, and its potency against problematic aspects of the engine. All these synthetic motor oils have a 4.8+ Amazon rating, are made with 100% synthetic components, and fulfill all the industry standards, including API (American Petroleum Institute) and ILSAC (International Lubricant Specification Advisory Committee).
Conclusion
Investing in quality 0W-20 motor oils ensures your engine remains lubricated, owing to its high viscosity, consumes less fuel, and resists corrosion, eventually resulting in a performance boost. Though each motor oil brand's claim to fame is the same, very few have successfully made up to customers' expectations. Hopefully, our careful selection to enlist the best 0W-20 motor oil brands will help you with your purchase. Choose any one motor oil from the above list, and drive your vehicle to the length of the roads hassle-free!
Related Reads:
We'd love to hear from you!
Enjoyed our blog? Please leave a comment below. Whether it's questions, feedback, or sharing your experiences, your input is highly valued!