Pennzoil or Castrol? It's a question that has plagued many car owners for years. Some swear by Pennzoil, while others insist Castrol is the only way to go. So which is better?
Well, they're both excellent brands. These two oil manufacturers stand out for their qualities with comparable performance. However, they are unique in their own way and differ from one another.
In this article, I will provide you with a detailed comparison of these two motor oil brands. By the end of this post, you should have a good idea of which oil is right for your car. So without further ado, let's get started!
Pennzoil Vs. Castrol: Key Differences
Engine oil aids in the lubrication of an engine's moving parts, allowing it to function properly. It also performs a few other critical functions that improve engine performance and durability.
Many users choose oil for a variety of reasons, including engine protection, changing intervals, pricing, leak prevention, and fuel economy. You will realize that one provides better performance than the other in a specific category, but the other performs better in another.
In each of these categories, I'll compare Pennzoil with Castrol to see which is more efficient. This will help you
Fuel Economy
The Winner: Pennzoil
Friction can squander up to 10% of an engine's performance. Castrol employs Titanium Base Technology to ensure optimum performance and lubricating strength. It has the ability to modify its structure under pressure to reduce friction. This helps Castrol products improve fuel efficiency by protecting your engine and enhancing performance. However, I must say this feature pales in comparison to Pennzoil. Why?
Pennzoil is one of the most fuel-efficient oils on the market. Pennzoil uses natural gas to power its refining process, rather than crude oil. This helps less fuel need to refine it. Moreover, Pennzoil lubricants contain a cleansing formula that removes deposits and prevents them from accumulating in an engine. It is said to save 550 miles per year compared to a dirty engine by using this method. 
Therefore, Pennzoil is generally a better choice than Castrol for improved fuel economy. 
Related: Marvel Mystery Oil Good Or Bad
---
Changing Interval
The Winner: Castrol
Engine oil must be changed on a regular basis, and the intervals vary depending on the product. To be safe, stick to the mileage recommended by the manufacturer. If the vehicle has technical problems or you have severe driving conditions, the limit may be reduced.
The Pennzoil Platinum can keep your vehicle running smoothly for up to 5,000 to 7,000 miles. Meanwhile Castrol full synthetic motor oil offers a 15,000 miles change interval. This can help you save money on other maintenance charges. Their oils are engineered with titanium-based additives to provide superior wear prevention and unrivaled performance between oil changes. 
That said Castrol oil easily outperforms Pennzoil oil in this comparison. Castrol oil is the engine oil that you can use for longer change intervals. This allows you to drive for longer periods between oil changes while still receiving the same level of protection and durability.
---
Engine Protection
The Winner: Castrol
Pennzoil Platinum Full Synthetic motor oil is excellent for wear prevention. This motor oil also provides outstanding friction reduction. Pennzoil's Pureplus Technology lowers deposit building and heat in your engine. Moreover, this method helps Boost the engine's performance and efficiency. 
On the other hand, Castrol Edge gives 6X higher wear prevention, which is one of its many advantages. It can bear severe pressure and reduce friction by enhancing oil film strength by 30% thanks to titanium technology. It can also improve engine performance by preventing dangerous engine deposits from forming.
Both products provide unsurpassed engine protection, but Castrol oil has a little advantage over Pennzoil. 
---
Leak Prevention
The Winner: Both Pennzoil and Castrol have superb and comparable leak prevention capabilities.
Castrol high mileage advanced full synthetic motor oil features a seal conditioner, which helps to keep engine seals in good condition and prevents leaks. Similarly, Pennzoil high mileage motor oil also contains conditioning agents and additives that help to prevent seal leaks. 
It's difficult to say which is superior because both products have superb and comparable leak prevention capabilities. 
---
Price
Pennzoil and Castrol are both fantastic products that will provide you with a good return on your investment. Castrol Edge offers a longer oil change interval at a reasonable price. Pennzoil is a synthetic that is likewise of comparable grade. Pennzoil is more expensive than Castrol oil. The price difference is between 1-2 dollars per quart depending on which you buy.
If price is your primary consideration, Castrol motor oil is the way to go. 
Related: Pennzoil Vs Mobil 1: Head-To-Head Comparison
---
Castrol Edge Vs. Pennzoil Platinum: Detailed Comparison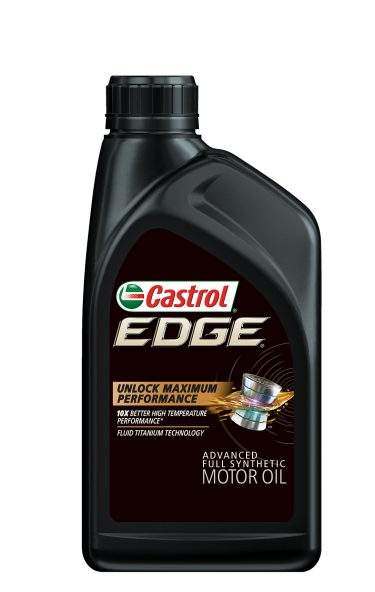 Castrol Edge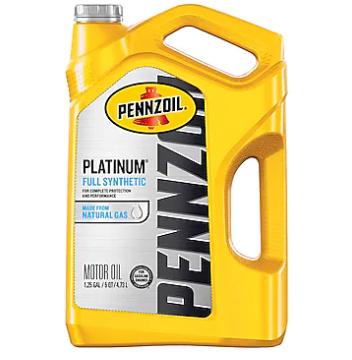 Pennzoil Platinum
Castrol Edge
This is one of the best oils available on the market today. Castrol Edge is the company's most advanced engine oil. The full synthetic Castrol Edge oil is intended to improve the overall performance of a vehicle.
The oil is known for its fluid titanium technology. This technology provides exceptional strength under extreme pressure, eliminates friction within the engine, and ensures maximum performance over extended distances. This is accomplished by increasing oil film strength by 30 percent.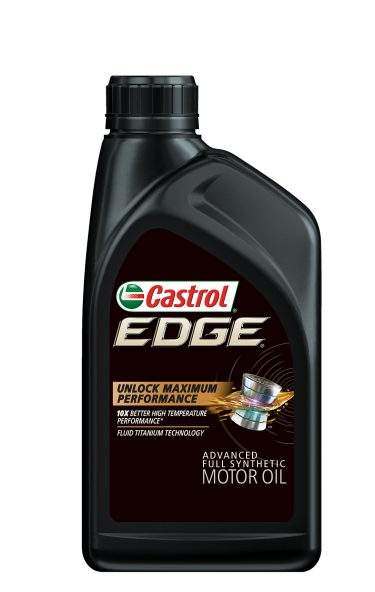 Castrol Edge Advanced Full Synthetic Motor Oil
Increased engine pressure leads to metal-on-metal contact between moving parts, resulting in wear and a reduction in performance. This also has a negative impact on the engine's performance and fuel economy. Castrol Edge contributes to the resolution of all of these issues. Moreover, the titanium-based innovation transforms the behavior of the oil under pressure. It forms a strong enough protective coating to reduce friction between moving parts in modern engines. This, in turn, improves engine performance and fuel economy. 
Castrol Edge is available in 0W-20, 5W-20, 5W-30, and 10W-30 viscosities. Castrol asserts that it is 10 times more resistant to high temperatures. This product can be used in gasoline and diesel engines and it is API SN Plus Certified. It has been approved for usage in many car models by major automakers.
---
Pennzoil Platinum
Pennzoil Platinum is a high-performance, fully synthetic motor oil derived from natural gas. It employs a specially designed gas-to-liquid PurePlus Technology that distinguishes it from other oils. This cutting-edge technology turns pure natural gas into high-quality, full-synthetic base oil with fewer contaminants. 
Pennzoil Platinum has been lauded for its excellent engine protection. Pennzoil claims that no other leading synthetic motor oil provides better wear protection from friction than Pennzoil Platinum Full Synthetic motor oil. The outcome of the Sequence IVA wear test utilizing SAE 5W-30 proved that it provides good protection for the internal parts of the engine against metal-on-metal contact.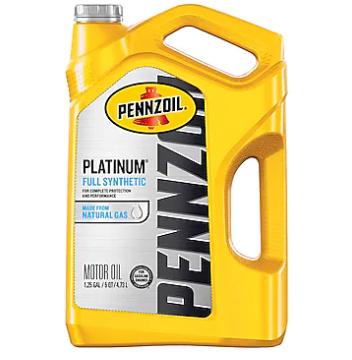 Pennzoil Platinum Full Synthetic Motor Oil
Pennzoil Platinum also can be used in both diesel and gasoline engines. It also performs admirably in high-performance engines. 
According to the results of Sequence IIIH, Pennzoil Platinum oil may keep your car's pistons 45 percent cleaner than conventional lubricants. The product can  protect your vehicle for up to 15 years or 500,000 miles, whichever comes first. 
Pennzoil Platinum provides unrivaled wear protection and excellent performance in extreme heat and cold conditions. I allows you to drive an extra 550 miles per year on an average compared to a dirty engine. 
Pennzoil motor oil is available in a variety of viscosities, including 10W-30, 10W-40, 20W-50, SAE 30, SAE 40, 5W-20, and 5W-30. ​
Related: Valvoline Vs Mobil 1: Head-to-Head Comparison
Final Words
Pennzoil and Castrol oils are both high-quality oil brands. They both fulfill industry requirements and will not cause any problems provided you choose the recommended oil specification for your engine. Your particular interests will ultimately influence what you choose. You should consider the best match for your vehicle and driving style.
Which is your favorite brand? Share with us your thoughts in the comment box below?