There are many Kubota UDT Hydraulic fluid options available out there. However, the majority of them are poor alternatives. So, where can I find suitable substitutes for my tractor?
Many oil manufacturers claim that their products can meet Kubota's requirements such as Amalie, Shell, and Triax. But which is the best pick?
This article will help you find the best Kubota UDT Hydraulic fluid equivalents. Just after 4 minutes of reading, I'm sure you can pick the suitable fluid for your machine.
Continue reading to learn more!
Kubota UDT Hydraulic Fluid Equivalent
There are several Kubota UDT hydraulic fluid equivalents to choose from. Some will produce poor results, while others will give excellent outcomes. In this post, I will concentrate on three suitable and effective alternatives. Each one is discussed in detail in the following paragraphs.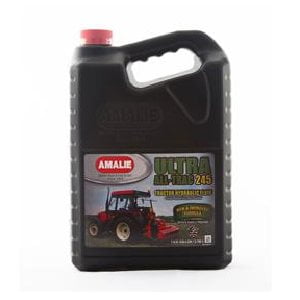 Amalie Ultra All-Trac 245 Hydraulic Fluid
Shell Rotella Heavy Duty Tractor Fluid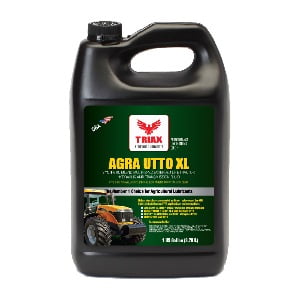 Triax Agra UTTO XL Tractor Hydraulic Oil
Amalie Oil Co. Ultra All-Trac 245 Hydraulic Fluid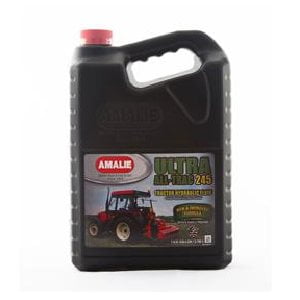 Amalie Oil Co. Ultra All-Trac 245 Hydraulic Fluid
Amelie ultra all-trac fluid is an all-purpose tractor hydraulic fluid that can serve as a good replacement for Kubota UDT. This All-Trac 245 is recommended for farm equipment, wet brakes, off-highway machinery, hydraulic systems, and Final drive. It's made to work as a common sump fluid in a wide range of agricultural tractors and construction equipment. The fluid is specifically engineered to ensure that these types of machinery operate efficiently. According to the product information sheet, this lubricant is compatible with Kubota UDT. So, without a doubt, the fluid is a safe choice for your tractor. 
It's a well-balanced mix of high-quality base stocks designed to increase performance significantly. This enhanced fluid ensures optimal component service life. A pour point depressant additive has been added to improve flow characteristics in cold-weather regions. Amelie All-Trac fluid has consistently demonstrated better performance than other fluids.
The extreme-pressure formulation of All-Trac 245 gives superior protection against wear under the most severe operating conditions. Amalie works to fight hydraulic system foaming in construction and farm equipment. Moreover, it provides excellent rust and corrosion protection. Overall, the product delivers the best protection for your hydraulic system, assisting in maintaining your equipment's operation. This lubricant offers excellent shifting and significantly less noise.
---
Shell Rotell Heavy Duty Tractor Fluid 
Shell Rotella Heavy Duty Tractor Fluid is the most recommended alternative to Kubota UDT fluid
Another good substitute for Kubota UDT replacement is the Shell Rotella HD tractor fluid. You can find the fluid's compatibility here. Besides, this oil has a lot of fans across online forums with positive reviews. I can say it's the most popular alternative to Kubota UDT that you can use without worrying about anything. 
This lubricant is suited for hydraulic systems, wet brakes, transmissions, and other ancillary systems. Generally, the product provides quality service in practically all makes of off-road equipment and farm tractors. 
Tractor users may experience brake chatter from the braking system. However, this outstanding universal tractor fluid includes a friction modifier. Its function is to make sure that wet-brake operation is as quiet as possible. Shell Rotella HD tractor fluid is suited for equipment that requires Universal Tractor Transmission oil and common hydraulic systems. 
Furthermore, it has excellent low-temperature fluidity. What this does is ensure a good response and pumpability at low temperatures. Shell Rotella tractor fluid supplies good anti-wear properties for optimum protection of gears and hydraulic components. This premium heavy-duty tractor fluid offers dependable and long-lasting performance for your Kubota equipment.
---
Read More: What Type of Oil To Use In Kubota Diesel?
TRIAX AGRA UTTO XL Tractor Hydraulic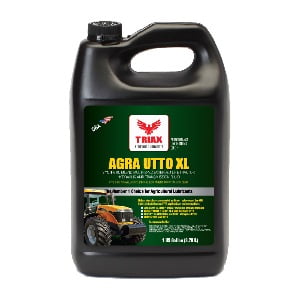 Triax Agra UTTO XL Synthetic Blend Tractor Transmission and Hydraulic Oil is the cheapest option among the three alternatives to Kubota UDT fluid
Triax Agra UTTO XL is another excellent equivalent to Kubota UDT fluid with the compatibility claimed by Triax. The lubricant is recommended for agricultural and construction equipment combinations of transmissions, hydraulic systems, final drives, power take-off systems, and wet brakes. Triax Agra UTTO XL meets or surpasses the hydraulic and transmission performance specifications specified by practically all tractor OEMs.
Heavy brake chatter can be very unpleasant and damage the tractor if left unchecked for long. This is where Triax Agra UTTO XL comes in. Users claim that this product significantly reduces noise and makes the tractor run more smoothly.
All hydraulic performance metrics show 0% foaming because of its fast aeration and foaming stability. Meanwhile, good thermal transmission found in this fluid minimizes overheating of the hydraulic system. 
Other distinguishing features include enhanced service life, unrivaled gear, and transmission protection. It also features outstanding cold flow qualities to help the equipment function well. Exhibits high load-carrying capacity and prevents the formation of sludge and deposits. A significant benefit is that it may be used for your entire tractor fleet, regardless of model, year, or brand.
Furthermore, if you are looking for the cheapest option, this fluid is your good pick without worrying about quality. 
Kubota UDT Fluid Specs
What is UDT Fluid?
You might be wondering what UDT fluid means. UDT stands for Universal Dynamic Tractor Oil. And it is a high-performance lubricant for agricultural machinery. This operational hydraulic fluid is the same fluid used to lubricate the transmission. It is a specially formulated oil that has been designed to protect against wear and tear, while also providing excellent anti-rust and anti-corrosion properties. UDT Fluid can be used in a wide range of applications where a tractor oil is specified.
Kubota UDT Fluid Specs
Kubota UDT Fluid is a multi-purpose, all-weather hydraulic fluid designed in farm tractors and other off-highway equipment. It is particularly recommended for Kubota tractors' hydraulic, transmission, differential, wet brake, and final drive systems. 
Even at high working temperatures, this product delivers exceptional performance protection. The lubricant helps to stop brake chatter and gives good wet brake performance. Furthermore, it is engineered to provide superior anti-wear, rust, corrosion, and sludge resistance. Finally, Kubota Udt is safe for use all year, including cold conditions. 
Read More: Best Oil For Honda Lawn Mower
Kubota UDT Vs Super UDT Vs Kubota Super UDT2: FAQs
1/ Are they interchangeable?
Yes. According to the Kubota product description sheet, Kubota Super UDT2 is fully interchangeable with standard UDT and Super UDT fluids.
2/ Can I mix Kubota UDT and Super UDT?
Yes. You can mix these two fluids as they are compatible.
3/ Can I mix UDT and UDT2?
Of course, you can. However, this may make your machine get noisier than normal in some cases. If this happens, I suggest you should use the UDT2 in the next oil change.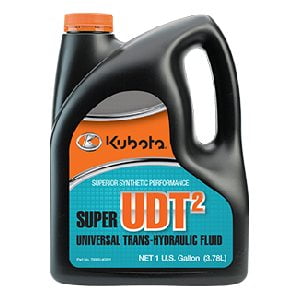 Kubota Super UDT2, UDT Super, and Kubota UDT are interchangeable
Final Verdict
These alternatives are safe and effective products that can be used instead of the Kubota UDT fluid. They can lubricate transmissions, differentials, final drives, wet brakes, and hydraulic systems of farm or industrial tractors.
Of all the products discussed above, the Shell Rotella HD tractor fluid is the most recommended by many Kubota tractor owners. As I said earlier, this fluid is what you can use without any worry. 
Check Price at Amazon