Do you wonder what the right oil type used for your Kawasaki Fr691v is and how much you need for it to operate well?
Generally, your Kawasaki FR691V requires 2.1 quarts (with oil filter) of 10w30 or 10w40 oil.
To understand more, read on as this article gives you the details on Kawasaki FR691V Oil Capacity and oil type. Also, there will be some recommendations available for you. I'm sure you can choose the best-suited product for your machine after reading this post.
Let's get started!
Kawasaki FR691V Oil Capacity
The Kawasaki FR-Series engines that comprise Fr651v, Fr691v, and Fr730v have a capacity of 1.9 quarts of oil when the filter is in place. When you replace the oil filter, you'll need 2.1 quarts (2.0 liters). The quantity is enough for both the crankcase and the filter.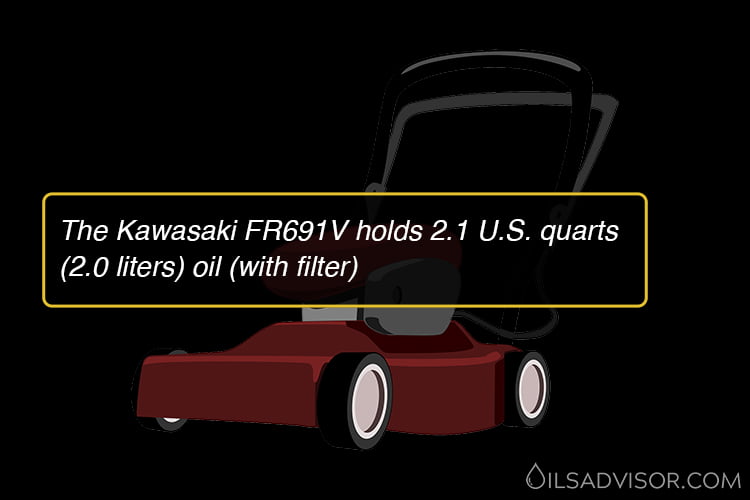 Kawasaki FR691V Oil Type
For Kawasaki Fr691v, you need a 4-stroke engine oil or an equivalent. Keep in mind that these oils need to fall under the SJ category or higher. In most cases, SAE 10W-40 and 10W30 oils will work perfectly. 
However, when the temperatures are extreme, you may need a different oil type. Specifically, 20w50 is ideal for temperatures above 104℉, while 5w20 will work well in 320℉ and below.
Note that Kawasaki is strict on using the correct oil for your lawnmower and voids any warranty where non-MA oil is used. This means that you should use oils with MA standard for your FR691V. Moreover, if your machine is under warranty, stick with OEM products, then your dealer won't void it. 
see also: Best Oil For Honda Lawn Mower
Most Recommended Oil For Kawasaki FR691V
OEM-approved
Kawasaki K-Tech10W-30
Kawasaki ATV/UTV 10W-40
KAWASAKI K-TECH 20W-50
KAWASAKI GENUINE OEM K-TECH SAE 10W-30
Kawasaki K-Tech SAE 10W-30 4-Cycle Engine Oil
Kawasaki K-TECH SAE 10W-30 engine oil is a great choice for those who want a high-quality, durable engine oil. This oil is perfect for use in high-performance engines and provides excellent protection against wear and tear. It also has a high resistance to thermal breakdown, making it an ideal pick for use in high-temperature environments. The oil helps prevent damage caused by extreme temps by being stable in extreme heat and also retaining viscosity during low temperatures.
Moreover, this product contains Zinc additive, which prevents wear on the engine parts. In general, this OEM oil is your good pick for daily use as recommended by the manufacturers.
---
KAWASAKI GENUINE OEM ATV/UTV 10W40
Kawasaki ATV/UTV Engine Oil 10W40
This is another OEM oil that will give your Kawasaki Fr691v engine the lubrication that it deserves. It is synthetic blend base oil with additives for extra performance. The oil provides engine protection by preventing wear and formation of sludge. 
Moreover, this Kawasaki oil has an outstanding capability in extreme weather. It's also a great oil for those who live in extreme conditions, as it can withstand high temperatures and tough terrain. 
So without a doubt, this oil is a good choice for those living in hot weather. 
---
KAWASAKI GENUINE OEM K-TECH SAE 20W-50
Kawasaki Genuine 20W50 Motor 4-Cycle Engine K-Tech Oil
Kawasaki FR691V is a high performance engine that requires a high quality oil to maintain its peak performance. Kawasaki Genuine OEM K-TECH SAE 20W-50 oil is a synthetic blend engine oil that has been specifically designed for use in Kawasaki FR691V engines. This oil provides the highest level of protection against wear, corrosion, and deposits while still providing excellent lubrication and fuel economy.
Additionally, if your Kawasaki is operating in an extremely hot environment, this OEM 20w50 oil is the perfect oil for your machine. It is an OEM product thus formulated to serve your engine's specific needs. It has Zinc as an additive that protects against wear by preventing metal to metal contact.
Furthermore, this product contains other additives, such as anti-shear and anti-foaming agents for maintaining a clean, high-performing engine. The shear stability of this oil makes it ideal for heavy-duty lawnmowers.
Other Equivalent Options
CASTROL GTX ULTRACLEAN 10W-30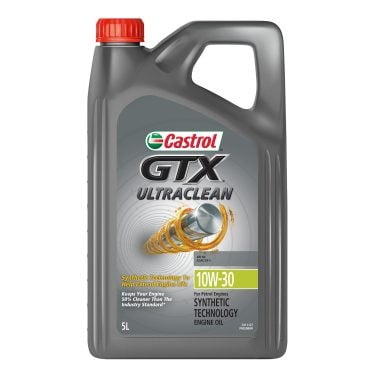 Keeping up with the high-quality standards that Castrol has managed over the years, this Castrol GTX promises superior performance. 
It is synthetic and has anti-wear additives which aid in extending your Kawasaki engine's life. The presence of a double Action formula helps keep your engine clean by getting rid of any old sludge while preventing further formation. 
Additionally, the oil has advanced properties that keep it stable against thermal breakdown. Also, it has been formulated to provide superior cleaning power and protection against wear, while also helping to improve fuel economy.
---
CASTROL MAGNATEC 10W-40
CASTROL MAGNATEC 10W-40
This Castrol Magnatec is one of the high-quality products of Castrol. The oil passes various tests like the IVS and OM646LA to ascertain the wear limit. Moreover, it is formulated with Dualock technology that can help reduce wear by 50%. 
Most engine damage occurs when you use it for times. Then, when you stop your machine, all the oil drains from the parts exposing them. Castrol Magnatec oil is designed with intelligent molecules that cling to your engine parts even when off. This ensures that the engine is not exposed to heat when starting your lawnmower. As a result, it is protected from the harmful effects of heat such as wear and corrosion.
If you are searching for an oil that help prevent corrosion and perform well in hot weather, then this product is an ideal pick.
see also: John Deere Hy-Gard Oil Equivalent [J20C & J20D]
Bonus: Oil Maintenance Schedule for Kawasaki Fr691v
For the best services, your Kawasaki Fr691v engine needs regular oil maintenance. Let's follow the table below for more details on the oil maintenance schedule:
| | |
| --- | --- |
| Time of using | Oil Maintenance |
| First 8 hours of operation | Change oil  |
| Every 100 hours | Change oil |
| Every 200 hours | Change the oil filter |
However, if you don't intend to use your lawnmower for more than a month, you should drain the fuel system. Once you manually drain the fuel, let the engine run until it stalls to ensure all the oil within the carburetors burns.
Conclusion
To sum up, getting the right Kawasaki Fr691v oil type is the first step in the right direction to keep it in good shape.
The next critical step is to ensure that you follow the proper maintenance guide and recommendations above. This will help you avoid engine damage and save unnecessary costs from using the wrong oil for your machine.
If you have ever changed the engine oil for your machine, could you share with us your favorite product?