If you own an automatic transmission Honda car/truck, the odd is that your vehicle needs the Honda ATF DW-1. However, this high price and unavailability of this OEM fluid make many owners look for alternatives.
So, what happens if you don't use Honda's ATF DW-1 on your Honda?
Are there any equivalent options out there?
Many famous oil brands claim that their products can meet what your Honda/ Acura needs, such as Valvoline, Idemitsu, LubeGard, etc.…
In this article, I will analyze these most popular options. After 4 minutes of reading, you can pick the best-suited alternative for your vehicle.
Read more: Honda Gn4 Oil Equivalent
Honda ATF DW-1 Equivalent
Note that: Before diving into the alternatives for your ATF DW-1 fluid used in Honda vehicles, please note that if your Honda is still under warranty, you should only use OEM fluid. Otherwise, your dealer might void it.  
Here are some transmission fluids that get pretty darn close to Honda's DW-1 if you like to go to the competition and try alternatives.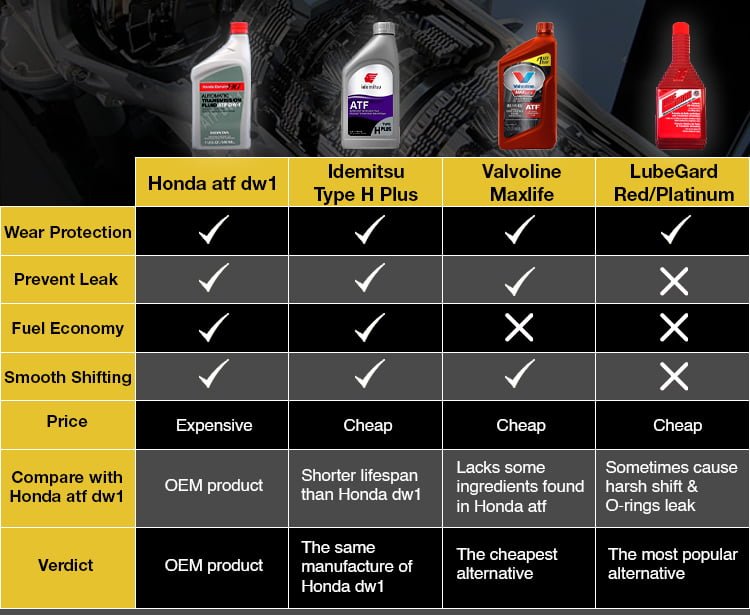 Idemitsu ATF Type-H Plus
Idemitsu is the OEM supplier for Honda DW-1. This brand claims to offer a product that you may class as Honda's DW-1 but in a different bottle and with a different label. 
And because Idemitsu is making Honda's "real Mccoy" stuff, then you can't go wrong with grabbing a bottle of Idemitsu ATF Type-H Plus. It has the following advantanges and disadvantages:
Pros
Recommended replacement for Honda/Acura vehicles requires Honda DW-1
Gives excellent resistance to thermal breakdown and oxidation
Leaves the transmission veins free from varnish deposits or sludge
Prevents the seals from leakage or issues with cracking
Has precisely engineered frictional characteristics
Has superior low-temp flow properties
Cons
Sometimes cause noisier/rougher shifting
Idemitsu Type H Plus Vs. Honda DW-1
In the comparison of the above with the pluses of Honda's ATF DW-1, you will find that both reduce your gas bill and protect the fluid against the evil oxidation process. Also, your parts are blessed with extended life. 
So, what are the negatives of using Idemitsu's ATF Type-H Plus? The lifespan of the Idemitsu ATF is a little bit shorter than that of the ATF DW-1, and the price difference it brings might not make up for the same, in most cases. 
There is a question of whether the quality is the same as Honda's OEM. Some people state that Honda's DW-1 contains substances that can't be easily replicated in other brands (it's a bit like the Colonel's secret recipe at KFC). I think this is not a big problem. However, Idemitsu can not make this product 100% the same as Honda while the price is much lower.
---
Valvoline Maxlife Multi-vehicle ATF
This is a synthetic formulated transmission fluid that has undergone extensive testing to ensure that it is compatible with a wide range of vehicles. When looking at Valvoline's product information sheet, this lubricant is shown to be compatible with Honda's DW-1.
Here are some pros and cons of the product:
Pros
Helps reduce varnish and transmission wear
Superior anti-shudder performance
Provides greater film protection and excellent flow properties at high & low temps
Much cheaper than Honda OEM 
Contains cleaning additives 
Prevents leaks in transmission seals
Cons
Sometimes causes hesitant and confused shifting
Vavoline MaxLife Vs. Honda DW-1
Again comparing these with the advantages of Honda's and Idemitsu's offerings, I can see a similarity through enhanced smooth-shifting, great flow when temperatures get cooler, and protection against wear and tear. 
So, should you rush out and grab a bottle of Valvoline MaxLife?
Well, here is something that you should concern about when using it as Honda DW-1 substitute. Most multi-vehicle ATFs can't meet specific OEM requirements as they are manufactured to perform on a range of vehicles with different OEM needs.
There have been a couple of labs that compared the products and found that MaxLife lacked some key ingredients that were found in DW-1. This makes the product come with several risks, like the loss of warranty coverage and uncertainty of compatibility, which sometimes may or may not be worth taking.
---
LubeGard Red & Platinum
LubeGard's OEM comparison chart shows that both Red and Platinum products are a viable replacement for Honda's DW-1. The Red is more affordable than the Platinum. 
What pluses does using Lubeguard's products have? Well, it's pretty much the same as the others I have listed. You will get:
Better anti-shudder performance.
Less noise from the transmission
The fluid is protected against oxidation. 
Your transmission's components suffer less wear and tear.
One point of difference is that LubeGard doesn't use additives that are sourced from sperm whales. The company produced its own substitute product, which when compared with those using sperm whale additives.
LubeGard isn't completely bulletproof, though. There have been some issues with a harsh shifting of gears and O-rings developing leaks. Yet, in saying that, LubeGard does have its fans across the online forums.
Well, even with the plenty of advantages surrounding the LubeGard ATF, the harsh shift or O-rings developing leaks are some bad news for some Honda Accord owners. If you own an Accord, please keep in mind this point. 
Pros
Better anti-shudder performance.
Eliminates torque converter shudder and clutch chatter
Extends fluid change intervals
Helps eliminates transmission fluid oxidation and foaming
Guarantees to protect and restore transmission seals
Cons
 Sometimes causes harsh shifting of gears and O-rings developing leaks
---
Is ATF-DW 1 The Same As ATF-Z1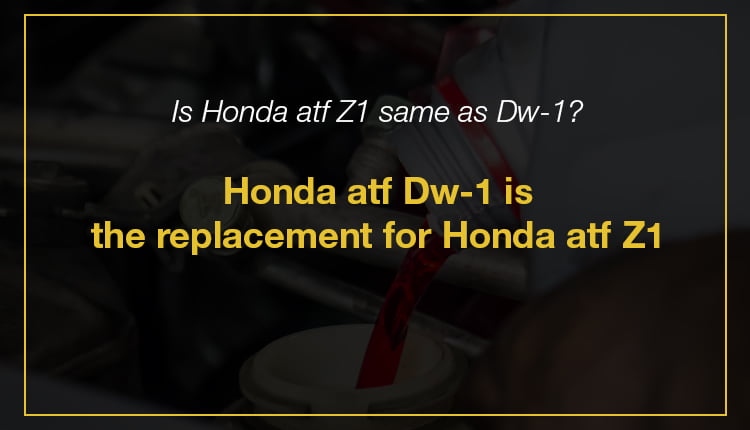 As a member of some Automotive forums, I know that many people are confused about Honda ATF Z1 and DW-1. Just let you know that they are the same. Honda ATF DW-1 is the replacement for their Z1 product. 
From the mid-'90s, Honda's most prevalent transmission fluid was the ATF Z1. The ATF Z1 had decent features but was later discontinued because it exposed users to carcinogens and reproductive toxicants. It was created based on the Dexron II and is pretty much used in Hondas released before 2011.
After that instance, Honda manufactured another ATF oil, the ATF DW-1, to replace the old Z1. This newer fluid was safe from its predecessor's harmful substances, and it significantly improved on low-temperature performance. You shouldn't use any other fluid in 2011 models, including those that come after that year. 
Let's now look into the Honda ATF DW-1 and what makes the fluid pricey.
What Makes Honda ATF DW-1 Pricey?
Many people think that this OEM product is quite pricey. But does the high price always go with high quality and effectiveness? Let's go through some features and benefits of this DW-1 OEM fluid to see if it is really worth that rate. 
Formulated specifically for newer Honda vehicle models
Helps maintain optimum shift quality over time. 
Protects transmission seals and related components from excessive wear.
Lowers the oxidation rate for long-term stability.
Improves fuel economy by low viscosity
Performs consistently in extremely high or low temperatures.
From my experience, the big downside about this ATF DW-1 is its price only. And this might be a challenge, especially when you have to use it frequently and in large amounts.
If you want to stick with the original Honda DW-1, you can shop around, then do the maintenance yourself and try to find the cheapest deal. But if you don't want to use Honda's product, here are some alternatives you can consider. 
Read more: Best Oil For Honda CRV
Conclusion
Those are some of the best alternatives to the DW-1 that I could find. They all come at a lower price than Honda OEM ATF.
Of all of the substitutes above, I would recommend any of them, but the Idemitsu ATF type-H Plus would be my best pick (check out its pros). Moreover, the fact that Idemitsu is a certified OEM Honda ATF supplier makes it a trustworthy choice.
Check Price at Amazon
Suppose you have ever used this Idemitsu or other alternatives. Could you share your experience with us in the comment box below?