If you have a Nissan vehicle, you've most likely used the transmission fluid approved by Nissan, like Matic S, D, J, or K. However, for various reasons, there is a move away from the OEM ATF towards alternatives, which are easily accessible and cheaper.
These alternatives come from Redline, Idemitsu, Pennzoil, Valvoline, or Castrol. But, how do you determine the best-suited substitute for your Nissan?
This article will help you find safe and effective alternatives to the Nissan Matic S, J, D, and K ATF. Furthermore, with a detailed review of each product, I'm sure you'll find suitable equivalent options for your vehicle.
Nissan Matic S Equivalent
Genuine Nissan Matic-S
Genuine Nissan Matic-S ATF
As the name indicates, Nissan Matic-S is manufactured specifically for Nissan vehicles. It is the original fluid found in all Nissan cars that require Matic-S ATF. However, it is important to note that this fluid is ideal for 5-speed automatic transmissions with rear-wheel drive vehicles. The Genuine Nissan Matic-S is red. Any noticeable color variation indicates the need for transmission fluid change.
The key features of this fluid include the ability to perform well under extreme temperatures, preventing wear and tear, and keeping the transmission system clean by protecting the engine from sludge, leading to a longer gear life. 
---
Red Line D6
Red Line D6 ATF
The Red Line D6 transmission fluid has a low viscosity. It flows well into the transmission system ensuring consistent flow to the gear. This lubricant also performs exceptionally under high temperatures, protecting your gears. 
It is a high-quality fluid that undergoes numerous tests, satisfying different gear oils requirements including GL-4 fluid requirements. Both manual and automatic transmission systems can use this fluid.
The only downside is that it takes a little longer to warm during the cold weather.
---
Idemitsu Type S
Idemitsu Type S ATF
If you are looking for transmission fluid manufactured under strict conditions to fit your car, then this is it. The Idemitsu Type S is specifically manufactured to cater to your Nissan car by ensuring that it meets all the specifications found in the OEM fluids, and therefore, perfectly fit as an equivalent.
Because it is highly resistant to high temperatures that would normally lead to thermal breakdown, the fluid protects the transmission system from sludge formation. As a result, the transmission functions remain optimum for smooth driving.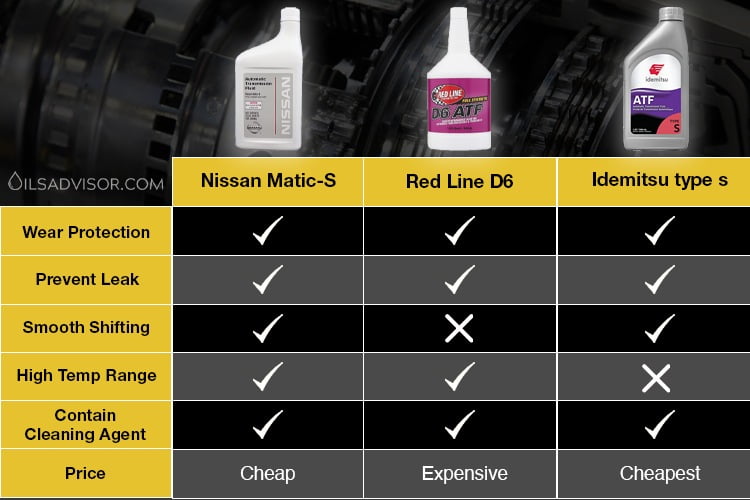 Nissan Matic – S
Red Line D6
Idemitsu Type S
Related: Nissan Blue Coolant Equivalent
Nissan Matic J Equivalent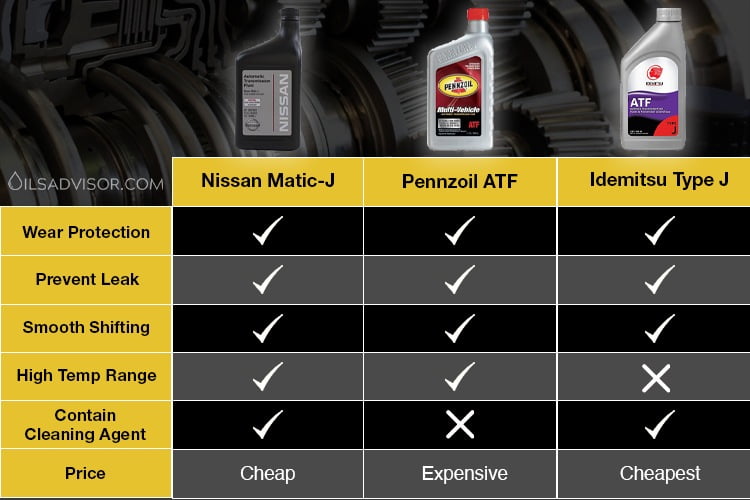 Nissan Matic-J
Pennzoil Multi-Vehicle
Idemitsu Type J
Genuine Nissan Matic-J
Genuine Nissan Matic-J ATF
This fluid comes in handy for cars that use Matic-J fluids. It ensures smooth transmission operation regardless of the temperatures. During high temperatures,  the lubriacant withstands high pressure, and in cold weather, it distributes evenly. Therefore, high performance is continuous. Also, the fluid provides cooling to the transmission system during hot weather.
Nissan Matic-J is a high-quality fluid that maintains a clean transmission system, which in turn runs smoothly. For smooth shifting, this ATF has additional friction modifiers which provide anti-shudder protection. 
---
Idemitsu ATF Type J (Matic J)
Idemitsu Type J ATF
Idemitsu is a leading manufacturer in oil and fluid and therefore, conversant with Nissan ATF needs. As a result, the company produces this Idemitsu Type J as a Nissan Friendly product. The manufacturing process aims to provide extended protection to your transmission system. Additional antioxidants protect the various transmission parts from sludge formation and oxidation.
To further enhance the performance of the fluid, there is the use of advanced technology during the manufacturing process. Extra benefits include: reduction of wear and tear, prevention of thermal breakdown in high temperatures, excellent anti-shudder performance, and provide superior cleanliness.
As a result, the transmission system is excellent, and you experience the benefits when driving, no matter the weather conditions.
---
Pennzoil Multi-Vehicle ATF
Pennzoil Multi Vehicle ATF
If you have an older Nissan vehicle, you may have trouble finding the ideal ATF. Well, Pennzoil Automatic Transmission Fluid provides a perfect alternative for you. Consistent use of this fluid ensures your transmission system has extended life, as it gives shear stability to the system. The oxidation resistance, anti-shudder protection, anti-wear, and gear protection provide the smooth and reliable operation of the system that any driver is glad to have.
Additionally, the fluid has an element that protects your system against low temperature. 
Related: Nissan PSF Equivalent 
Nissan Matic D Equivalent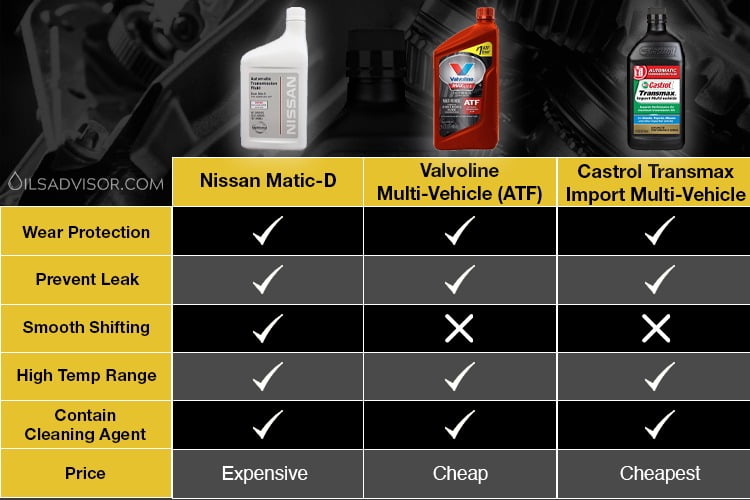 Nissan Matic-D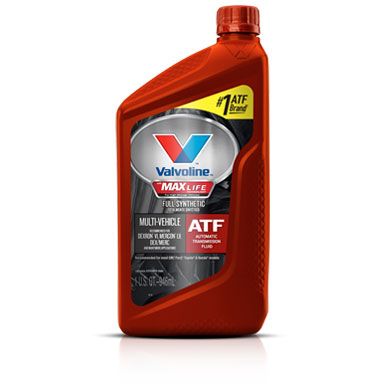 Valvoline Maxlife Multi-Vehicle
Castrol Transmax Import Multi-Vehicle
Genuine Nissan Matic-D ATF
Genuine Nissan Matic-D ATF
For any Nissan that requires Matic-D ATF, this OEM fluid is the best you will find in the market. The lubricant is used in the vehicles during the manufacturing process up to completion. There are numerous features and benefits associated with this fluid. They include smooth-shifting during low temperatures, the ability to maintain correct pressure during hot weather, the longevity of the transmission system, and great performance among others. 
---
Valvoline Multi-Vehicle ATF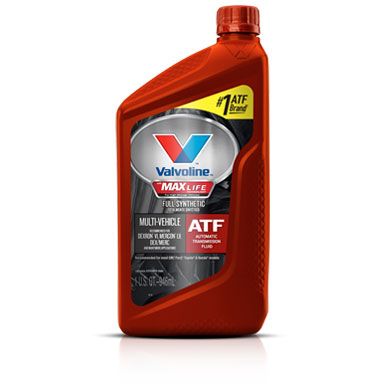 Valvoline Multi-Vehicle Full Synthetic ATF 
Currently one of the best sellers on Amazon, Valvoline Multi-vehicle ATF is a favorite for many, and reasonably so. A closer look at the features reveals why. This ATF has all the common features of ideal transmission fluid, such as thermal stability that enable the gear parts to stay clean and antioxidants that protect the buildup of sludge and undesirable deposits. Apart from that, some additional advanced additives and modifiers help deal with the issues that lead to breakdown and failure of the transmission system.
Moreover, the fluid contains seal conditioners which help prevent leakages. Friction modifiers aid in the smooth shifting of various parts, protecting them from wear and tear while improving their performance. Additionally, there are viscosity modifiers that enable the fluid to adapt to different temperature requirements. This Valvoline ATF flows well during the cold season and offers protection when it is hot.
Moreover, this universal fluid is also compatible with Nissan Matic-S, J, K.
---
Castrol Transmax Import Multi-Vehicle
Castrol Transmax Import Multi-Vehicle ATF
Castrol is well known for manufacturing high-quality car accessories. This fluid is no different. When you use this Castrol Multi-Vehicle ATF, you will experience a smooth transition for your Nissan car. This is because the fluid has extra high-temperature protection, which is resistant to oxidation. Low-temperature fluidity is also greatly enhanced for smooth shifting in cold weather.
To maintain the high standards, synonymous with Castrol, Transmax Import Multi-Vehicle transmission fluid meets and exceeds all the manufacturing requirements. 
Castrol claims that the fluid can meet Matic J requirements, hence can be used interchangeably. However, I don't recommend mixing two different types of transmission fluid. This can cause damage to your vehicle.
Related: Best Oil For Nissan 350Z 
Nissan Matic K Equivalent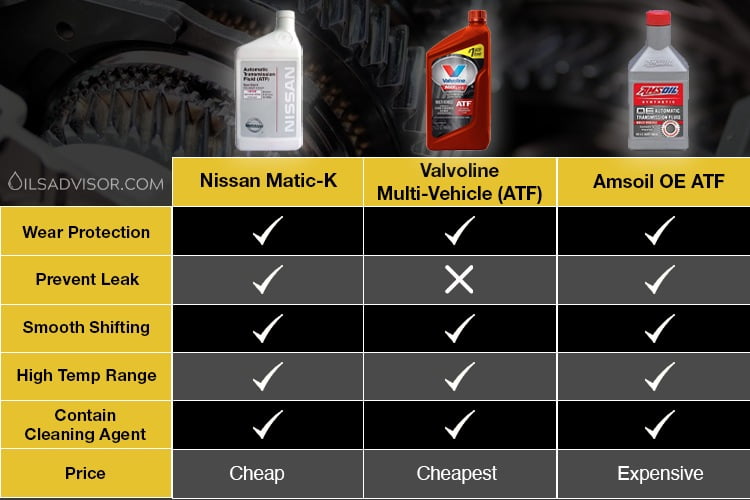 Nissan Matic K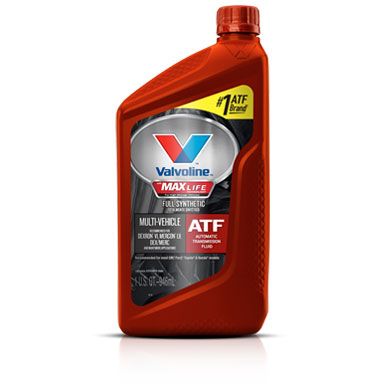 Valvoline Multi-Vehicle ATF 
Amsoil OE
Genuine Nissan Matic-K ATF
Genuine Nissan Matic-K ATF
Continuous use of Nissan Matic-K ATF improves your car's performance and increases its longevity. If you have a 5-speed Front-wheel drive with automatic transmissions, this is your perfect fluid. As an Original Equipment Manufacturer product, your Nissan needs are well covered. Benefits of using this fluid include temperature adaptation abilities, where fluid flows smoothly at low temperatures while maintaining the right pressure when it is hot.
Also, it has cleaning additives that ensure your transmission system remains clean and protected from sludge formation.  
It is important to note that this fluid is unsuitable for CVT transmissions with rear-wheel drive, 3 to 4-speed Nissans. 
---
Amsoil OE Synthetic ATF
Amsoil OE Synthetic ATF
For your passenger cars and light trucks, AMSOIL OE Synthetic Automatic Transmission Fluid is your perfect choice. It offers outstanding wear protection for a longer-lasting transmission system and is sludge resistant. During extreme temperatures, this fluid adapts accordingly, to ensure that you still enjoy your rides regardless of the weather. When it is hot, it does not evaporate. Rather it resists heat and evaporation. In cold weather, the fluid does not solidify or thicken. It continues to flow, thus maximizing fuel efficiency.
Other benefits include additional seal conditioners that prevent any form of leakage, smooth and shudder-free shifting.
---
Valvoline Multi-Vehicle (ATF) Full Synthetic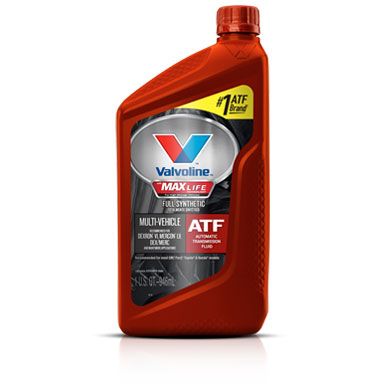 Valvoline Multi-Vehicle Full Synthetic ATF
As mentioned earlier, Valvoline Multi-Vehicle is a fluid that is favorable to many, thanks to its numerous benefits. It is also versatile and meets the all Nissan Matic S, J, and D requirements and, therefore, can be used across the board for various transmission fluid needs of Nissan vehicles.
Final Thought
As the transmission systems experience technical changes, the market will also experience a shift. Manufacturers will come up with better fluids to meet the rising demand. The level and number of additives will likely rise. The quality of fluids will rise to accommodate the need for better performing fluids. 
Of course, this will be an advantage to you, the final user, as you will have a wide range to choose from. Better quality fluids will translate to better-performing cars, long-lasting gear parts, and less time in the garage, thus, saving you money and time. However, I do recommend that you should stick to OEM products if your vehicle is still under warranty, otherwise, your dealership might void it.