Are there any good Nissan power steering fluid alternatives in the market? Can you use ATF for Nissan Power Steering System?
Yes, there are many equivalent options to replace the Nissan PSF that you can find out there from Valvoline, Prestoone, Redline, Ravenol, etc. More than that, you can use Dexron ATF for your car. However, not all Dexron fluids ATF work in Nissan PS system as you think.
To get a deep understanding of this. Read on this as I will explain which Dexron fluids are safe for your Nissan. Besides, a detailed review of Nissan PSF equivalent options (including Nissan E-PSF and Nissan II) will help you pick the suitable fluid for your vehicle.
Let's dive in!
Can I use ATF for Nissan Power Steering System?
It depends on your model. Do check your Nissan owner's manual before making any decision. Here are some different results that I found on some Nissan models:
In the Nissan Murano 2017 or Nissan Maxima 2021 manuals, it states "Genuine NISSAN E-PSF or equivalent. Use of power steering fluid other than Genuine NISSAN E-PSF will prevent the power steering system from operating properly". In this case, you need to use Nissan PSF for your power steering. ATF or Dexron is not recommended. 
On the other hand, the 2004 Nissan Altima manual says "Power steering fluid (PSF) Genuine NISSAN PSF or equivalent. NISSAN Automatic Transmission Fluid (ATF), Dexron™ III/Mercon™, or equivalent ATF may also be used". In the Nissan Maxima 2010 owner's manual: "Genuine NISSAN PSF or equivalent. DEXRON™ VI type ATF may be used".
In the two models mentioned above, you can also use Dexron III or VI for you Nissan. In that case, you can use Dexron as PSF for your power steering system.
So make sure to check your owner's manual to get more details before you want to switch to another type of PSF. If you don't have your manual in hand, you can check it here! 
Note: You should use only OEM products for your vehicle when it's still under warranty. Some manufacturers will void your vehicle's warranty coverage if you use non-OEM products.
Related Post: Nissan Matic ATF [S, D, J, K] and Equivalents
Dexron III or Deron VI?
Some people are confused about using Dexron II, III, or VI for their Nissan. Note that Dexron VI is formulated to be backward compatible with earlier Dexron II or III. But more importantly, earlier type fluids are NOT FORWARD COMPATIBLE DEXRON-VI. So, you are confident to use Dexron VI where Dexron III or II are required.
If you want to swap to Dexron, here are some some equivalent options that you can go with:
Nissan PSF Equivalent: Dexron VI Products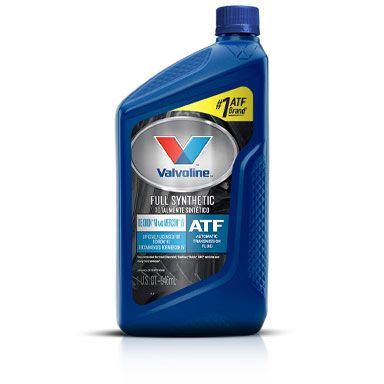 Valvoline DEXRON VI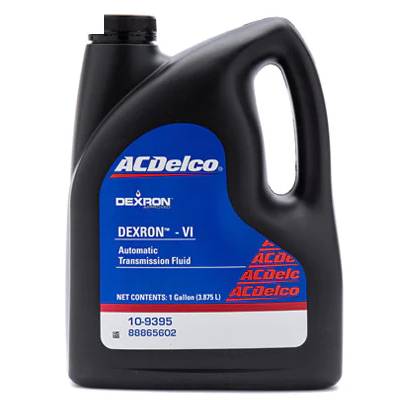 ACDelco 10-9395 Dexron VI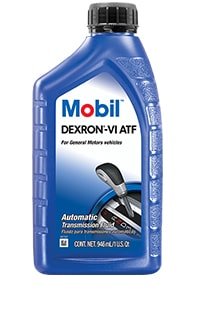 Mobil 1 Dexron-VI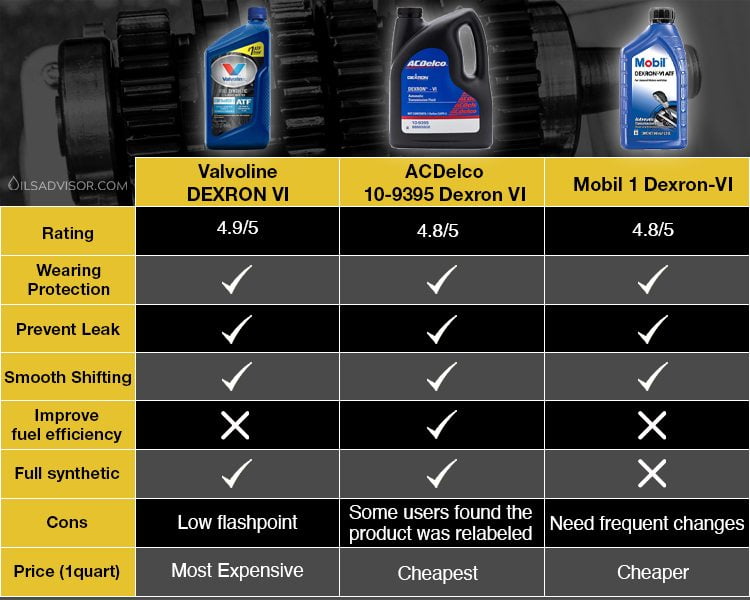 Valvoline DEXRON VI/MERCON LV Full Synthetic ATF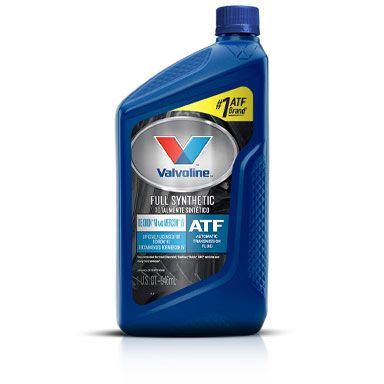 Valvoline DEXRON-VI ATF
Valvoline DEXRON-VI ATF is approved by General Motors for using in cars and trucks. It is backward serviceable, therefore, can comfortably replace DEXRON -II and DEXRON–III. Its formulation involves advanced additive technology. As a result, it easily caters to the demands of automatic transmissions. Some of the outstanding features include the enhanced anti-shudder protection, temperature resistance, and sludge resistance. 
Pros
Anti-shudder protection gives you smooth shifting
Anti-wear technology for durability
Provides better flow in cold weather
Heat resistance prevents fluid breakdown when hot
Helps reduces sludge and varnish build-up
Cons
Does not perform well in some older models
Has a low flash point
ACDelco 10-9395 Dexron VI
ACDelco 10-9395 Dexron VI
This fluid is the most recent release in the Dexron series. Therefore, it has a lot of improvement to meet the needs of the current transmission system. Besides being approved and licensed by GM, ACDelco GM Original Equipment 10-9395 Dexron VI boasts of the ability to give you longer and consistently outstanding performance. It has high heat resistance abilities hence does not break down with temperature rise. It flows well during the cold to ensure that your vehicle steering ability remains optimum. 
Pros
Compatible with previous Dexron ATFs 
Improved to fit the new transmission system models 
Temperature resistance makes it last longer 
Provides consistent shift performance in severe conditions
Helps improve fuel economy
Cons
Not suitable for CVT and DVT transmissions
The availability is a problem
Mobil 1 Dexron-VI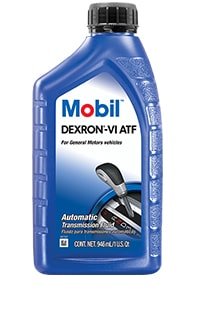 Mobil 1 Dexron-VI
Mobil 1 Transmission Fluid-Dexron-VI provides a warranty for use by 2006 and newer systems. For older GM vehicles, where Dextron is recommended, the fluid also helps improve performance. Mobil Dexron VI is a high-performance ATF that is designed to meet the strict requirement of GM Dexron specifications. If you own an automatic transmission vehicle, you should change the fluid regularly at the manufacturer's recommendation.

However, just as the name indicates, this fluid is a synthetic blend, which means that you should change the fluid more frequently, especially under severe conditions or heavy towing.
Pros
Thermal stability ensures all-weather performance 
Prevents harmful deposits and sludge 
Provides anti-wear protection for long transmission life 
Reduced friction for smooth shifting
Cons
Needs to have frequent changes as it's a synthetic blend
Related Post: Nissan Blue Coolant Equivalent
Nissan E-PSF Equivalent
Genuine Nissan E-PSF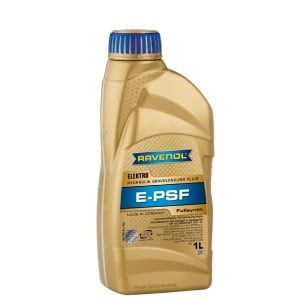 RAVENOL E-PSF Full Synthetic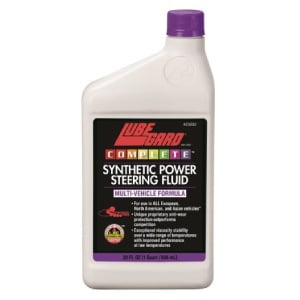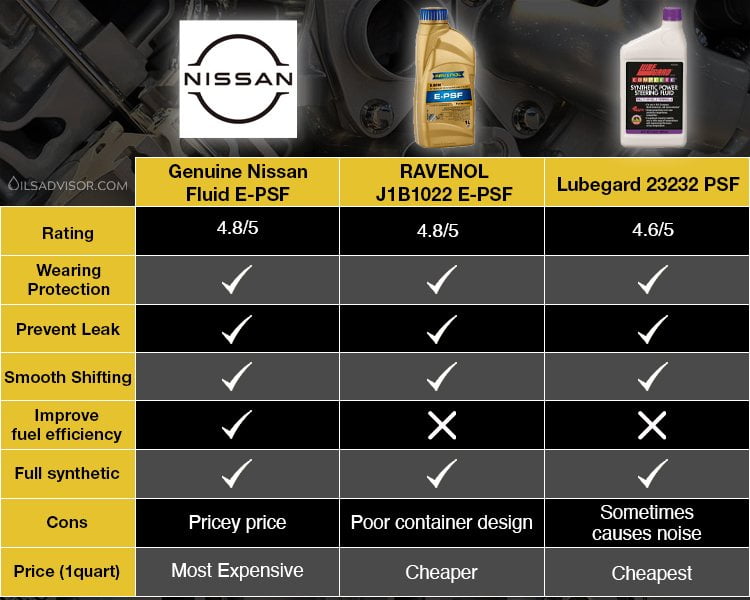 Genuine Nissan Fluid E-PSF
Genuine Nissan Fluid E-PSF
This OEM Genuine Nissan 999MP-EPSF00P Electric Power Steering Fluid is perfect for your Nissan as they design it with your vehicle in mind. It is formulated with extra additives for maximum performance and extended life for your transmission system. 
Pros
Protects seals from hardening and shrinkage
Added detergents and stabilizers reduce wear and tear
Nissan approved transmission fluid 
Improves fuel economy
RAVENOL J1B1022 E-PSF Full Synthetic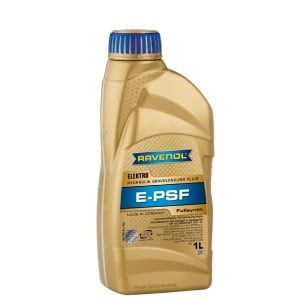 RAVENOL J1B1022 E-PSF Full Synthetic
RAVENOL E-PSF Full Synthetic is formulated from high-quality full synthetic base oils and additives to meet electro-hydraulic power steering systems. Therefore, it can meet the Nissan EHPS Electro-Hydraulic Power Steering specifications, with perfect lubricating ability. This lubricant also has excellent protection against corrosion, wear and tear, and foam formation.

Moreover, with the stable viscosity, the fluid provides a perfect lubricating ability in a wide temp range and reduces friction that can cause damage to the steering system.
Pros
Low viscosity ensures the fluid flows well during cold weather
Resists fluid breakdown at high operating temperature 
Proper lubrication prevents corrosion of the parts
Added antioxidants protect against wear and tear
Cons
The packaging is prone to leak
Lubegard 23232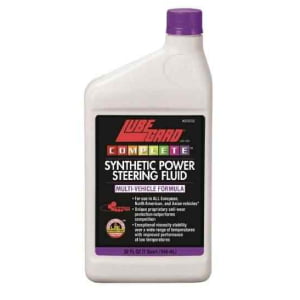 Lubegard 23232 Multi Vehicle PSF
Though manufactured for Asian, European, and North American vehicles, Lubegard 23232 PSF is used across the board for all vehicles. This lubricant is perfect for electric hydraulic systems. It reduces the friction of the different parts, reducing wear while protecting seals and hoses. 
Moreover, this lubricant contains additives that help clean the turbines and pumps, removing any sludge and deposits for excellent performance.
Pros
Performs well in extreme temperatures
Safeguards the steering system components from sludge and deposits
Protects seals, reducing the risk of leaks
The anti-wear formula reduces friction and supports the power steering
Cons
Sometimes causes noise in the power steering system
Related Post: Best Oil For 350Z | With Oil Type & Oil Capacity
Nissan PSF II Equivalent
Idemitsu PSF for Asian Vehicles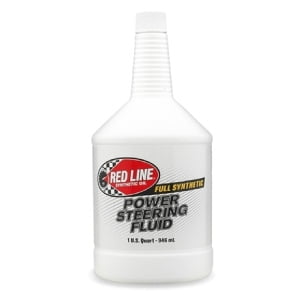 Red Line 30404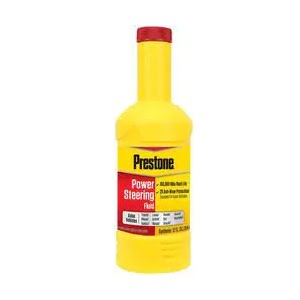 Prestone AS269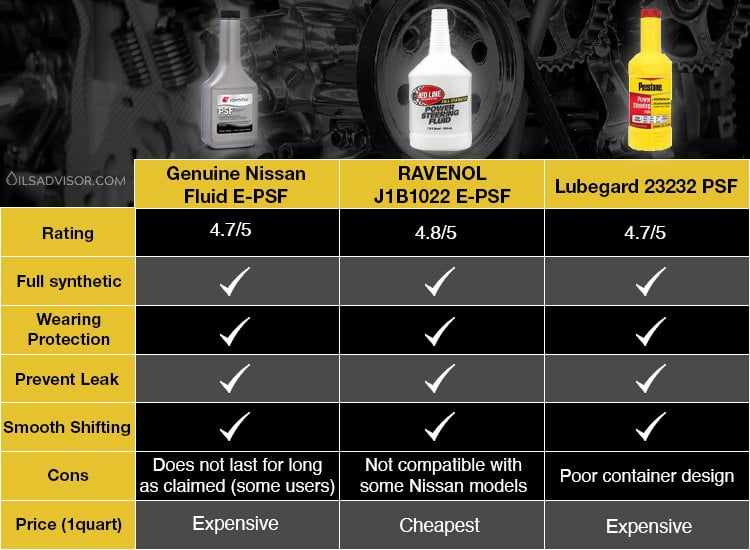 Idemitsu PSF for Asian Vehicles
Idemitsu PSF for Asian Vehicles
If you're looking for a fluid that will guarantee performance even under severe conditions, then Idemitsu PSF Universal Power Steering Fluid for Asian Vehicles is your perfect choice. 
They formulate it using advanced technology under stringent conditions to provide excellent protection measures to meet high standards. Moreover, the fluid has outstanding compatibility with gaskets, seals, or components to help prevent leaks in your power steering system. Here are some Pros & Cons of the product. 
Pros
Reduced levels of friction eliminate noise and increase efficiency 
Superior performance in low and high temperatures 
Advanced technology in the prevention of cavitation and wear 
Easy flow for proper lubrication for smooth performance
Red Line 30404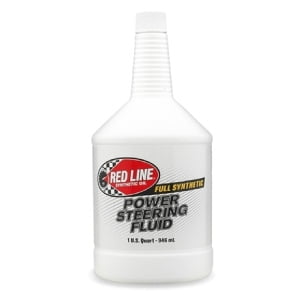 Red Line 30404 Full Synthetic PSF
One of the unique features of Red Line 30404 PSF is being lightweight. Therefore, it easily flows, especially in cold weather, helps prevent power loss. Moreover, the fluid has a low viscosity which helps it remain intact even under high temperatures with minimal evaporation and foaming.
Pros
Prevents difficult low-temperature steering and high-temperature steering fade
High resistance to thermal breakdown for high performance
Prevents oxidation of parts for a longer-lasting system
Seal protection helps prevent leakages
Cons
Not compatible with some Nissan models
Need to check the compatibility before use
Prestone AS269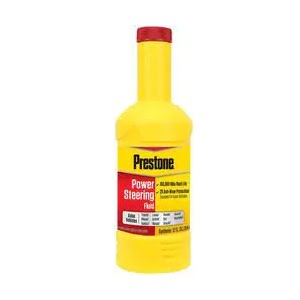 Prestone AS269 Power Steering Fluid for Asian Vehicles
With over 90 years in the industry, Prestone has perfected the art of formulating quality PSF for Asian vehicles. This fully synthetic Preston AS269 power steering fluid has components such as; anti-wear, antioxidants, and other additives designed to protect the steering system.
Pros
Up to 100,000 miles fluid life
Extra additives for prevention against corrosion 
Anti-wear protection for longer life
Provides outstanding operation in extreme temperatures
Cons
Poor packaging makes it prone to damage 
Related Post: Power steering fluid coming out of reservoir cap
Causes & Solutions
Final Thought
Ultimately, the best PSF for your vehicle is the OEM product. However, these equivalents provide cheaper yet quality alternative options where OEM products are not available.
With all substitutes I have analyzed in the article, sometimes the performance may be lower in some cases, but you'll be on the safe side since these products are claimed to meet your Nissan specs. 
Could you share with us your experience with your favorite product?