Type A transmission fluid was made in the late 1940s by GM. It is used in vehicles with automatic transmissions from 1949 to 1958. However, after that, every car manufacturer started producing their own ATF.
This makes many car owners look for alternatives. Some thought of using Dexron for their vehicles. But is Type A transmission fluid the same as DEXRON?
Yes, in some cases, you can use the Dexron. However, not all Dexron or Mercon fluids can be backward compatible with Type A transmission fluid. But don't worry, as I will disclose which Dexron fluids can be used instead of Type A in this post.
More than that, I found some safe and effective alternatives to Type A transmission fluid from RedLine, Valvoline, and Mobil 1. Read on to know if these products work well with your car or not!
Let's get started!
What is Type A Transmission Fluid
Type A transmission fluid was produced in the 1950s for automatic transmission systems. One of the major components of the fluid was whale oil, which was not sustainable in the long run. Also, the oil could not hold in high temperatures and broke down easily and required frequent change, and damage to the transmission system was rampant.
With the above challenges, it was necessary for manufacturers to think otherwise. They began building more eco-friendly systems. Fuel producers had to be more innovative to meet the occurring demand. As a result, they turned to other sources for their base oils. Since then, there has been a clear evolution in the manufacture of fluids, making them better to match with the enhanced transmission systems.
Type A Transmission Fluid Equivalent
There are 3 alternatives to Type A transmission fluid: Redline D4, Valvoline DEX/Merc, and Mobil1 Synthetic ATF. Let's see how they work in the real world.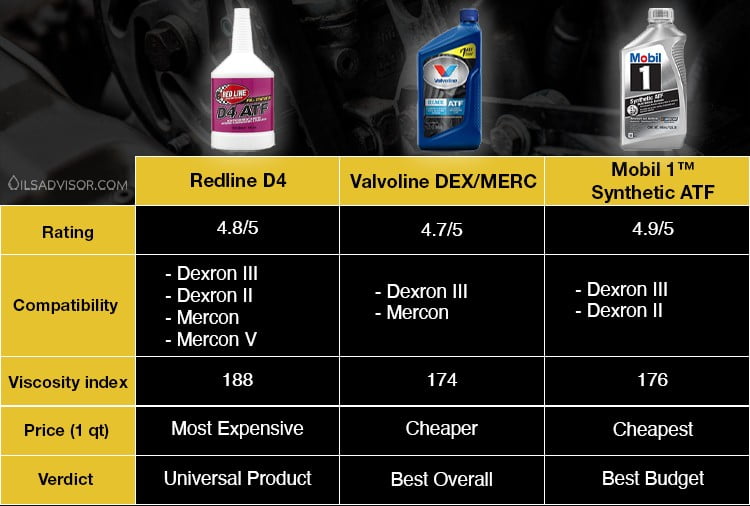 Redline D4 ATF
Red Line D4 Automatic Transmission Fluid is fully synthetic. Low viscosity characterizes it, with improved thermal stability. These features enable easy flow in low temperatures and smooth flow in high temperatures for continuous lubrication. As a result, the transmission system lasts longer, and its performance remains optimal. Also, you can use this fluid as a Type A transmission fluid equivalent.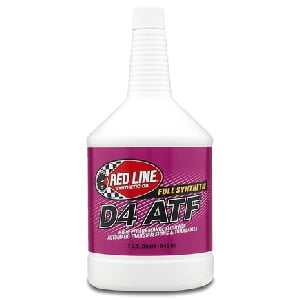 Red Line D4 ATF is designed with low-temperature properties compared to Dexron III fluid, and the improved shear-stability requirements of Mercon V.
Pros
Provides lower viscosity at cold temps for quicker shifting
Reduces volatility at high temperature
Helps to extend drain intervals
Prevents corrosion, oxidation, wear, and the formation of harmful deposits 
Cons
Has a strong smell after time 
High price
Valvoline DEX/MERC ATF
Formulation of this fluid aims to meet the challenges experienced by the needs of the current automatic transmission systems. It has advanced additives that enable it to give you remarkable performance. Moreover, the lubricant contains anti-wear and anti-shudder technologies that enable the transmission system to last longer and experience smooth-shifting, respectively.
Also, the film protection during high temperatures prevents oxidation, while low viscosity ensures a great flow when it is cold.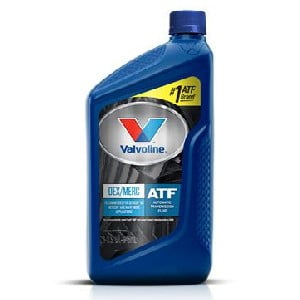 Valvoline DEX/MERC ATF is recommended for applications where Dexron, Dexron II, III is specified.
Pros
Advanced anti-wear technology reduces foam and oxidation 
Ensures good oil flow in both low and high temperatures
Enhanced anti-shudder protection helps maximize power transfer
Provides smooth shifting 
Cons
The packaging is prone to damage
Mobil 1 Synthetic ATF
Mobil Synthetic ATF provides lubrication to the transmission system in all-weather regardless of the severity. It has additives that help keep the system clean. The anti-shudder property gives you a smooth shifting experience, while the anti-wear preserves your transmission system from damage. It also prevents the formation of sludge and deposits. As a result, you enjoy your transmission system for a longer time.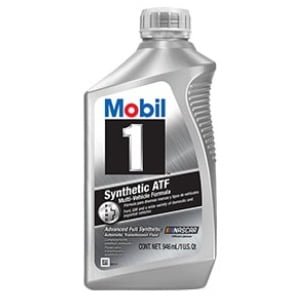 Mobil 1 Synthetic ATF is recommended for vehicles requiring Dexron III, Ford Mercon performance level. 
Pros
Helps improve fuel economy
Keeps the tranny clean to have good performance
Remains viscosity retention under severe operating conditions with high and low-temperature fluidity
Provides excellent leakage control
Bonus: Chevy 5.3 Oil Capacity & Oil Type
Is Type A Transmission Fluid The Same as Dexron?

Dexron is a trading name by General Motors for transmission fluids that meet their specifications. Like any other vehicle manufacturers, GM does not produce any fluids. Rather, it has technical specifications that guide fluid manufacturers on the specific preferred properties. Once produced, they undergo quality tests, and if verified, GM certifies and gives licenses.  
In some cases, you can use the Dexron fluid as a replacement for Type A transmission fluid. But not all of them are backward compatible. Just some generations of Dexron B, Dexron II, Dexron III, and some Mercon fluids can be used. Read on to know more.
Note: There are newer General Motors specs such as DEXRON VI, DEXRON HP and DEXRON ULV. However, these are NOT backward compatible with transmission systems that require a Type A ATF. Therefore, you cannot use them as a replacement for the above fluids.
Dexron B
Dexron B was released in the mid-1960s to replace Type A and Type A suffix A fluids. While most of the properties of the previous fluids were maintained, Dexron is more stable and has fewer reactions. 
Including extra additives in its formulation has further enhanced its performance and many benefits. The fluid is highly resistant to heat and oxidation. It also has non-foaming qualities. As a result, the fluid lasts longer between changes.   
Dexron B is also backward compatible and readily available. This means that you can comfortably use it for replacement where previous fluids are recommended.
The fluid is certified for use by GM with the license number beginning with the letter B on the container. Also, fluid is red for proper identification in case of any leakages. 
Dexron II
Towards the mid-1970s, Dexron II was added to the family. It was developed as a successor to Dexron B, of course, with better features and improved performance. Some of the added features include better viscosity control and additional antioxidants. It is more stable, has a good flow in low temperatures, is less reactive, and is resistant to rust and corrosion.
However, with time, GM- the fluid manufacturers felt that the corrosion and rust resistance was not up to standard. Therefore, in the mid-70s, There was an update of the properties to enhance the prevention of rust and corrosion of the transmission system parts. Unfortunately, the updated fluid performed well in automatic systems and was dismal in hydraulic systems that were common. This necessitated another update of the Dexron II which was released in the late '70s.
Dexron II is backward compatible, hence can replace the previous GM fluids. Also, it was the first electronic transmission fluid among GM fluids
Dexron III
Every so often, there are improvements in the vehicle manufacturing process for better performance. As a result, there is a demand for fuels that will keep up with the improved transmission systems. Dexron III was produced to not only replace the previous versions but also offer increased benefits. 
It was first released in 1993 and was improved severally, with the last version released in 2011. Over this period, they enhanced the fuel to become one of the most successful fluids produced by GM.
Some of the key features include stability in extreme temperatures. The fuel flows well in the cold and is oxidation resistant to hot temperatures. It withstands friction, controls foam formation and corrosion. Dexron III is also has a longer fluid life and is backward compatible, hence can replace Type A, Type A, and Type A suffix A, Dexron B, and Dexron II fluids.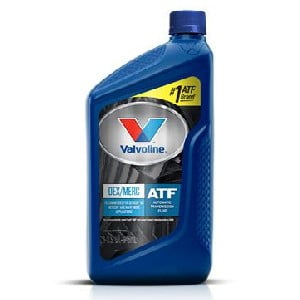 Valvoline DEX/MERC ATF is recommended for applications where Dexron, Dexron II, III is specified.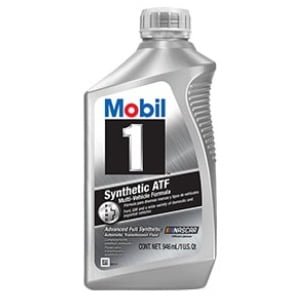 Mobil 1 Synthetic ATF is recommended for vehicles requiring Dexron III, Ford Mercon. 
Bonus: What Power Steering Fluid Is Compatible With 89021184?
Mercon
Mercon is the trade name for automatic transmission fluids licensed by Ford. They are produced in line with technical specifications as prescribed by Ford, after which they are licensed. For ease of identification, all licensed fluids have a license number on the container. 
Mercon
Mercon was released in1987 as the first product in line with the technical specification number M2C185-A. Because licensing involves a rigorous process, there is quality assurance in the Mercon ATF. It is compatible with Type "A" Suffix "A" fluid, Dexron B, Dexron II, and Dexron III, and thus you can use it in their place.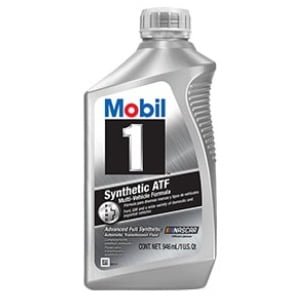 Mobil 1 Synthetic ATF can meet Mercon performance level
Mercon V
Ten years after, Ford released Mercon V transmission fluid in 1997. It was a replacement for Mercon with the extra intention to serve the new car models that face more challenges hence require versatile fluids. This fluid has a lower viscosity compared to its predecessor. It flows well in cold temperatures for a fast and even spreads in the internal parts.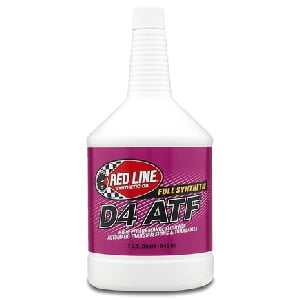 Red Line D4 is a suitable replacement for Mercon V
Final Thought
Whenever you want to change your ATF, the first choice should be what the car manufacturer recommends. However, sometimes, it is impossible to get the fluid. Type A for example, is no longer available in the market. The equivalents come in handy as they will serve you equally well or even better.
If you find it hard to choose the best overall fluid among the products I discussed above, choose the Valvoline DEX/MERC ATF. I'm sure it won't let you down!
Check Price at Amazon