Are you struggling to find suitable alternatives to John Deere hydraulic oils?
Many aftermarket oil brands claim that their products can meet John Deere's requirements (JDM J20C and J20D). Some of them are Chevron, Amsoil, Mobil, Triax… However, are they truly safe to use in your machine?
Well, I know it's hard to choose the right product among many out there.
That's why I wrote this article. With a detailed review of the most popular substitutes, I'm sure you can pick the best-suited equivalent options for your machine; just after 4 minutes of reading.
Let's dive in!
J20C Vs J20D: What Is The Difference?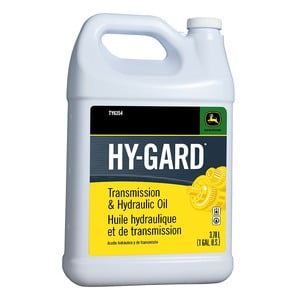 John Deere Hy-Gard J20C transmission and hydraulic oil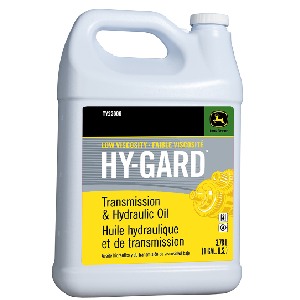 John Deere low viscosity Hy-Gard J20D transmission and hydraulic oil
To pick the right alternative to John Deere Hy-Gard oil, you must first know its specifications (JDM J20C and J20D) clearly. I'm sure this won't take you much time. But you will have more knowledge of what your machine needs.
J20C Hy-Gard is a high viscosity oil designed for normal operating temperatures and hot weather. J20D, in contrast, is a low-viscosity fluid. It is usually used in winter. These oils have the same performance specifications. In cold weather, the low-viscosity Hy-Gard is usually used as a replacement for the Hy-Gard.
Related: Kubota UDT Hydraulic Fluid Equivalent
John Deere Hy-Gard J20C Equivalent
After knowing the details of JDM j20c and j20d, it's time to choose the best alternative to John Deere Hy-Gard oil for your equipment.
Schaeffer Simplex Supreme Tractor Hydraulic Fluid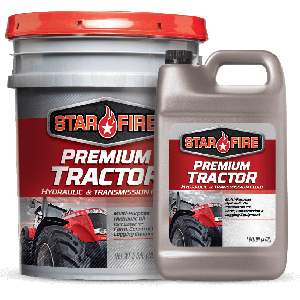 Schaeffer Manufacturing Tractor Hydraulic Fluid
Simplex Supreme hydraulic fluid is a high-quality product that provides dependable long-term performance and protection. This oil is used in many tractors and construction equipment. It meets and exceeds John Deere's current J20C specification.
Simplex Supreme oil consists of PAO synthetic oils and special additives. This fluid minimizes friction caused by metal surfaces moving across one other. Thereby, allowing for smoother, quieter, and more efficient operation. Major tractor issues like wear, braking noise, and hydraulic operating temperatures are significantly minimized. It's also designed to handle low-temperature applications and perform well in harsh climates. Furthermore, the lubrication is long-lasting, so you'll be changing the oil less regularly.
Unlike certain fluids, which might cause some seals to swell, this product is suitable for all kinds of seals. It's recommended for transmissions, wet brakes, hydraulic systems, final drive, and construction equipment with a common sump. 
---
MOBIL FLUID 424  – J20C Hydraulic Oil Equivalent
Mobil Fluid 424 High Performance Tractor Hydraulic Fluid
Mobil Fluid 424 High Performance Tractor Hydraulic Fluid is an equivalent of the John Deere Hy-Gard oil specs JDM J20C. It flows well into the hydraulic system to greatly enhance the performance of your tractor. Its formation includes a combination of select base oils with extra additives. This produces a lubricant that is not only high quality but also compatible with most systems. Actually, the oil meets and exceeds all the transmission and hydraulic fluid requirements.
Regardless of the severity of the environment within which your tractor operates, this product promises to give you an unforgettable experience. Thanks to the additional components, it can resist thermal degradation and oxidation that can affect the quality of the fluid as well as reduce its lifespan. 
It is engineered with components that increase the levels of wet brake friction and reduce power take-off chatter for longer brakes and clutch life.
According to many users on tractor forums, this product is good to use with no worries. Here's what I found from Tractor ByNet forum: "I run all Mobil products in my tractor and vehicles. We use Mobil products at work and do oil sampling every 250hrs in which we run 24hrs at work so basically sampling every 2 weeks. Our company policy is 3000hrs and change oil even if sample says it is still good. We get 3000hrs out of Mobil oils easy. The 424 Mobil hydro is very good oil !". The only downside of this oil is its availability, sometimes it's hard to find the fluid at local stores. In that case, you can go for online options.
Main Benefits
The fluid is versatile hence can be used in both agricultural and construction tractors. 
The ability to withstand oxidation when hot makes it long-lasting. 
You spend less time on repairs and refill at the garage, thus saving you money in the long run.
---
Starfire Premium Tractor Hydraulic & Transmission Fluid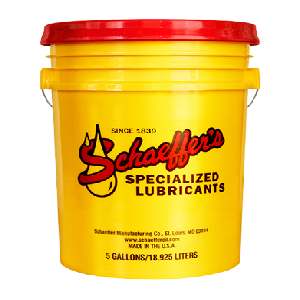 Starfire Premium Tractor Hydraulic & Transmission Fluid
Another multi-purpose hydraulic fluid that can be used as a J20C equivalent is StarFire Premium Tractor Hydraulic & Transmission Fluid. This lubricant is ideal for agriculture, construction, and logging equipment. High-quality Group II base stocks and a friction modifier are used in its formulation. Additionally, the lubricant can withstand thermal breakdown, which adversely affects a fluid's ability to lubricate.
Much like the prior product reviewed above, StarFire transmission fluid has good seal compatibility. Particularly well-suited to vehicles with hydraulic systems, wet brakes, transmissions, and a variety of farm equipment, off-highway vehicles, and industrial tractors.
It's specifically made to provide optimum life and performance throughout different temperatures. Starfire hydraulic fluid significantly reduces friction-related component wear in tractors. And the benefit manifests in the form of seamless shifting and strong anti-shudder performance. Thanks to its special formula, it resolves the problem of sludge and varnish build-up. 
The last point that I like this product is its price. According to many users, this product has an unbeatable price compared to other alternatives. If you want to find an affordable oil for your machine, this product is a good pick.
Related: Best Oil For Honda Lawn Mower
John Deere Hy-Gard J20D Equivalent 
| Product | Image | Verdict |
| --- | --- | --- |
| Triax Agra UTTO | | Recommended as direct replacement for JD |
| Amsoil ATH | | Universal applications |
| Chevron THF | | Use in severe operations and applications |
Triax Agra UTTO – J20C & J20D Hydraulic Oil Equivalent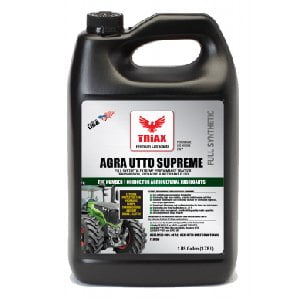 Triax Agra UTTO Supreme Universal Full Synthetic Tractor Hydraulic Transmission and Wet Brake Oil
Triax Agra UTTO Supreme Universal Full Synthetic Tractor Hydraulic Transmission and Wet Brake Oil has features that make it versatile. It is compatible with all the transmission and hydraulic systems making it a perfect equivalent for John Deere Hy-Gard oil. The fluid engages the clutch packs and shifts smoothly into the system for outstanding operational performance as a fully synthetic fluid. 
Also, it has additional anti-wear elements hence protecting your transmission and the hydraulic system from damage. It is said to last twice as long compared to the other fluids.
The ability of the fluid to withstand any kind of weather ensures that the system remains lubricated throughout regardless of the weather. It also stays for longer and offers different levels of protection for the longevity of your system and lowered costs of operation. 
Main Benefits:
The anti-wear properties ensure that your hydraulic system lasts for longer and saves you money and time. 
The oil's versatility makes it usable across various applications. 
---
Amsoil ATH – J20C & J20D Hydraulic Oil Equivalent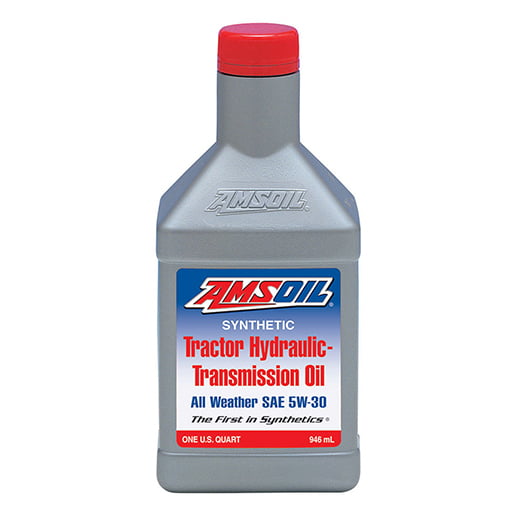 Amsoil Synthetic Tractor Hydraulic/Transmission Oil SAE 5W-30 (ATH)oil has all the good characters that you would desire in transmission and hydraulic fluids. It is all-weather oil that performs within a wide range of temperatures without losing its character. This happens thanks to the high viscosity index. In low temperatures, this oil remains fluid and does not break down when the temperatures are extremely high.
The extra additives effectively reduce wear and protect the system against heat and rust, thus extending the equipment service life. 
Amsoil Synthetic Tractor Hydraulic/Transmission Oil has friction modifier additives that effectively deal with the wet-brake chatter. They provide friction stability giving you smooth brake operation and reducing the level of vibration.
When compared to other alternatives, Amsoil is quite expensive. However, the fluid does have its fans across the online forums: "I've used synthetic Amsoil ATH for years with excellent results". (Source: MyTractor Forum)
Main Benefits:
The high viscosity index allows it to operate over a wide range of temperatures while offering protection to the system. 
All applications, whether farm or commercial machines, can use it
Friction modifier additives reduce brake chatter for smooth brakes and clutch operation 
Anti-wear additives for protection.
---
Chevron Synthetic All-Weather THF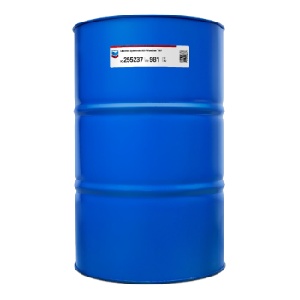 Chevron Synthetic All-Weather THF is a multifunctional fluid that is suitable for use in transmissions, final drives, wet brakes, and hydraulic systems of tractors with a single sump. It satisfies both John Deere J20C and J20D specifications. 
The fluid offers great flow in the cold season and superior oil film protection in the hot season. It is made with special synthetic base oils and additives that provide effective lubrication. Consequently, this helps to protect metal surfaces from scuffing and wear even under severe operations and applications. The tractor's critical parts are also protected against corrosion and rust. 
It keeps your tractor running smoothly by preventing brake noise and transmission slip. Moreover, Chevron helps to prevent the formation of varnish and sludge deposits, which can cause internal parts to deteriorate. Finally, its compatibility with seals, O-rings, and packaging materials minimizes leakage.
Note When Using Substitutes for John Deere Hydraulic Oil
As you know, the hydrostatic systems are extremely sensitive and need special oil. Hy-Gard oil is designed for John Deer's hydrostatic system. Using the wrong oil type can lead to severe damage to the engine. This is the reason why John Deere recommends that you should not use anything other than their product. 
Moreover, John Deer also states that the suitable viscosity used for their machines is 10w30. Keep in mind that do not just use 10W oil. This will bring different results. Of course, it's not good ever. 
Lastly, just want to share that if your machine is under warranty, just use an OEM-approved product. Using others can lead to a warranty void. I know the John Deere Hy-Gard oil is pricey, but it will guarantee your machine for a long time. 
All I said above doesn't mean that the alternatives are not good. As I read many reviews and feedback online, there are many substitutes for the Hy-Gard oil. However, the three products I mentioned earlier were safe to use for John Deer tractors. Furthermore, they are affordable, and the availability is not a big problem as OEM product. And for those who live in remote regions, going for equivalent options is worth trying. 
Related: What Type of Oil To Use In Kubota Diesel?
Final Words
All the fluids above are on top of the range for hydraulic fluids. They exceed the requirements and are high-quality oils. Moreover, these products have proven beyond doubt that they perform well and will easily give John Deere Hy Gard oil a run for its money.
However, if you ask me which is the best pick of all, I would recommend the Triax Agra UTTO. TRIAX claims this fluid can be used as a direct replacement for both John Deere J20C and J20D. So you can use it with confidence.
Share with us your experience if you have used any of mentioned products in this post.
Check Price at Amazon