What is the capacity of 5.7 Hemi? What type of oil does it take?
Generally, the 5.7 Hemi engine requires 7 quarts of oil. The oil type recommended is 5W20.
This article gets into details of the oil capacity and oil type in all vehicles with the 5.7 Hemi engines. Also, after reading this post, you will easily choose the right oil for your vehicle. A detailed review of OEM-approved product and other oil brands will meet your needs.
Let's get started!
5.7 Hemi Oil Capacity
The oil capacity of Hemi engine is 7 quarts (6 liters). This applies to all 2003 – 2022 engines.
To keep your vehicle in good shape, you should check and change engine oil frequently. It's recommended to change engine oil for your vehicle every 7,500-10,000 miles or 12 months, whichever comes first. If you drive your vehicle under severe conditions or off road environment, the changing interval should be 4,000 miles. It usually takes around an hour to do an oil change, costing between $100 to $150.
It's advisable to use the correct oil type recommended by the manufacturer. Using the wrong oil can lead to severe damage to your vehicle's engine. Read on to get more knowledge of the oil specifications and oil type used for your truck!

5.7 Hemi Oil Type
The recommended oil type for 5.7L engine vehicles manufactured between 2003 and 2021 is SAE 5W-20 oil. Failure to use this oil type may result in improper operation of the Multi-Displacement System (MDS).
Also, any oil used must be API Certified and meet the requirements of Chrysler Material Standard MS-6395.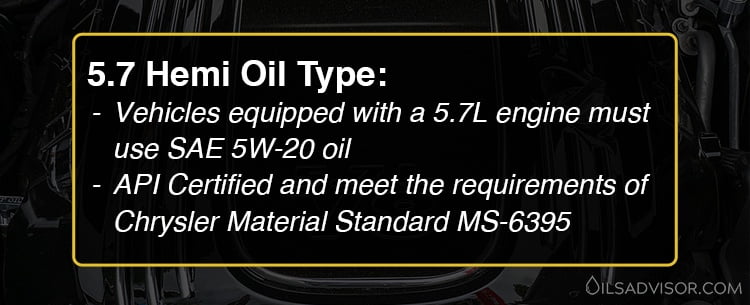 Best Oil For 5.7 Hemi
Genuine Chrysler Mopar 5W-20
Genuine Chrysler 5W-20 Mopar oil is the recommended motor oil for your 5.7 Hemi engine. It was validated after passing stringent duty fleet testing. This product, which was created by Chrysler engineers, exceeds API Certified SM engine oil requirements. 
Using this superior engine oil will extend the life of your engine and improve its performance. The product is ideal for maximizing fuel efficiency and improving oxidation protection. Besides that, the amount of oil consumed and deposits on the pistons are reduced.
The manufacturer recommends genuine Chrysler SAE 5W-20 Mopar oil for the 5.7 Hemi engine
Genuine Chrysler Mopar oil formula has been proven to provide your engine with the necessary protection. It's designed for the 5.7 Hemi engine found in Chrysler, Dodge, Ram, and Jeep vehicles. This engine oil complies with Chrysler material standard MS-6395. Additionally, it satisfies the ILSAC GF-5 performance standard.
Read More: Mopar Coolant Equivalent [OAT & HOAT]
Other Equivalents
There are other motor oils that are suitable for the 5.7 Hemi engine. Because they meet the specific requirements, the use of these oils will not harm your engine. These engine oils are described in detail below.
Pennzoil Ultra Platinum 5W-20
Valvoline Advanced 5W-20
Castrol Edge 5W-20 Advanced
Pennzoil Ultra Platinum 5W-20
Pennzoil Ultra Platinum 5W-20
Pennzoil Ultra Platinum Full Synthetic is regarded as one of the best oils available for vehicles with the 5.7 Hemi engine. It's also one of the purest synthetic oils on the market since it's made from natural gas. 
Pennzoil is able to produce such clear oil thanks to its PurePlus technology, which converts pure natural gas into high-quality synthetic base oil with fewer impurities.
In order for your engine to perform optimally, it must be free of deposits. When it comes to resisting sludge and deposit formation, this oil performs impressively. Moreover, Pennzoil Ultra Platinum oil keeps pistons significantly cleaner than the industry standard ILSAC GF-6.  
It resists heat really well and will provide adequate protection for your 5.7 Hemi engine. The brand claims that by using this, you can increase your vehicle's annual mileage by up to 550 miles when compared to a dirty engine. 
---
Valvoline Advanced Full Synthetic SAE 5W-20 Motor Oil
Valvoline Advanced Full Synthetic SAE 5W-20 Motor Oil
This engine oil might be just what you need to keep your engine healthy. Valvoline Advanced Full Synthetic oil has received a lot of positive feedback from users. The product addresses the most common causes of engine failure. 
You won't have to worry about the flow of oil being affected by extreme temperatures because this base oil flows easily in the cold and coats critical engine parts in the heat. With Valvoline advanced full synthetic base oil, you'll get 40% more protection than industry standards, thanks to its enhanced anti-wear additives. 
The product is designed to provide critical protection for your 5.7 Hemi engine, allowing it to perform at its best and last as long as possible. Its extra engine-cleaning detergents provide 25% better protection against deposits for your engine. Additionally, the motor oil contains high-quality antioxidants that help to prevent oil breakdown 10x better than industry standards.
---
Castrol Edge 5W-20 Advanced Full Synthetic
Castrol Edge 5W-20 Advanced Full Synthetic 
Castrol Edge is the most technologically advanced engine oil of Castrol. 
With this product, you'll be able to maximize the full potential of your 5.7 Hemi engine. Moreover, this motor oil incorporates fluid titanium technology, which alters the way oil functions under pressure. 
Due to the use of this cutting-edge Titanium technology, the oil performs 10X better at high temperatures than other oils.
Furthermore, this fluid provides 6X better wear protection and is 3X stronger than the leading full synthetic. It offers protection for 10,000 miles between oil changes. 
The majority of experts endorse and rely on this product for maximum engine performance and unrivaled engine protection. Users experience an increased fuel economy as well as increased horsepower. 
Read More: Mopar ZF 8&9 Speed ATF Equivalent
Conclusion
In general, the 5.7L Hemi is a well-known and dependable engine. Giving it the right juice makes it effective and more reliable.
The products I reviewed above are produced by trusted brands. So they work well with your vehicle. You can choose from any of them to purchase; they are well worth the money.
However, to pick the ideal product, I recommend the Mopar if you want to use the OEM-approved product. In case you need a cheaper yet effective option, go for Pennzoil!
Check Price at Amazon