Despite being a crucial part of the vehicle, most people often fail to replace their coolants. Some even barely know the best coolant for their cars.
However, thanks to technology, you can now rest easy as you enjoy a long time with your vehicle without having to worry about the state of the coolant. According to the manufacturers, Toyota Super Long Life Coolant can last you a lifetime, or at least 150,000 miles before the need to change.
In this article, I will take an in-depth look at Toyota Super Long Life Coolant, compare it with the Toyota Long Life Coolant and review other coolants that you can use as its replacement.
About Toyota Super Long Life Coolant
Toyota Super Long Life Coolant Short Review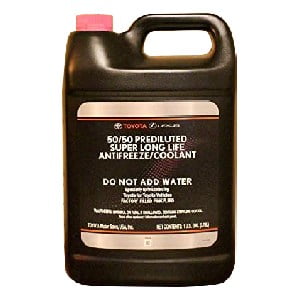 About Toyota Super Long Life Coolant
Toyota Super Long Life Coolant is relatively new, hence mostly referred to as a new generation coolant. It is glycol-based and comes to the market ready for use, having been pre-mixed. In addition to protecting your engine from overheating and freezing, this fluid has an anti-rust agent that prevents rust. It is pink in color. 
Because of its composition, this coolant falls under the extended life coolants (ELC), which means that it can last as long as your engine does. However, you are encouraged to change it at least once in a lifetime for safety purposes, depending on your environment. For example, a car that is mainly off-road can stay up to 15,000 hours, while machines and trucks can go as far as 600,000 miles before needing to change. 
---
Toyota Super Long Life Coolant Vs. Toyota Long Life Coolant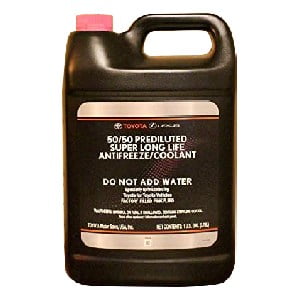 About Toyota Super Long Life Coolant
About Toyota Long Life Coolant
There are numerous similarities between these two coolants. They are both glycol-based and manufactured using carboxylate technology; they have additives that prevent rust and corrosion and are Toyota OEM. Both work to ensure that your car serves you for a long time, to name but a few.
However, there are a few properties that distinguish the two. While Toyota Long Life Coolant is made for the older car models, the Toyota Super Long Life Coolant is used for the newer models. 
Other differences include the lifespan of the coolants, where the latter lasts longer and performs better, their physical appearance, and the presentation. The Super Long Life coolant is pink and comes ready for use, while the Long Life Coolant is red, and you have to ore-mix with deionized water before you use it.
---
Toyota Super Long Life Coolant Equivalent
Below are three coolants that you can comfortably use as Toyota Super Long Life Coolant Equivalent. But, before you do so, you have to consider the following:
First Considerations 
OEM or Aftermarket? 
Any OEM coolant has been tested and certified by car manufacturers. Therefore, they are considered high quality. On the other hand, aftermarkets meet all the minimum legal requirements but are not certified. However, this doesn't mean that aftermarket products are not good. Manufacturers can provide lubricants at lower prices. This reason make many users look for alternatives to use for their vehicles.
However, when to use OEM, when to use aftermarket?
Warranty Void
You need to know if your car's warranty is still active. Most car manufacturers are specific on the coolants you should use for your vehicle, failure to which you can easily void your warranty.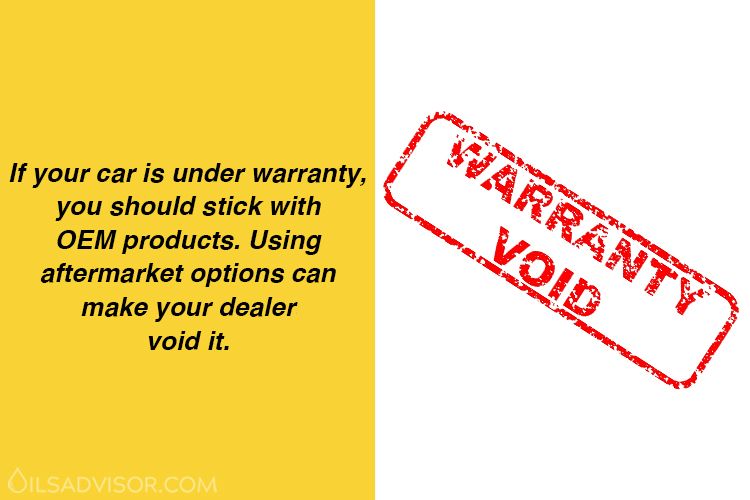 Specifications
According to the Toyota owner's manual, if you use equivalent options to Toyota Super Long Life Coolant, it should be high-quality ethylene glycol based non-silicate, non-amine, non-nitrite, and non-borate coolant with longlife hybrid organic acid technology. Any product that can meet these requirement can be a good substitute for your Toyota.
---
Zerex Asian Vehicle Red Silicate and Borate Free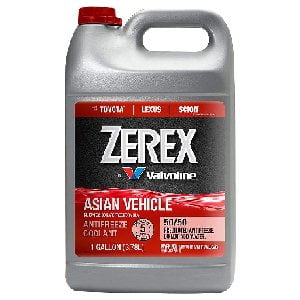 Zerex Asian Vehicle Red Silicate and Borate Free
This coolant is from Valvoline, a well-known company in the motor industry to manufacture car fluids and oils. As the name reveals, the product is silicate and borate-free and uses Hybrid Organic Acid Technology (HOAT). According to the product information datasheet, it can meet many industry specifications, including Toyota. So, this Zerex Red is a viable replacement for the Toyota super long-life coolant. 
Some of its key features include anti-rust and anti-corrosion properties that ensure your system lasts for a longer time. In addition, it offers long life protection of up to 150 000 miles or five-year change interval. The lubricant also prevents harmful deposits to your system, thus keeping it clean and functional for a longer time. Moreover, the product is safe with your hoses, gasket, plastic, or original paint with high-quality defoamer. 
Zerex Asian Vehicle Red Silicate and Borate Free is red and pre-mixed with demineralized water, making it convenient for use. Using this coolant will also save you a couple of dollars as it costs less.
---
Recochem OEM Pink Premium Antifreeze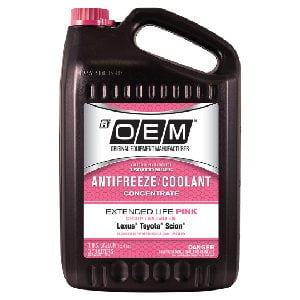 Recochem OEM Pink Premium Antifreeze
This coolant is recommended for Toyota, Lexus, and Scion newer model applications and light-duty vehicles that require phosphate-based OAT. It is pink in color and offers an alternative for Toyota super long-life coolant as it is an ethylene glycol-based coolant using Hybrid Organic Acid Technology (HOAT) and Silicate, borate, nitrite & amine-free. 
The Recochem Pink Antifreeze is tested to provide outstanding protection against overheating and freezing. You can use it for all cooling system metals, including aluminum. Other properties of this coolant include preventing corrosion, rust, and pitting that occurs due to cavitation of the system metals. 
While the product meets all the requirements and even some specifications, it is less expensive and lasts long. It has a change interval of 150,000 miles or five years, thus saving you both time and money. To attain the best performance, you should not mix it with other coolants as it may react and form clogs that are detrimental to your radiator. 
This Recochem is available in two versions: prediluted and concentrated. Although the concentrated form seems a bit more pricey than other coolant products, it is actually much cheaper. You can mix it with distilled water following the ratio mentioned on the bottle to get the best mixture for your car. This can help you save more bucks on this maintenance process. 
---
Pentosin Pentofrost A4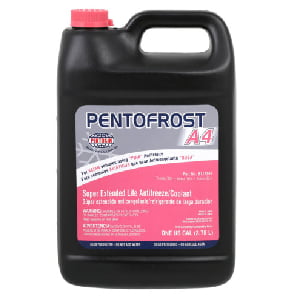 As Pentosin claimed, the Pentosin A4 is a good replacement for Toyota reference number 00272-SLLC2. So it's a good choice that you should consider.
Pentosin Pentofrost A4 is manufactured with phosphated organic acid technology (phosphated OAT), which falls under the same category as HOAT. Its formulation involves using organic salts and phosphates that protect the metals in the cooling system from corrosion. In addition, the absence of silicates, nitrites, and borate ensures that your vehicle does not experience any harmful reactions.
It comes pre-diluted, meets all the required standards, and is manufactured with the OE specifications in mind to ensure that you can safely use it as a Toyota super long-life coolant equivalent. To avoid damages, you should avoid mixing this coolant with any other, especially if they contain silicate. This is to prevent chemical reactions that can easily clog your radiator.
It is pink in color and does not foam, and has a boiling point and freezing point of 109°C/228°F and -37.4°C/-35.3°F, respectively, thus keeping your engine safe from overheating or freezing. However, this product is not so popular in the market that it's hard to find.
Final Verdict 
All these three have desirable qualities for a coolant. They all meet and even exceed the minimum requirements and are highly rated. However, it is also important to remember that the OEM coolants should always be the first choice, especially when your vehicle is under warranty.
Needless to say, this does not mean that you cannot explore. 
Having said that, Recochem OEM Pink Premium Antifreeze arguably comes out as the best among the three. I highly recommended this product as it comes with the lower price, similar properties with the OEM, and features that stand out from the rest.