Like every other automaker, Subaru has its coolant or requires a specific fluid for their vehicles. While it isn't compulsory, the coolant you use must be silicate and phosphate-free. 
It is ideal for picking OE coolant for your vehicle to ensure optimal performance and the safety of cooling system components. Alternatively, you could try to find an aftermarket option with a similar composition to the Subaru coolant at a lower price.
So, what are equivalent to Subaru Super Coolant?
The closest alternatives to Subaru super coolant are Recochem OEM Blue Premium Antifreeze, Zerex Asian Vehicle Blue Coolant, Beck/Arnley Premium Extended Life Coolant. 
Read on to see if these fluids work well in your Subaru or not!
Subaru Super Coolant Alternative
First Considerations
Do Not Mix Different Types of Coolants
If you are driving a Subaru and looking for equivalent options to your OE Subaru Super, it is fine to use an alternative ethylene glycol-based coolant. But make sure to flush the system before adding a new type. Mixing two different coolants can lead to severe problems. Besides, you should also ensure to change the alternative coolant at the manufacturer's recommended interval.
Like others OEM products, Subaru super coolant has a expensive price. However, using a different brand while under warranty is risky. You'll end up losing your warranty if you use another coolant. You must use the OEM coolant of your vehicle if you want to keep your warranty.
Note: The alternatives to Subaru Super Coolant should meet the standard oil specifications: Japanese JACA/JSA-JIS K 2234-2006.
Recochem OEM Blue Premium Antifreeze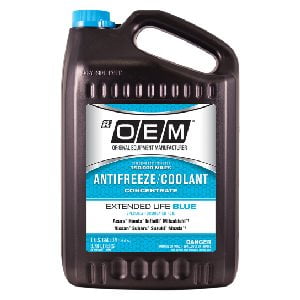 Recochem OEM Blue Premium Antifreeze
According to the product datasheet, Recochem OEM Blue Premium Antifreeze is fully compatible with Subaru. It meets or exceeds the performance requirements of JIS K2234. This product is silicates, borates, nitrites, and amines-free. It is advisable for use in newer Asian vehicle and light-duty truck models that require a phosphate-based OAT antifreeze. 
Due to the patented extended life corrosion inhibitor technology, the fluid helps your engine secure a long service life. Moreover, the technology also keeps the cooling system metals from rusting and corroding.
At high temperatures, the Racochem can provide superior aluminum protection. The bitterant added to the coolant during manufacturing ensures that the coolant is completely safe and reliable. It can provide up to 150,000 miles or five years of service life protection in your Subaru. 
In addition, the coolant is suitable for those who are looking for cheaper alternatives. Premix 50/50 and concentrate versions are both available. It's always advisable to pick the concentrated one and mix it with distilled/ deionized water. This also can help you save more bucks. 
Pros
Silicates, borates, nitrites and amines free
Protects the coolant system metals against corrosion and rust
Provides great high-temperature aluminum protection
Provides up to 150,000 miles or 5 years
---
Zerex Asian Vehicle Blue Silicate and Borate Free Antifreeze/Coolant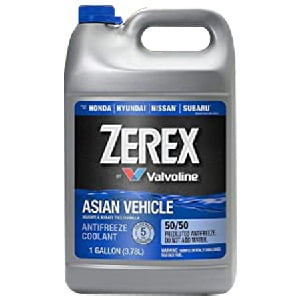 Zerex Asian Vehicle Blue Silicate and Borate Free Coolant
Another equivalent option to Subaru Super Coolant in the list is Zerex Asian Vehicle Blue, which contains no silicate and borate. The coolant employs phosphate-based Hybrid Organic Acid Technology coupled with long-life performance. 
This product is compatible with 1997-present Subaru applications. It's specially designed to prevent rust and corrosion on all metals in the cooling system. The silicate and borate-free unique formula also helps prevent potentially hazardous deposits.
Zerex Asian Vehicle Coolant comes in both red and blue formulations. The formula has been thoroughly tested to ensure its safety and efficacy. Like Recochem Blue Premium, the Zerex guaratees to protect your engine for up to five years or 150,000 miles.
To make the product safer for children and animals, Valvoline added bitterant to make it less sweet. This makes it less likely for kids and pets to drink it. The lubricant is available in prediluted form only. However, for the same size jug, Zerex Asian Blue is considerably less expensive than OEM. 
Pros
Silicate and Borate Free
Prevents potentially hazardous deposits
Protects your engine for up to five years or 150,000 miles
High-quality additives helps prevent leaks
Cons
Available in prediluted formulations only
---
Beck/Arnley 2521501 Premium Extended Life Antifreeze/Coolant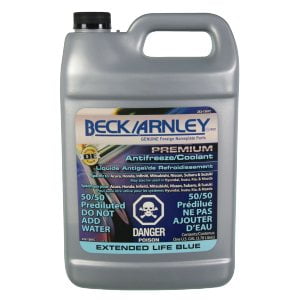 Beck/Arnley 2521501 Premium Extended Life Antifreeze/Coolant
The Beck/Arnley 2521501 Coolant is an Ethylene Glycol-based Antifreeze/Coolant with a blue appearance. The coolant has the same Subaru Coolant specs Number SOA868V9270 and composition as the Subaru Super Coolant. Beck/Arnley is exactly equivalent to Subaru Super Coolant at a lower price. Beck/Arnley Premium Prediluted Antifreeze/Coolant automakers also claim that all of their products are identical in form, fit, and function to any OEM products.
You can use this pre-diluted coolant for Asian vehicle engine cooling systems that require "Extended Life" Antifreeze/Coolant. The application of this coolant is extremely simple and straightforward.
Beck/Arnley Premium Extended Life Antifreeze/Coolant (HOAT) uses Phosphated Organic Acid Technology (Hybrid Organic Acid Technology). Because this coolant contains no amines or borates and is silicate-free, you don't have to worry about any damage to water pump seals or gel formation, which could clog the radiator.
Pros
Amines, borates and silicates free
Compatible with Subaru SOA868V9270
Utilizes phosphates protects seals in Asian vehicles
Prevent rust and corrosion in the cooling system
Cons
Little pricy compared to other brands
Available in prediluted formulations only
Related: Coolant Boiling In Reservoir: Causes & Solutions
About Subaru Super Coolant
The Genuine Subaru SOA868V9270 Super coolant is an antifreeze/engine coolant made of ethylene glycol with blue color. It's premixed with 50% coolant-antifreeze and 50% deionized water to avoid the use of low-quality water, which can lead to cooling system failure. This indicates that it is ready-to-use and does not require any action.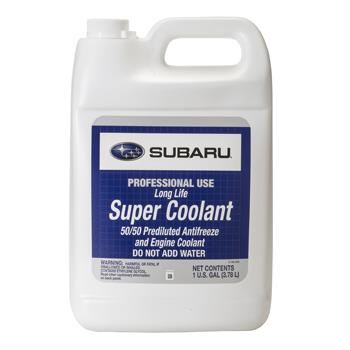 Subaru Super Coolant
With organic corrosion inhibitors, Subaru Super ensure to provide long-lasting corrosion protection. This coolant will further prevent all of the cooling system's components from rusting. The product protects against freezing temperatures and is suitable for use on non-metal surfaces. Use for top-off or flushing.
Subaru super coolant would work efficiently if the car came with blue coolant from the factory. All Subaru cars from 2008 onwards are recommended to use this excellent OEM coolant. If you're using it on a car before 2008, make sure to flush the cooling system is completely.
It is advisable to change the coolant every 60,000 miles. The product can protect your engine from head gasket failure. The major drawback of this super coolant is that it is quite expensive to buy. 
Bonus: Subaru Long Life Coolant Vs Super Coolant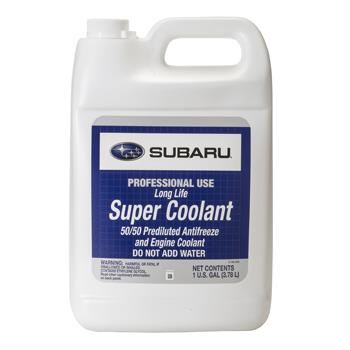 Subaru Super Coolant SOA868V9270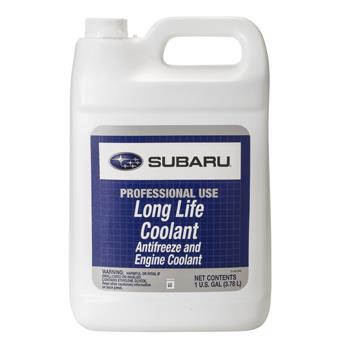 Subaru Longlife Coolant SOA868V9210
Many users are confused Subaru Super Coolant with Subaru Long Life Coolant. These are two different coolants and you should not mix them. Subaru Long Life coolant is designed for older Subaru models, primarily those from 2008 and before. Always check your car's owner's manual to see the recommended coolant for your model.
bonus: Toyota Super Long Life Coolant Equivalent
Final Words
Subaru coolants are non-silicate, non-phosphate, and non-amine ethylene glycol-based coolants. To summarize, you do not have to use the OEM Subaru coolant, but it must meet their requirements.
Each product I mentioned above has pros and cons, and you must be wise to pick the best for your vehicles. However, I found that the Beck/Arnley 2521501 is the closest alternative to Subaru Super coolant, as the manufacturer claimed. They formulated this lubricant for the exact SUBARU number S0A868V9270.
Check Price at Amazon
Always remember that DO NOT mix any different coolant/ antifreeze. When you want to use a new fluid brand, flush out all the old lubricant remaining in your cooling system before adding a new one.