Coolant, also known as antifreeze, protects your engine from effects of extreme temperature. It does this by ensuring that the cooling system does not freeze when it is cold and removes excess heat that can cause corrosion.
Coolants are classified into three main types: IAT, OAT, and HOAT. However, OAT and HOAT are more popular these days. Mopar is a famous coolant/antifreeze brand used across the board. But, are there any equivalent options to Mopar?
This article will analyze Mopar coolant as equivalents in these two categories.
Note When You Switch to a New Coolant/ Antifreeze
While it is okay to switch to a new coolant, here are a few points to keep in mind:
Do not mix two different types of coolant/ antifreeze. They may react and cause damage
If you want to fill it with a new coolant, flush the old fluid in your radiator
Stick with OEM products if your car is under warranty, if not, the dealer might void it
Ensure that you have the right coolant in line with your car make recommendation

Mopar HOAT Coolant Equivalent
Mopar 68048953AB
Zerex G05
Motorcraft Gold Coolant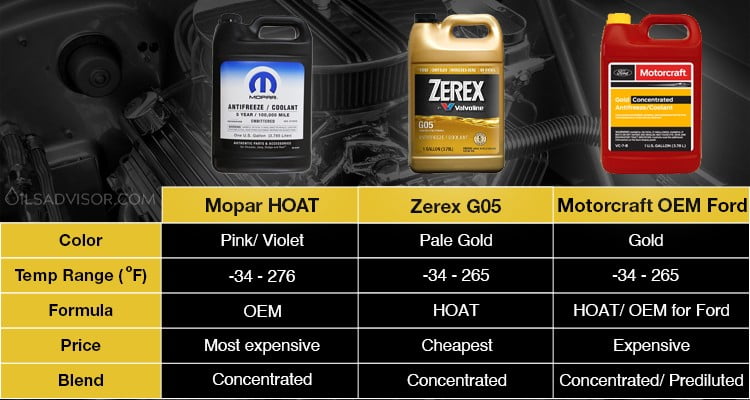 Mopar 68048953AB Antifreeze/Coolant
This Mopar 68048953AB coolant has been in the market for a long time. Over the years, the manufacturers have successfully produced high-quality coolants that meet and exceed different requirements. It is MS-9769 certified and comes with a 5 years/100,000 miles warranty.
This lubricant uses an Ethylene glycol base during formulation with the final product preventing freeze-up and boil-over while protecting the cooling system from corrosion. It is an OEM, thus, trusted by car manufacturers during the production and aftercare of vehicles. Even if you have used other coolants/antifreeze, you only need to flush the old one, and refill it with Mopar and restore your car to its peak performance. 
Mopar HOAT Coolant MS-9769
Zerex G05
This coolant has characteristics such as reduced pH, low silicate, and some levels of nitrite, which combine to protect against corrosion of the metallic parts of the cooling system. It does not contain phosphate. Zerex G05 has extra additives to prevent cavitation on the diesel engine cylinders. Deposit control additives, on the other hand, prevent the formation of scales and hard water deposits.
The fluid is a concentrate and should be diluted 50/50 with water to protect the cooling system effectively. Another additional feature of this antifreeze/coolant is the defoamer that preserves the plastics and original vehicle finishes.
Zerex G05 is suitable for use in newer car models as approved by Ford North America. If you own an old car, this product is not an ideal choice for your vehicle.  
Zerex G05 Phosphate Free Antifreeze/Coolant
Motorcraft Gold Coolant
Motorcraft is OEM Ford Parts brand. This gold coolant/antifreeze is great for diesel, gasoline, and electric motors. It's freeze and boiling protection is -34 ℉(-36.7 ℃) and 265℉ (129 ℃) respectively. It provides antifreeze and anti-boil protection all year round. 
Motorcraft Gold Coolant is ethylene glycol-based and is yellow, and contains a bittering agent. It has high-quality standards with several certifications such as Chrysler MS-9769, Ford specification WSS-M97B51-A1, Cummins 14603, and ASTM D 6210. 
However, the big downside of the lubricant is that it contains some level of silicate which tends to break down under extreme heat. So if you live in a very hot region, keep in mind that the product is not a good choice.
Motorcraft Gold Coolant
Mopar OAT Coolant Equivalent
Mopar OAT Coolant
Zerex DEX-Cool
OEM Recochem Extended Life Orange
Mopar antifreeze coolant 10 year 150 000 mile formula OAT
Just as the name indicates, this coolant/antifreeze guarantees you up to 10years or 150,000 miles before the next service. In addition to protecting the radiator from the effects of extreme temperature, it ensures that the metallic parts are safe from corrosion. 
Mopar OAT coolant comes in two forms labeled MS-90032 and MS-12106. MS 90032 coolant is a concentrate product that needs mixing before use. OAT coolant MS-12106, on the other hand, is 50/50 premixed thus ready to use. Both are interchangeable with no problem and will protect your car from extreme temperature regardless of high or low they get. 
But these 2 versions of Mopar OAT coolant are not labeled clearly, you should be careful to pick the right item for your need. Choosing a concentrated product and mix it with distilled water will help you save some bucks compare to a pre-diluted one. 
Mopar antifreeze coolant 10 year 150 000 mile formula OAT
Zerex DEX-Cool
Zerex DEX-Cool is one of the top-selling antifreeze coolants. It is a product of Valvoline, one of the leading marketers and suppliers of premium car lubricants. The lubricant has a GM 6277M approval from General Motors and meets Chrysler MS-12106 requirements. 
The service life for this coolant is five years or 150,000 miles. Unlike most antifreeze/coolants, it does not contain amines, phosphates, borates, nitrates, silicates, and nitrites. It is a carboxylate formulation that incorporates organic acid technology with ethylene glycol as the base. The coolant is concentrate and needs mixing with distilled water. For distinction purposes, it is orange in color. 
Does this product have any downside? Many customers state that it performs poorly upon exceeding the recommended mileage. This means that you should change your coolant as scheduled maintenance for optimal performance. But I don't think it's a drawback at all.
Zerex DEX-Cool
OEM Recochem Extended Life Orange
OEM Recochem Premium Antifreeze Extended Life Orange meets Chrysler MS-12106 requirements and exceeds the performance requirements of ASTM D3306 and JIS K2234. Its formulation uses ethylene glycol as the base in organic acid technology and does not contain amines, borates, nitrates, phosphates, and silicates.
With five years or 250,000 km service protection, this antifreeze/coolant provides excellent protection to metals in the cooling system from rust, corrosion, and temperature protection for the aluminum. It is pre-diluted coolant, thus ready to use, and is compatible with coolants formulated with OAT. It is advisable for North American gasoline vehicles and light-duty cars.
Recochem OEM GM Orange Premium Antifreeze 50/50 Extended Life
Final Words
Different vehicles require different coolants depending on the manufacturers' recommendation. The older cars also have requirements and specifications that may differ from the newer versions. Even if they are the same make, you may need to use different coolants/antifreeze for each unit.
It is important to understand your vehicle needs and the requirements thereof.