Do you drive a Chrysler, and your car needs motor oil that meets the highest quality standards?
The MS-6395 approved motor oils should be on top of your mind as they have been designed specifically for your Chrysler's vehicles.
However, where to find the right oils that meet this specification?
Don't worry! As you can find the complete approved oil list that meets Ms-6395 in this article. Also, I will explain this specification in detail and answer some questions relating to it.
Let's get started!
Ms-6395 Oil List 2022 Lookup
Type the product name or viscosity in the SEARCH BOX to check if it in the Ms-6395 list or not.
E.g: Castrol Edge 5w20.
Leave a comment if I missed any product!
What is MS-6395?
Material Standard MS-6395, or simply MS-6395, is a certification standard for motor oils by Chrysler Group LLC. Its main aim is to guide the manufacturers on the oil properties ideal for the Chrysler car engines.  
For certification purposes, the oils undergo numerous tests. One major test involves having the oil in cars for at least 100,000 miles under different weather conditions. The results determine the quality and suitability of the oil. If the oil fails the test, the manufacturer gets the results and recommendations for improvement.
Related: What Power Steering Fluid Is Compatible With MS-5931
Chrysler MS 6395 Specification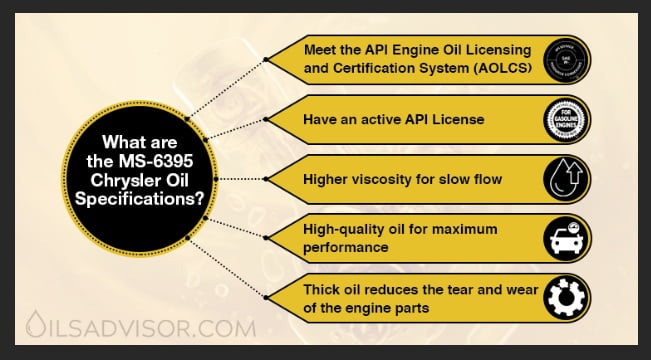 While the Chrysler certification may appear strict, the oil manufacturers undergo similar procedures like any other. They all follow the laid-out manufacturing guidelines and requirements as stipulated by the law. They must meet the API Engine Oil Licensing and Certification System (AOLCS) and have an active API License. Also, the engine tests are done as per the ACC Product Approval Code of Practice.
The only difference is that, over and above the basic guidelines, the company takes it a notch higher and ensures that the oil you use has additives specifically made for service-fill engine crankcases. Therefore, you are assured of the best engine performance and protection regardless of the operating conditions.
The specific characteristics of the MS-6395 Chrysler Oil are:
Conventional or Synthetic Oil?
MS-6395 certified oils are in both conventional and synthetic forms. While there are questions as to which is better, user preference based on experience prevails. None can claim supremacy. Those using the conventional oils are satisfied as much as those using the synthetic oils.
However, the difference is in the formulation which ultimately determines the performance. Well formulated conventional oils will outdo poorly formed synthetic oils any day.
That said, when the formulation process is proper, synthetic oils are better than conventional oils. Manufacturers use a mix of petroleum, alcohol, and hydrocarbon gases to manufacture synthetic oil, a process that produces clean and high-quality oil. On the other hand, crude oil or petroleum is the base lubricant in processing conventional oil, leaving it with some impurities. As a result, well-formulated synthetic oils have better performance compared to conventional oil hence more pricey.
Read more: Jeep Wrangler Oil Type And Oil Capacity Guide
MS-6395 Synthetic Oil List
From consumer reviews on Amazon, the largest online store,  synthetic oils are highly rated. There was only about 1% of the buyers expressing some dissatisfaction.
It is interesting to note that the disappointed consumers did not have a problem with the oils. All complaints pointed towards mishandling of them, either during storage or transportation leading to leakages and contamination.
Below is a list of the MS–6395 approved synthetic motor oils.
MS-6395 0w20 Oil List
Most Recommended Oils
Valvoline Advanced Full Synthetic SAE 0W-20
Pennzoil Ultra Platinum Full Synthetic 0W-20
Castrol Edge 0W-20 Advanced Full Synthetic
---
MS-6395 5W20 Oil List
Most Recommended Oils
Mopar Genuine Chrysler 5W-20 
Valvoline Advanced Full Synthetic SAE 5W-20
Castrol Edge 5W-20 Advanced Full Synthetic 
---
MS-6395 5W30 Oil List
Most Recommended Oils
Genuine Chrysler Mopar SAE 5W-30
Valvoline Advanced Full Synthetic SAE 5W-30
Castrol Edge 5W-30 Advanced Full Synthetic
---
MS-6395 10W30 Oil List
Most Recommended Oils
Castrol Edge 10W-30 Advanced Full Synthetic
Pennzoil Platinum Full Synthetic 10W-30
Valvoline Advanced Full Synthetic 10W-30
Read More: 5.7 Hemi Oil Capacity and Oil Type
MS-6395 Conventional Oil List
Valvoline Daily Protection SAE 10W-30
Castrol GTX 5W-30 Conventional Motor Oil
As earlier mentioned, crude oil and petroleum are the base lubricants for conventional motor oil formulation. The resulting oils are not as pure as the synthetic oils. However, this does not in any way compromise their performance. Because of the strict conditions and procedures during certification, these oils are of good quality and maintain the engines' good performance.
It is no wonder that conventional oils are popular with older car owners. In the review section of websites selling these oils, many clients give testimonials of using the oils for a long time and expressing their satisfaction with its performance.
Here's a list of the MS-6395 conventional oils.
FAQs
1. Is Mobil-1 Not on the MS-6395 list?
Over the years, Mobil-1 has been a known motor oil brand and has been on the approval list until 2014. During this period, Fiat acquired shares in Chrysler and became the major shareholder. Because of the existing partnership between Fiat and Shell Oil Products, Mobil-1 ceased to be on the list to avoid conflict of interest.
2. Does Valvoline meet MS 6395?
Valvoline has many products that meet MS-6395. You can check the lookup table above to get the right oil for your Chrysler.
Final Words
From the above, it is evident that while there are many oils in the market, using oils with the MS-6395 approval is beneficial to your Chrysler. You will have a quiet, comfortable ride and your engine will thank you for it.
Furthermore, I also recommend the most popular products for your choice. Click the product, and you can get what you need easily.
Leave a comment if there is any product not included in the list. I'll get back to you soon!