Do you know any good lubrication substitute for Polaris AGL Transmission Oil? 
Numerous lubricants can replace Polaris Transmission oil like AGL to increase engine performance. The most popular products are from Royal Purple, RedLine, and Amsoil. 
However, you have to be extremely careful when choosing between OEM and aftermarket products. This is because some alternatives might be not safe to use.
Fortunately, in this article, I will analyze these Polaris Transmission Oil substitutes and their benefits to help you pick the right product for your vehicles.
Now, continue reading this article for more exciting information!
Polaris Transmission Oil Substitute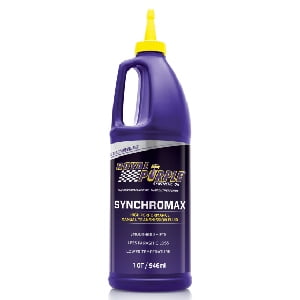 For a general protection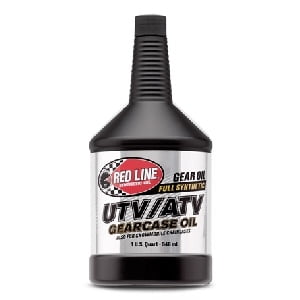 For a maximum performance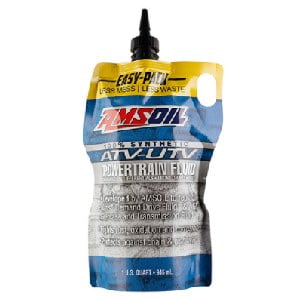 For harsh conditions
Royal Purple Synchromax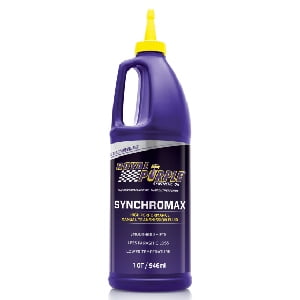 Royal Purple Synchromax
I know that you might be confused why I added a manual transmission fluid to this list. Though Royal Purple Synchromax is manual TF, it's a light viscosity fluid that is very similar to an ATF). I also sent an Email to Royal Purple, and here's what I got: 
"Good Morning Ryan,
Yes, to replace the Polaris AGL Gearcase fluid in Polaris ATV/UTV/SxS transmissions, we recommend the Royal Purple Synchromax (part #01512) once strict OEM warranty compliance is no longer a serious concern. If strict Polaris manufacturer warranty compliance is a serious concern, it would be best to use the OEM Polaris fluids."
So, if your vehicle is not under warranty, it's good to go with this Royal Purple Synchromax lubricant. 
The Royal Purple Synchromax is an excellent transmission fluid that expands and improves your transmission performance. Consequently, it also reduces the noise in the gears and enhances power transmission to the wheels.
This product provides excellent protection against wear, and it lowers temperature operations. Moreover, Synchromax offers exceptional protection against oxidation and corrosion without damaging the soft metals in transmission synchronizers.
The manufacturer uses synerlec technology to formulate Royal Purple Synchromax, making it a high-quality transmission fluid for a smooth ride.
Pros
Provides great protection against wear
Makes the shifts extremely smooth
Lowers fiction for greater engine power
Reduces temperatures during operations
Check Price at Amazon
---
Red Line UTV/ATV Gearcase Oil
Red Line UTV/ATV Gearcase Oil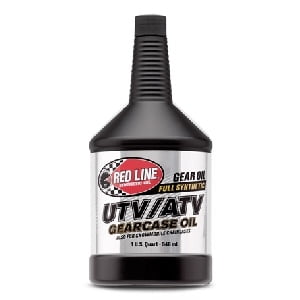 Red Line 43704 UTV/ATV Gearcase Oil
Red Line is a reputable manufacturing firm known for producing high-quality synthetic oil products such as fuel additives, gear oils and motor oils. They incorporate knowledge of the existing technologies to respond to technical challenges and offer satisfaction to their esteemed customers. 
For that reason, Red Line 43704 UTV/ATV Gearcase oil is made with the best materials to provide strength and increase the performance of the gears. According to the Product Data Sheet, This gearcase oil is a suitable replacement for Polaris AGL. So you can feel confident using it. 
The Red Line UTV/ATV Gearcase Oil is an ester-based lubricant that you can use in chain cases, transmissions, and gearcases on ATVs, UTVs. It is less slippery to improve the coefficient of friction on the clutch plates. It.
The fluid offers strong film protection, breakdown resistance for quite a long period because of its consistent viscosity in varying temperatures. The only disadvantage is that it has no product warranty. So as I mentioned earlier, if your car is under warranty, stick with OE Fluid for safe protection.
Pros
Provides premium protection by superior quality materials
Has a unique design that you can exhibit your special style
Offers solid functionality and convenience
Resists breakdown for extended periods
Replaces AGL and AGL PLUS
Cons
More expensive than OE lubricant
Check Price at Amazon
---
AMSOIL Synthetic ATV/UTV Powertrain Fluid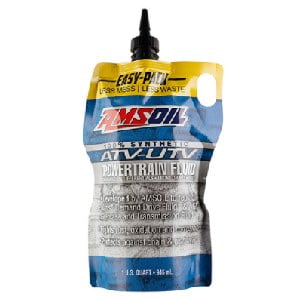 AMSOIL ATV/UTV Powertrain Fluid
As Amsoil claims, they designed this Amsoil Synthetic ATV/UTV Powertrain Fluid as a substitute for Polaris AGL Synthetic Gearcase Lubricant and Transmission Fluid. 
AMSOIL Synthetic Powertrain Fluid formulation gives you the confidence to push your machines and gears to the limits. In addition, even if you change your ATV/UTV with a winch, plow, or any other necessary accessories, this fluid protects your machines against extreme conditions.
The fluid is formulated to optimize performance for ATVs or UTVs. Most importantly, this powertrain fluid comes with a secure product warranty. This is a plus point, and I appreciate it. 
Benefits:
Maintenance of clean components
The Synthetic Powertrain Fluid prevents deposits, acting as insulators through oxidation resistance, thus enabling optimal heat dissipation. The transmissions and front drives remain extremely clean for impressive performance and prolonged service life and ensure that the components run smoothly.
This product has a low pour point of about -50℃ for the smooth and efficient flow of the lubricant during startup. The cold flow offers necessary protection against wear even in harsh climatic conditions such as winter. Moreover, the cold flow also reduces the wasting of energy during cold circulation.
AMSOIL Synthetic ATV/UTV Powertrain Fluid features a reliable synthetic base oil that resists viscosity loss due to power-driven shear. This makes it better than other aftermarket oils. It ensures that your machine is powerful even in extreme weather.
Related Post: Where can i find polaros ps4 oil alternatives?
---
OEM Or Aftermarket
Using OEM or aftermarket products is a question that has been raised in the automotive community for a time. I also can find it is one of the biggest debates on many forums. 
Always note that if your car is under warranty, you should stick with OEM products. Using aftermarket options can make your dealership void it. 
Even if your vehicle is out of warranty, the dealers would ask you to use OEM fluid. This may be a tactic by car manufacturers. However, OEM products are usually more expensive than alternatives on the market. Nowadays, oil manufactures design their products as good as factory fluid with lower prices. That's why many people tried to find a good substitute for their vehicles.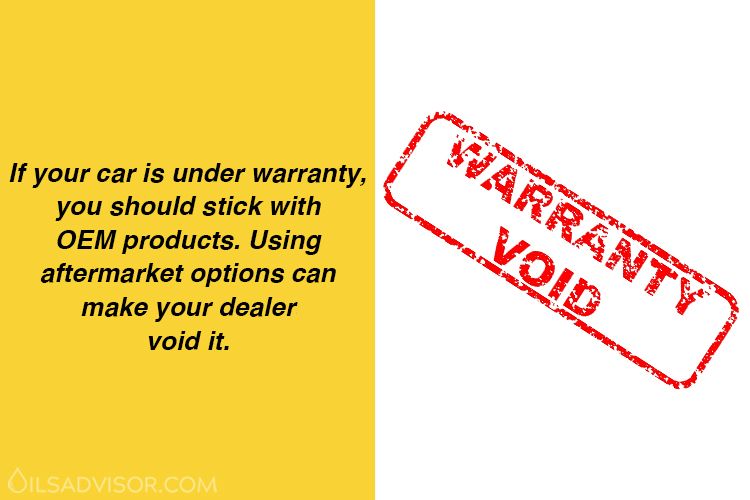 About Polaris AGL
What Is Polaris AGL Fluid?
The Polaris AGL is a superior quality lubricant designed to maintain ultimate performance for Rangers and off-road vehicles with RPMs. The manufacturer uses advanced technology to formulate AGL's additive system to protect critical transmission components from regulating moisture.
They properly designed the AGL to offer your vehicles peak performance and control intense engine conditions in RZR riders and Rangers. Its unique viscosity is formulated to provide necessary protection and transmissions in ORVs.
At the same time, the viscosity maintains absolute heat resistance to protect the dynamic components under high temperatures.
Why Is Polaris AGL Pricey?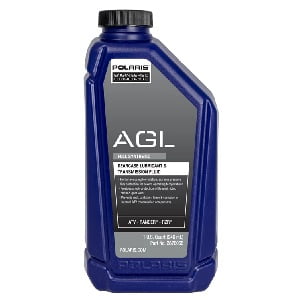 Polaris AGL Transmission Fluid
Polaris AGLs are engine precision that uses multiple critical components that you cannot find in standard transmissions. The AGL uses spiral cut, drive chains, and helical that require particular lubrication to enhance performance.
The work of the Polaris transmission fluid is to transmit power to the engine while absorbing excess shocks. The extreme pressure additive system of the AGL produces an oiling film to protect the gears from wear and extreme shock loads.
AGL's viscosity is pretty light to provide excellent bearing and chain lubrication in all extreme conditions and climates. There is no alternative aftermarket transmission oil that can protect gearcases compared to the AGL.
Related Post: best oil for jeep 4.0
Final Verdict
These are the three Polaris Transmission Oil substitutes I found to be powerful and efficient. I base my recommendation on the information regarding these substitutes.
Royal Purple Synchromax is what I recommend for general protection for your gearboxes, as it contains extra additives and viscosity that protect the sprockets and gear faces. 
Check Price at Amazon
Always note that: before adding any new lubricant, drain the vehicle's system thoroughly, and don't mix them to avoid damage to your transmission system. 
 Good luck and be wise!