What oil does Audi Q5 take? How much oil does it require?
Audi Q5 has selective engine oil standards like VW 502 00, VW 508 00, etc., that owners must follow. The oil types required are 5W40 or 0W20. This depends on weather conditions or your driving habits.
The oil capacity ranges from 4.8-6.6 quarts, based on the different engine types and model years.
This article provides you with more details about the oil type and capacity of your Audi Q5.
Read on to know more!
Audi Q5 Oil Type and Oil Capacity Look Up
Note: The oil capacities mentioned below are the capacities of the respective Audi Q5 with filter.
Type the year of your Audi in the SEARCH box to know the oil capacity and oil type to use. E.g., 2014
Audi Q5 Oil Type
As previously said, the oil you choose must be carefully considered. It has an immediate effect on your engine's performance. Here's everything you need to know about the oil type used in Audi Q5. 
Audi Q5 Oil Specifications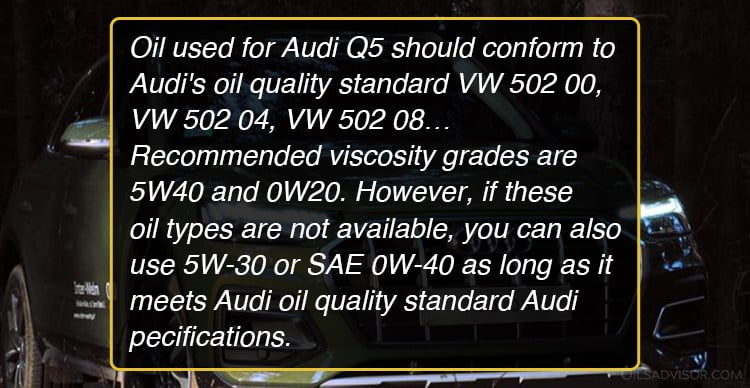 Regardless of whether you use synthetic or petroleum-based engine oil, it must meet Audi's oil quality standards. This car manufacturer has specific oil standards for their vehicles. Engine damage can occur if the recommended engine oil or an equivalent is ignored. 
Audi Q5 owners are only to use oils that are certified by Audi standards, such as VW 502 00, VW 502 04, or VW 502 08…To meet these specifications, oil manufacturers need to undergo some tests to satisfy the physical and chemical properties required by Audi. 
These authorized lubricants will provide your engine with optimum performance and protection. You can also count on them to ensure your vehicle runs smoothly. In addition, they prevent the buildup of hazardous deposits, frequently referred to as "sludge," that can lead to costly repairs over time. 
However, not all Audi Q5 will have the same oil standard. They will be different among engines, years of manufacture, ect. You can check your owner's manual to know exactly the specification required for your Audi, or check our guide below:
See Also: What is Compatible With G 055 025 A2?
Different Audi Q5 Engines Oil Specifications
Audi Q5 2.0 Liter
VW 502 00 or VW 504 00 is the oil specification for Audi Q5 2.0T vehicles from 2011 to 2018. Meanwhile, the standard required for the Audi Q5 2.0T cars from 2019 to 2020 is VW 508 00.
Audi Q5 V-6 Engine (Gasoline)
Audi Q5 owners should apply VW 502 00 oil specification in their 2009 to 2012 Audi Q5 3.2L vehicles.   
If you are driving a 2013 – 2017 Audi Q5 3.0L Supercharged 24V vehicle, it requires engine oils with VW 502 00 or VW 504 00 standards. 
The VW 502 00 oil specification is issued for gasoline engine vehicles. Then,  VW 504 00 is the successor of VW 502 00. That said, if your Audi is approved for VW 502 00, you can use the 504 00 without hesitation. The viscosity grade classes available for VW 502 00 are 5W40, 10W40, 0W40, 5W30, 10W30, and 0W30. 
Audi Q5 V-6 TDI Engine (Diesel)
VW 507 00 is the approved oil spec for Audi Q5 diesel models with 3.0L TDI engines. VW 507 00 standard is used for diesel vehicles. Engine oil that meets this standard should contain a small amount of phosphorus, sulfur, and sulfated ash. The oil change interval for oils with VW 507 00 is around 10,000 miles. 
Audi SQ5
VW 502 00 or VW 504 00 oil specification is required for Audi SQ5 (2014-2017) 3.0L Supercharged 24V V6. 
Your Audi SQ5 3.0L Turbo 24V engines manufactured between 2018 – 2020 will need oil with VW 508 00 certifications. This standard refers to the oil grade of 0W20 – the low viscosity helps improve fuel economy and reduce friction.  
Viscosity
Engine oils are usually classified by viscosity. The appropriate viscosity grade oil for your engine is determined by the climate or season you drive. For your Audi Q5 in normal driving situations, you can use oil with a viscosity rating of SAE 5W40 in all temperature ranges. If SAE 5W40 engine oil is not available, you can use other engine oil as long as it meets Audi oil quality standards. However, if you're not sure what type of oil to use in your Q5, consult your owner's manual or ask your local Audi dealers for advice. Using the wrong oil type can lead to severe damage to your engine.   
2008 – 2018 Audi Q5 Oil Type
You should use 5W-40 oil in Audi Q5 vehicles manufactured between 2008 and 2018.
This oil is designed to maintain optimal engine performance and protect against wear, even in the most extreme conditions. It is important to always check your owner's manual for the recommended oil type and viscosity grade. Failing to do so could result in engine damage.
2019 – 2022 Audi Q5 Oil Type
From 2019 through 2022, Audi advises that Audi Q5 owners use 0W-20 viscosity engine oils. 0W-20 oils are designed to flow easily when cold and maintain a consistent viscosity when hot. This low viscosity oil also helps improve fuel economy while protecting your engine during start-ups and under various operating conditions. 
Audi Q5 Oil Capacity
The oil capacity of an Audi Q5 varies based on the engine type and model year.
Audi suggests changing your engine oil and filter after the first 5,000 miles of ownership. Following this, the automaker recommends you replace the oil and filter every 10,000 miles or once a year, whichever comes first.
2009 – 2010 Audi Q5 Oil Capacity
Audi Q5, from 2009 to 2010, has an oil capacity of 6.6 quarts/6.2 liters. The automaker recommends 5W-40 oil and filter. 
2011 – 2012 Audi Q5 Oil Capacity
The oil capacity of 2011 and 2012 2.0L is 6.6 quarts/6.2 liters. While the 2011 3.2L and 2012 2.0L engines need 4.9 quarts/4.6 liters, respectively. Audi advises that you replace the filter and use 5W-40 synthetic oil. 
2013 – 2014 Audi Q5 Oil Capacity
The 2013 and 2014 2.0L Turbo requires 4.9 quarts/4.6 liters. Following that, the 2013 and 2014 2.0L Flex Turbo can hold 5.9 quarts/5.6 liters.
Next, the 2013 and 2014 3.0L can take up to 7.2 quarts/6.8 liters. Lastly, the 2014 3.0L Diesel Turbo requires an oil capacity of 6.8 quarts/6.4 liters. 
5W-40 synthetic oil is the perfect choice for the 2013-2014 Audi Q5 vehicles with filter change. 
2015 – 2016 Audi Q5 Oil Capacity
Audi Q5 with 2.0L engines from 2015 to 2016 has an oil capacity of 4.9 quarts/4.6 liters. The oil capacity for Audi Q5 (2015-2016) 3.0L Diesel Turbo is 6.8 quarts/6.4 liters. Lastly, Audi Q5 with 3.0L can hold 7.2 quarts/6.8 liters. 
If your Audi Q5 was manufactured between 2015 and 2016, 5W-40 oil is recommended. Additionally, an oil change should always be followed by an oil filter replacement.
2017 Audi Q5 Oil Capacity
 Your 2017 2.0L 4 -cyl engine can hold 4.8 quarts/4.5 liters. And the capacity of the 2017 3.0L 6 -cyl is 7.2 quarts/6.8 liters. Audi also recommends using 5W-40 oil and changing the oil filter. 
2018 – 2022 Audi Q5 Oil Capacity
All Audi Q5 with 2.0L engines from 2018 to 2022 can take 5.5 quarts/5.2 liters of 0W-20 lubricant with filter change. However, the 2018 2.0L 4 -cyl Turbo has a capacity of 5.8 quarts/ 5.2 liters of 5W-40 oil with a new filter. 
Conclusion
The Audi Q5 is a great car and will last a long time if properly taken care of. Make sure to use the recommended oil type and regularly check the oil level. Doing so should help your Audi Q5 run smoothly for years to come.
Share with us your experience of change oil for your Q5 in the comment box below!