Seafoam and BG 44K are additives designed to clean and protect your car engine. But, they have different ingredients and are effective in their own ways.
The question here is, BG 44K vs Seafoam: which is better?
Some people swear by Seafoam, while others prefer BG 44K. So, which is the best choice for you?
To help you easily decide the best-suited for your car, this article compares these two product in terms of cleaning ability, improving fuel economy, price, etc.
Let's get started!
Seafoam vs BG 44K: Detailed Comparison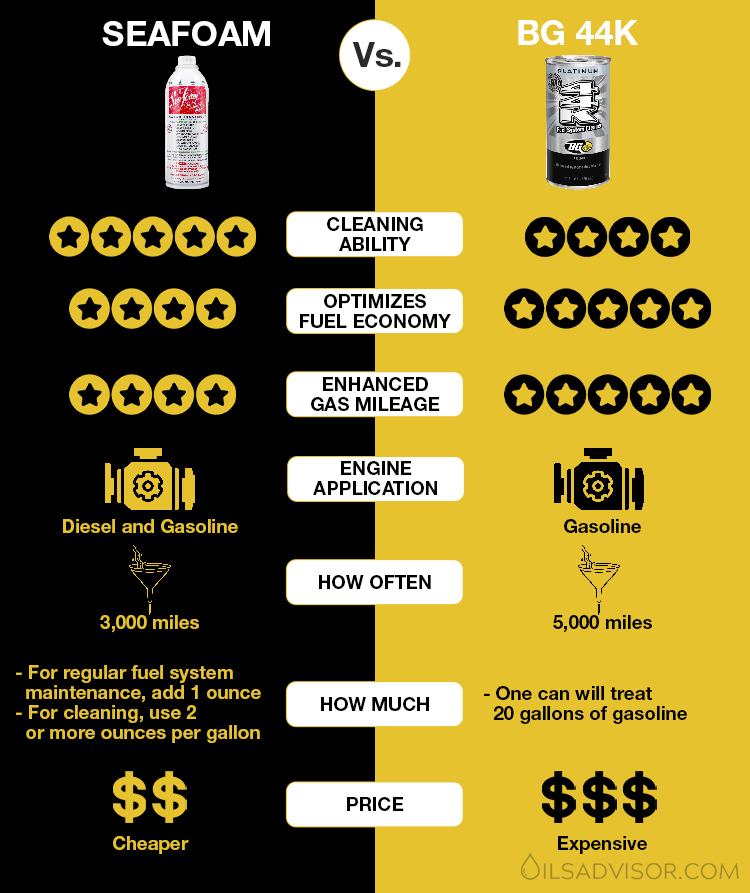 Seafoam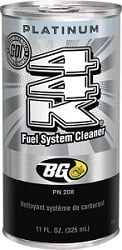 BG 44K
Cleaning Ability
The winner: Seafoam

Seafoam Motor Treatment
BG 44k is well-known for being a superior fuel injector cleaner. The 11-ounce bottle of high-quality cleaner is said to significantly improve the performance of your vehicle. This fuel system cleaner thoroughly helps to clean the entire fuel system, including the fuel injectors, carburetor, intake valves, pistons, ports, and combustion chamber. This specialized formula allows it to clean the system by removing carbon deposits, ethanol, and moisture. 
Besides, BG 44K also helps restore engine performance and improve driveability. One bottle can treat approximately 20 gallons of gasoline. It's especially suitable for all fuel system components, alcohol-blended fuels, and common fuel additives. 
The majority of customers who have used BG 44K are very pleased with the product's results. Among the positive comments recorded are improved car performance, lower emissions, and restored fuel efficiency. This product is recommended for car owners who are experiencing clogged systems or poor fuel efficiency as it has great ability in improving combustion quality and gas mileage
How about Seafoam?
Seafoam cleaning abilities are what set it apart from other competitions. This is because it has been proven to clean fuel injectors, intake valves, carburetor passageways, and also remove engine chamber deposits. Seafoam is exceptionally effective at removing carbon from engines. It dissolves varnish and chamber deposits that have been built up for a long time.
This additive is a fantastic fuel stabilizer with the ability to lubricate the upper cylinders. Moreover, Seafoam is compatible and safe to use in all gasoline and diesel engines. You can use it in your mower, boat, motorcycle, diesel tractor, and all your cars and trucks. 
Seafoam has a great reputation because it works incredibly well. It is used every day by huge numbers of car owners. When you use Seafoam in your vehicles, you can expect positive results. Your engine will perform better with less noise. It aids in the recovery of lost MPG and the reduction of exhaust emissions. Moreover, this additive will protect your fuel from air and moisture and help it last longer. 
Both Seafoam and BG 44K are excellent system cleaners. However, Seafoam has a little bit of an advantage over BG 44K. It significantly deep cleans carbon deposits from the fuel system very quickly. Customers have reported that they noticed improvements not long after using the product. 
Related Post: Lucas Vs Seafoam: Head-To-Head Comparison
---
Optimizes Fuel Economy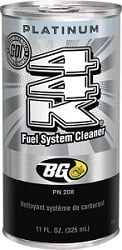 BG 44K Fuel System Cleaner
The winner: BG 44K
Seafoam is effective at improving fuel economy and restoring lost power. This additive improves fuel efficiency by removing carbon deposits and unwanted build-up from the system. The addition of it to the system cleans it and extends the life of the fuel. 
Going through some customer reviews, I can see that the BG 44K has better fuel economy compared to Seafoam. Thanks to a unique combination of ingredients, the product has a great ability to clean and restore the fuel injectors, hence boosting the fuel economy. However, you might have to drive up to 100 miles before the difference starts to kick in.
In terms of fuel economy, the BG 44k is the better option. The BG 44K provides quick cleanup, which increases fuel economy.
---
Enhanced Gas Mileage
The winner: BG 44K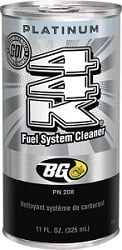 BG44K Fuel System Cleaner
Seafoam is specially formulated for gasoline vehicles with a mileage of more than 75,000 miles. To extend the life of high-mileage cars and trucks, use it on a regular basis in the fuel system. As a result, Seafoam can help your vehicle's engine run more efficiently and last longer. 
For the BG 44K, the combustion quality gets better. This makes your engine more relaxed and runs smoothly. The gas mileage of your engine will be increased when using BG 44K. It also improves the performance level and your vehicle's power output. Overall, it is highly recommended, especially for older, high-mileage vehicles. 
Both Seafoam and BG 44K perform admirably in terms of improving performance and mileage. However, BG 44k is a better choice because of its more enhanced gas mileage
---
Ingredients
BG 44K is made up of a variety of strong chemicals that are safe to use in the engine and fuel system. This additive is composed of naphtha (petroleum), stoddard solvent, solvent naphtha 1,2,4-trimethylbenzene, and Ethylbenzene. It is compatible with all fuel materials and contains no alcohol. The combined effect of these ingredients enables the deposits in the engine to be easily removed.
Seafoam is made entirely of petroleum-based ingredients. It is completely safe to use in your engine and fuel tank because it contains no harsh chemicals. Pale oil, naphtha, and IPA (Isopropyl alcohol) are the main ingredients found in Seafoam.
---
Price
The winner: Seafoam

Seafoam Fuel Treatment
BG 44K is a bit pricey, but it's worth the price. The 11 ounces of high-quality detergents that you pour right into the gas tank help restore performance. Seafoam is much cheaper than BG 44K. It keeps the fuel systems and the injectors clean for a very reasonable price. It is often described as a money-saving product. 
If cost is an important consideration, Seafoam is your go-to fuel system cleaner. 
---
Cons
The BG 44k is a good cleaner, but it is more expensive in comparison to its competing products. 
Recall what I said, you need to refill it every 5,000 miles. The cleanser can only work perfectly when it is used frequently. Also, it may be necessary to use it several times to completely clean the engine and fuel system if your engine has a lot of carbon deposits.
Too much of anything, as they say, is bad. The same is true for Seafoam. Too much Seafoam can be detrimental to your engine rather than beneficial. It has the potential to cause clogging in the fuel system and damage your fuel injector. Misusing the product and failing to follow the manufacturer's instructions can severely damage your engine.
Related Post: Marvel Mystery Oil Good Or Bad
Conclusion
Seafoam and BG 44K are market leaders, with a slew of loyal customers flocking to them. They are both good products with a lot of positive feedback. This is largely thanks to the value they provide to their customers. 
Seafoam is an effective fuel system cleaner and relatively cheaper than BG 44K. If you're on a tight budget, this is what I'd recommend.
In general, BG 44k performs significantly better than Seafoam. It outperforms Seafoam in terms of cleaning ability, and it improves vehicle performance and fuel economy. If you don't care about the cost, I'd recommend going with BG 44K. Although it is more difficult to find and more expensive, it's well worth it. For a quick fuel system clean-up, BG 44K is the ideal option. 
Which is your favorite product? Share your experience/ thoughts with us in the comment box!