Have you ever wondered what the oil capacity is for a Honda Recon? Or what type of oil to use in it? And maybe even how to buy the right filter for it?
In general, the oil capacity of a Honda Recon is 1.6 quarts (1.5L). The oil specifications for the Honda Recon engine differ significantly from other motorcycles. Believe or not! Honda Recon does not require an oil filter.
This article explains everything you need to know about Honda oil capacity, oil type, and oil filter.
Continue reading to learn more!
Honda Recon Oil Capacity
A Honda Recon requires 1.6 quarts/1.5l of fresh motor oil after draining. This applies to all models manufactured between 2005 and 2022.
In the table below, I've listed every Honda motorcycle (2005-2022), the manufacturer's suggested engine oil type, and oil capacity.
| Year Make | Model | Oil Capacity After Draining | Oil Type |
| --- | --- | --- | --- |
| 2005 | Honda Recon 250 | 1.6 qts/1.5l | 10W40 |
| 2006 | Honda Recon 250 | 1.6 qts/1.5l | 10W40 |
| 2007 | Honda Recon 250 | 1.6 qts/1.5l | 10W40 |
| 2008 | Honda Recon 250 | 1.6 qts/1.5l | 10W40 |
| 2009 | Honda Recon 250 | 1.6 qts/1.5l | 10W40 |
| 2010 | Honda Recon 250 | 1.6 qts/1.5l | 10W40 |
| 2011 | Honda Recon 250 | 1.6 qts/1.5l | 10W40 |
| 2012 | Honda Recon 250 | 1.6 qts/1.5l | 10W40 |
| 2013 | Honda Recon 250 | 1.6 qts/1.5l | 10W40 |
| 2015 | Honda Recon 250 | 1.6 qts/1.5l | 10W40 |
| 2016 | Honda Recon 250 | 1.6 qts/1.5l | 10W40 |
| 2017 | Honda Recon 250 | 1.6 qts/1.5l | 10W40 |
| 2018 | Honda Recon 250 | 1.6 qts/1.5l | 10W40 |
| 2019 | Honda Recon 250 | 1.6 qts/1.5l | 10W40 |
| 2020 | Honda Recon 250 | 1.6 qts/1.5l | 10W40 |
| 2021 | Honda Recon 250 | 1.6 qts/1.5l | 10W40 |
Honda Recon 250 Oil Type
Viscosity Grade
Honda's recommended oil type for the Recon 250 is 10W-40. This oil provides excellent protection for the engine, transmission, and clutch components.
However, you also can use other viscosities if you live in an area with extreme temperatures, For example, if you live in a very cold climate, you may need to use 5W-30 oil. This oil type will flow better in cold temperatures and help protect your engine from wear. The chart below shows specific viscosity grades to use for your Recon in different temperatures.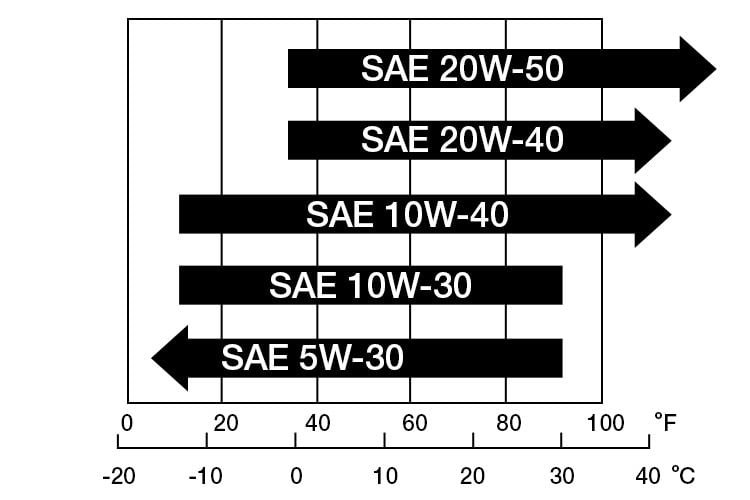 API Certification
According to the owner's manual, oils used for Honda Recon should have API SG certification or higher. Keep in mind that oils displaying a circular API energy-conserving label on the container are NOT accepted. They may affect the lubrication and clutch performance. Also, API SH is not recommended in your Recon.
Oil Additive
Honda Recon does not require oil additives. Besides, do not use oils with graphite or molybdenum additives. They will affect the clutch operation.
JASO T903 standard MA
The JASO T903 standard is an index for choosing engine oil for 4-stroke motorcycles engines.
There are two classes: MA & MB. Oil conforming to the standard should have the following classification on the container.
Recommended Engine Oil For Honda Recon
Recommended by Honda – OEM-Approved
Honda Pro GN4 10W40
Honda Pro HP4 10W40
Honda GN4
Honda Pro GN4 Motor Oil
This Pro GN4 is a genuine OEM Honda lubricant recommended by Honda for Recon. It combines high-quality base stocks with additive packages designed specifically for Honda motorcycle engines.
Let's see what makes it the best pick for your Recon?
At high temperatures, you won't have to deal with the hassle of viscosity or thermal breakdown. We're both aware of how detrimental this can be to your engine. Thanks to the viscosity of GN4, the engine can operate across a wide temperature range. Furthermore, it has excellent cleaning properties that meet the demands of new generation engine technology. When you use GN4 oil in your Honda, you will notice that your engine shifts more smoothly. Additionally, it is much quieter and emits cleaner emissions.
Additionally, this product has received positive comments, yet some consumers believe it is too expensive. It's also unsuitable for severe duty or racing applications. Overall, the Pro Honda GN4 motorcycle oil is a good choice for your Honda Recon.
Honda HP4 (without molybdenum additive)
Honda Pro Honda HP4 engine oil
HP4 oil is another OEM product that you can use to increase your engine's efficiency of your Recon. Honda has granted approval for the use of this lubricant. The product has undergone extensive testing and development to guarantee that it fulfills Honda's stringent requirements. Foaming, which can reduce the oil's lubrication efficacy, is greatly controlled when you use this oil on your motorcycle. This is because HP4 contains additional antifoam additives to prevent engine foaming.
Due to its higher viscosity index, the oil can work reliably even at high temperatures. This translates to a more stable lubricating coating across a wider temperature range and reduced oil consumption. 
The lubricant also outperforms most other products in terms of shear stability. In addition, if you enjoy going racing in your Honda, this is the oil for you. HP4 is particularly designed to withstand the rigors of high-performance engines and track use. Pro HP4 is undoubtedly one of the best if you require maximum protection as well as excellent performance in the most difficult riding conditions.
Other Equivalent Options
You can pick other Honda Gn4 Oil Equivalents here. We also have provided a detailed review of these products. These oils come at lower prices with outstanding performance.
Honda Recon Oil Filter
Honda Recon Oil Filter Location
There is no oil filter on the TRX 250. Honda Recon comes with an oil strainer rather than an oil filter element. Like an oil filter, an oil strainer is also designed to remove impurities from oil as it runs through the strainer. You should note that there is no need to change the oil strainer.
Related: Best Oil For Honda Lawn Mower
Conclusion
Summarily, A Honda Recon requires 1.6 quarts/1.5l of engine oil after draining. The recommended oil type for this model is 10W40
Honda suggests Pro Honda GN4 or HP4 4-stroke oil (without molybdenum additives) or similar motor oil for their Recon models. Both products are fine and specifically designed for the unique requirements of Honda Recon engines.
In conclusion, HP4 is a very good product and preferable. It is a synthetic/petroleum blend with some specially formulated by Honda engineers with special additives.
Check Price at Amazon