If you are searching for the oil capacity and oil type of 6.7 Cummins, you are in the right place!
The 6.7 Cummins engine takes 12 or 5 quarts of oil, depending on different models. The recommended oil type are 15W40 or 5W40, depending on driving or weather conditions where you live.
This article dives into the details of 6.7 Cummins oil capacity and oil type. Just after 3 minutes of reading, you'll get the full knowledge of this to easily do an oil change for your vehicle.
Let's get started!
How Much Oil Does A 6.7 Cummins Take?
Cummins engines vary in their characteristics. Vehicles with 6.7 Cummins engines manufactured after 2008 hold(11.36 liters) of engine oil, while models before 2008 require about 5 quarts (4.73 liters). The capacity mentioned is with the oil filter.
Related: Best Oil For 6.7 Cummins
What Type Of Oil Does 6.7 Cummins Take?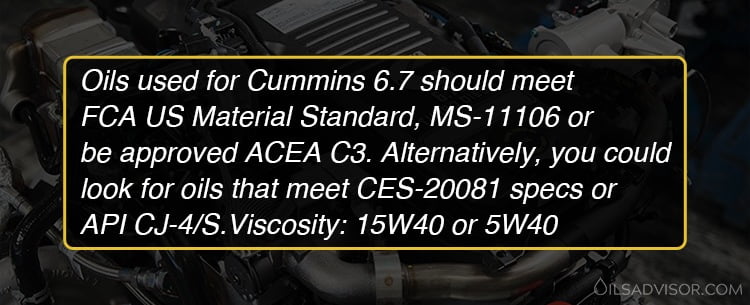 Viscosity
Every vehicle manufacturer has standard recommendations for their vehicles. Cummins strongly recommends using 15W40 grade lubricants. Moreover, many Cummins 6.7 enthusiasts support the 15W40 grade because it operates effectively in hot to medium to mildly low (usually above 50℉). 
On the other hand, if you are driving in regions where temperatures are below 50℉, the 5W40 will be your best pick. This oil type can keep the vehicle healthy in cold weather. 
Oil Specs
According to Cummins Manufacturers, the best engine oils used for Cummins 6.7 should meet these requirements: FCA US Material Standard and MS-11106. Besides, oils with ACEA C3 approval also work well with their engines. 
Alternatively, you can consider oil products that meet API CJ-4/SL or CES-20081 specs. They are acceptable for vehicles with Cummins engines. 
Synthetic or Conventional Oil
From a superior protection standpoint, if you are towing a lot of weight or running in very high/ cold ambient temps 90, 100 F, you should go for synthetic oils.
Also, it's recommended that you should run synthetic oil for Cummins engines.
Another angle to look at is the oil change interval. Everyone knows synthetic oils do a better job than conventional oil in extending lifespan. The synthetic oils require change every 10,000 to 15,000 miles, while the conventional range is between 10,000 to 15,000 miles.
The last thing to consider is that synthetic oil has less impurities and carbon build-up than conventional oil.
Related: Ram Ecodiesel Oil Capacity & Oil Type
Final Words
Now you know the oil capacity and oil type to use 6.7 Cummins engines. It's very important to know these pieces of information. Using the wrong oil can cause severe damage to your engine. However, many car owners seem to ignore this.
Also remember to change the engine oil and filter for your vehicle at the recommended interval to extend the engine's lifespan.
Leave a comment if you find this post is helpful! Thank you!